---
Wednesday, July 7, 1999



S U R F I N G
---

By Greg Ambrose
Special to the Star-Bulletin

THERE comes a defining moment for most people when they discover the meaning of life, an insight usually provided by their children.

For many devotees who spend their time chasing waves around the world, that moment comes later than sooner, and even later for professional surfers.

Kaipo Jaquias' great revelation came in May as he prepared to paddle out for his heat far from Hawaii in the Japan Pro.

"My heart wasn't in it. My heart was at home with my wife and children," says Jaquias, who had been fiercely missing his family for the past several years while on the world tour.

John Shimooka's world was turned upside down several months ago by the birth of his first child. "Having a son puts everything in perspective," the Oahu surfer says.

"I finally found out what we're really put on earth for, to reproduce beautiful little human beings like Brandon. I have loved children all my life, and to have one of my own is the ultimate. He's my jewel."

---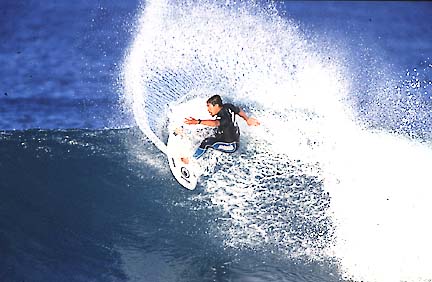 By Pierre Tostee, special to the Star-Bulletin
'What we have is our children,
and that is for life. You provide for your
children, but if you are never around them,
what good is it? If you're not there to
show them their first steps in life,
how will they learn how to
walk through life?'

Kaipo Jaquias

Jaquias and Shimooka reacted to their new perspectives on life by stepping off the elite World Championship Tour, the pinnacle of professional surfing that they had spent their lives attaining.

For Jaquias, it was a wrenching decision that took years to make during more than a decade on tour. Ironically, two years ago when he was agonizing over his career, his son inspired him to continue.

"I wanted to come home, and my son felt the pain I was going through. He would say, 'Dad, come home already.' I said to him, 'Why?' And he said, 'I can surf, I can give you money.' He could see that what I'm doing is to provide for the family. He carried me further, and helped me go on competing."

But after surfing on the world tour since he was 17, Jaquias was being torn apart by the constant traveling from contest to contest for nearly eight months a year.

"I have lived my life to test myself and see the world. And I have been around the world so many times already. But my children love me and are at an age when they need me. And so does my wife, who has (had to) put her life on the side for me while she raised the kids," he says.

"Both of them are growing up too quickly, and I'm missing all the good stuff," he says of Kaimana, 6, and Kirra, 2.

"What we have is our children, and that is for life. You provide for your children, but if you are never around them, what good is it? If you're not there to show them their first steps in life, how will they learn how to walk through life?

"I want to give this to my children right now. I had more joy coming home and watching my son play soccer and being by his side than winning a surf contest."

The decision was instantaneous for Shimooka, 29, who has been on the world tour for nearly 12 years. "Being on the road so much, you learn to appreciate your family and your home," he says. "When I looked at my new baby boy, I knew it was over. It was just a matter of cleaning up loose ends. It was so easy to step off the tour."

Shimooka has entertained fellow competitors for years with his quick wit and charm. When sunglasses manufacturer Oakley finally noticed Shimooka's hilarious ad-libs and smooth banter, it made him an offer he couldn't refuse.

---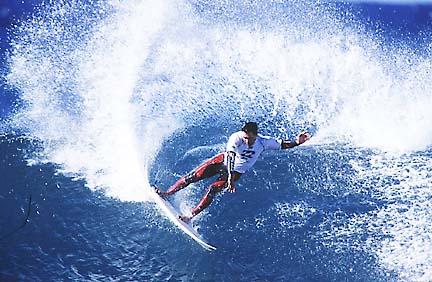 By Pierre Tostee, special to the Star-Bulletin
"Being on the road so much,
you learn to appreciate your family and
your home. When I looked at my new
baby boy, I knew it was over. It was
just a matter of cleaning up loose ends.
It was so easy to step
off the tour.'

John Shimooka

Now he and his Australian wife, Lisa, have moved Down Under, where Shimooka provides insightful and delightful commentary at surf contests, and helps produce surf shows for TV.

"I did commentary at the Coke Classic in Manly, and people came up to me and said, 'I don't even surf and you made me want to go out and surf.'

"To make people aware of the excitement and drama of what is going on around you, you have to make them feel what the surfers are feeling in the water. Those are the rewards you walk away with that really count.

"Plus, the money is good, and diapers aren't cheap."

Lisa, of course, is stoked to be back home in Sydney, and her mother is delighted to have her family back together. "It's lovely having them here. The baby is beautiful, everything is lovely," says Sandra Clough.

Shimooka isn't exiled from Hawaii. Rather, he is looking forward to living in two worlds on opposite sides of the equator yet connected by the Pacific Ocean. And Triple Crown of Surfing director Randy Rarick is eager to give Shimooka lucrative excuses to come back home for visits as a commentator for the North Shore contests.

"What a great career path to take the knowledge and experience and use it at a different level," says Rarick. "It's refreshing to see someone apply this in a new role that will enhance themselves and the audience. John has the potential for developing into an excellent spokesman for the sport."

The departure of the two Hawaii competitors will create a huge deficit in pro surfing's colorful-character quotient. "They are like my brothers. They taught me everything I know on the tour," says Oahu competitor Kalani Robb, 22.

"It's definitely going to be a lot more boring without them on the tour. But they will be here looking out for us from home."

That is exactly what Shimooka foresees, working with former world champions Damien Hardman and Barton Lynch to help elevate surfing in the eyes of the public. "The guys on the tour said they'll miss me, and I said 'Hey, you won't get rid of me. I'll be making you more money working with (tour director Rabbit Bartholomew) to make surfing even more successful."

Jaquias opened the door for neighbor island wave riders when he left sleepy Kauai and made the big time, inspiring Rochelle Ballard, Keala Kennelly, Bruce and Andy Irons, Conan Hayes, Shane Dorian and a host of future greats to reach for the world tour.

Now he hopes to open more doors to youngsters throughout the world as a spokesman for surf apparel company Stussy.

Jaquias is blessed to have sponsors in Scott Hawaii and Stussy that view him as a person, rather than a performer. "I don't care if he comes in fifth, 24th or falls off the tour," says Stussy spokesman Frank Sinatra Jr.

"What is important is if Kaipo represents the values that Stussy represents. Then people say Kaipo is a good guy, and Stussy is good because they let him be a family man."

Jaquias will continue to compete in Hawaii contests and others close to the islands, and talk to groups of kids about the reality of life on the tour.

According to Sinatra, Jaquias has a special gift for making youngsters aware of the hidden costs of being a pro surfer, such as the competitive training, physical training, constant separation from family, friends and familiar places, and life after what is at best a brief career.

"I like to tell kids who want to be pro surfers to get a good education, because if it doesn't work out you can fall back on education," Jaquias says. "You have more options just from having an education as a child. I wish I had studied harder."

Jaquias has watched with keen interest as Australian surfer Mark Occhilupo abandoned the world tour, sorted his life out, then returned, He is now rated No. 1 at the venerable age of 33.

At 27, Jaquias isn't ready to kick back and just surf for pleasure.

"Occy is my inspiration. He gives me a sense that I can always come back. Now I know it's not out of my reach. If I go back on tour, I know I'll be coming back with a clear mind because my family is stronger.

"For now, my values have changed, I'm doing what my heart says, and that is to come back home."




Williams eliminates
defending champion

Star-Bulletin staff

JEFFERY'S BAY, South Africa - Hawaii's Ross Williams eliminated defending champion Michael Barry of Australia yesterday by winning their second-round heat at the Billabong/MSF Pro.

Williams then advanced to the fourth round with a win over Pat O'Connel of the United States.

In the fourth round, Williams will meet Hawaii's Shane Dorian, who beat Brian Hewitson of the United States in round three.

In women's action, Melanie Redman and Lynette MacKenzie advanced to the final yesterday. Hawaii's Megan Abubo won her third-round heat but lost to Mackenzie in the quarterfinals.

Williams overcame a slow start to top Barry.

"Once I figured out that nobody was going to get any high-scoring rides, I decided to go for it on anything that was coming through," said Williams. "I just ended up going as hard as I could and doing things out at Supers that I had never done before."

Shane Wehner, of New South Wales, eliminated last year's runner-up, Hawaii's Sunny Garcia, in a third-round matchup. Garcia needed a score of 6.31 in the closing seconds of the tightly contested heat and posted a 7.0 to take the lead. Wehner, however, retaliated on the very next wave to post a score of 6.60, snatching back the lead by a 0.35 point margin.

Hawaii's Conan Hayes also lost his second-round heat.

Kalani Ronn and Andy Irons have yet to surf their third-round heats.



E-mail to Sports Editor
---
---
© 1999 Honolulu Star-Bulletin
https://archives.starbulletin.com