---
Wednesday, July 7, 1999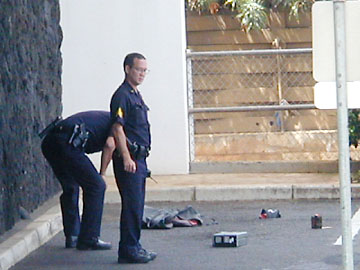 By Craig T. Kojima, Star-Bulletin
Police examine the scene of an attempted robbery near Kahala Mall.
---



No one was hurt, but
the suspects escaped

By Rod Ohira
Star-Bulletin

Police are looking for five armed and dangerous men who traded gunfire with police in a bank robbery this morning.

Police blocked off streets and used a helicopter to search the area after the holdup at American Savings Bank at 1215 Hunakai St., near Kahala Mall.

FBI Special Agent John Gillies said at least three men armed with long-barreled semiautomatic assault rifles took money from teller drawers and the automated teller machine vault.

The robbers struck an employee in the back of the head, hit another employee with the butt of a rifle and pulled a customer's hair, Gillies said.

The men, wearing ski masks and gloves, were dressed entirely in black. They fled with a substantial amount of cash.

No one was injured in the robbery.

Acting police Lt. Hank Nobriga said it was a "well-planned robbery" that was unusual because of the number of robbers who had weapons.

There were five or six patrons and seven employees in the bank at the time of the robbery, Nobriga said.

Some 20 rounds from a semiautomatic rifle were fired at officers who arrived on the scene, said Assistant Chief Stephen Watari of the Central Patrol Bureau, which includes the East Honolulu District. Police returned fire. Nobody was hit.

Three suspects fled in a Chevy Blazer, and one suspect hijacked a bakery van. The Blazer was found in the neighborhood near the mall, and the three occupants took off in a blue Cadillac. The van was found abandoned near Diamond Head Theatre.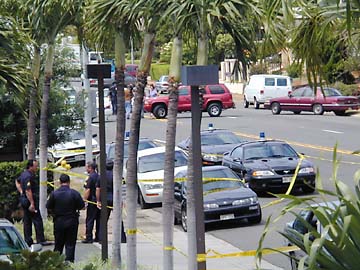 By Craig T. Kojima, Star-Bulletin
Nearby streets were cordoned off while police investigated the scene.
---
Officers were conducting a house-to-house search to make sure nobody was injured or taken hostage. That search ended this afternoon.

Watari said they were looking for a tall bald Caucasian man in military clothing.

Police said this was considered a major "take-over" robbery.

John Moffitt, 28, was visiting his in-laws near the bank on Hunakai Street. He said he was in the shower when he heard "three single gunshots — Boom. Boom. Boom." — then a burst of what sounded like automatic weapons fire.

Carol Kramer, a secretary for nearby International Business Strategies Inc., was working at the time. She said she heard "a bunch of shots, silence, and then more shots."

"It makes you realize that things are more rough and people are daring and desperate," said Bob Garcia, who lives near the bank and also heard the shots.

Employees at the bank were receiving counseling this morning, said Jean Kondo, assistant vice president and public relations director for American Savings Bank.

"Our first concern is to take care of our employees," Kondo said. "We're doing everything we can to help the FBI and the police."



---




Star-Bulletin writers Crystal Kua and
Alisa LaVelle contributed to this report.
E-mail to City Desk
---
---
© 1999 Honolulu Star-Bulletin
https://archives.starbulletin.com