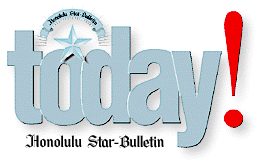 ---
Wednesday, July 7, 1999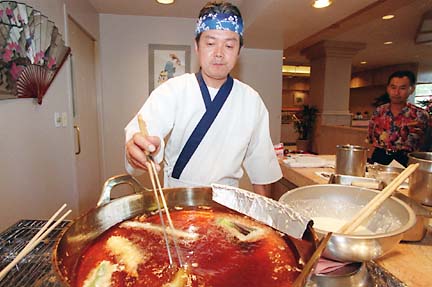 By George F. Lee, Star-Bulletin
Frying: Chef Susumu Iida says blend and temperature of
oil are critical. He uses a mixture of sesame and vegetable oils.
---

To prepare this Japanese specialty
perfectly requires the touch
of an artist By Betty Shimabukuro
Star-Bulletin

Susumu Iida is a specialist. As chef of Japan's 100-year-old Ginza Tenkuni Restaurant, he prepares only tempura. And all he does is fry. To prepare the batter, slice the vegetables, make ready the morsels of seafood -- he has assistants.

Once he was an assistant, Iida says, as well as a dishwasher, but 20 years into his culinary career, he is head fry guy. This month, he's demonstrating his distinctive way with tempura at the Plantation Cafe's Tempura Festival.

Tempura is deceptively simple. A light batter and virtually no seasonings. You dip, you flour, you fry. And you get armor-plated shrimp coated in a thick, greasy batter. The first ones into the oil come out too light, the last ones too dark.

Getting it right is an art form. "Muzukashii," Iida says. Difficult. He doesn't recommend trying it at home. "It looks easy, but it's not," he says through interpreter Sammy Yasuma. "You need lots of experience."

His tempura is lightly battered, the colors of the vegetables showing through. It is crisp with barely a hint of oiliness.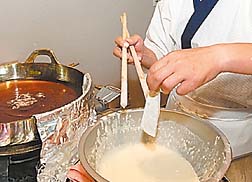 By George F. Lee, Star-Bulletin
Batter: Should be delicate and barely mixed.
---
Iida's technique is born of culinary school training, on-the-job training and his "own sense." This means an instinctive sense of when the batter is right, when the oil is ready, when the food is cooked. He uses eyes, ears and feel, he says: When it is time to remove the pieces from the hot oil, they will be the right shade of golden brown, the crackling will slow, the feel of the crispy coating against his chopsticks will be just right.

It's not something you can explain in words.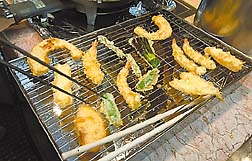 By George F. Lee, Star-Bulletin
Doneness: The experienced chef judges when to
remove the tempura based on its golden color and a
diminishing in the crackling sound it makes
while frying.
---
The oil is critical, too. It must be a mix of mostly sesame with some vegetable oil. Iida can spot tempura cooked in plain vegetable oil with one taste.

Tempura is distinctly Japanese, but the dish was introduced to southern Japan by Spanish and Portuguese missionaries in the late 16th century. Scholars say the name comes from the Portuguese "Tempora," or Lent, the period when the missionaries would go meatless and turn to seafood.

The Japanese adapted the cooking style to their more artistic culinary tastes, added dipping sauces, and by the end of the 18th century it was popular across the country. In old Edo, a single block might have had three or four tempura restaurants and street carts, Donald Richie says in "A Taste of Japan" (Kodansha International, 1985).

By George F. Lee, Star-Bulletin
Finished product: Should be crisp but not greasy,
with the batter so light that the colors of the food show through.
---
Iida says the constant heat and the smell of full-time tempura frying was at first hard to take, but he accepts it now as part of his art form. He stays with tempura, he says, because it is oishii ichiban -- most delicious.

This is his first trip to Hawaii and he won't have much free time. But if he does get a chance to eat out, there's one thing he'd like.

A nice, American steak.




Tempura Festival

Restaurant: Plantation Cafe, Ala Moana Hotel
Dates: Through July 25
Prices: Lunch buffet, $12.99; dinner buffet, $13.99
Call: 955-4811




---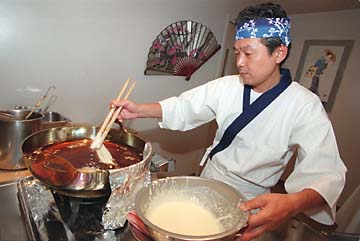 By George F. Lee, Star-Bulletin
Chef Susumu Iida prepares his specialty.
---
Try fry

Chef Susumu Iida says duplicating his tempura at home would be very difficult, but there's nothing to stop you from trying.

TEMPURA

Ginza Tenkuni Restaurant

About 30 pieces of vegetables and seafood, such as shrimp, white fish fillets, scallops, crab, sweet potato, asparagus spears, eggplant, mushrooms, etc.
1/2 cup tempura flour, sifted
6 cups oil (3 parts sesame oil to 1 part vegetable oil)

Batter:
1 beaten egg
2 cups cold (not iced) water
3/4 pound tempura flour, sifted

To prepare vegetables and seafood: Peel shrimp, leaving tail on, and butterfly them. Cut fish and crab into 1-by-3-inch strips, about 1/2-inch thick. Slice potato and eggplant about 1/2-inch thick.

To make batter: combine ingredients and mix lightly.

Heat oil to 340 degrees. Test by dropping a few drops of batter into the oil. When ready, the batter will dip slightly below the surface, then rise quickly.

Dip vegetable and seafood pieces lightly in batter, then roll lightly in dry flour. Drop into oil and fry until golden brown. Do not crowd pieces. Remove to a rack and drain. Serve hot with dipping sauces, below. Serves 4.

Note: Tempura flour, or ko, is a combination of wheat flour, cornstarch, baking powder and egg white. It is sold in Asian markets. Marukai carries Nissin and Showa brands for about $3 per pound.

TEMPURA DIPPING SAUCE

1 cup soy sauce

1 cup mirin

4 cups water

3/4 cup kezuriboshi (see note)

Bring soy, mirin and water to a boil, then add kezuriboshi. Cook about 3 minutes. Strain and cool. Serve with hot tempura.

Note: Kezuriboshi is dried shaved bonito, available in Asian markets such as Marukai.

TENDON SAUCE

3 cups water
2 cups soy sauce
1 cup mirin
6 tablespoons sugar

Cook ingredients together over low heat until smooth and slightly thickened. Dribble over rice, then top with shrimp tempura. Dribble more sauce over shrimp.

Nutritional information unavailable.




Click for online
calendars and events.
E-mail to Features Editor
---
---
© 1999 Honolulu Star-Bulletin
https://archives.starbulletin.com