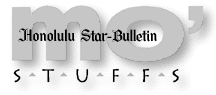 ---
Monday, July 5, 1999

---
Family feeling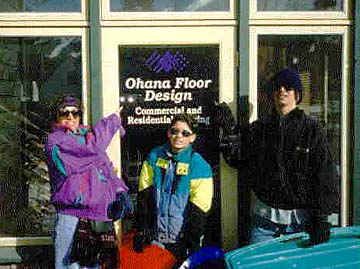 In February, the Mendozas of Honolulu took their first vacation ever on the mainland in Breckenridge, Colo., which explains why they appear to be freezing their okoles off here. This Colorado business helped them feel at home, though. "Unfortunately, the shop was closed," said Liann Mendoza. "But we had to get a picture!"
The Search for Signs of Hawaiian Life in the Universe is just that -- we're looking for evidence of Hawaiiana everywhere but Hawaii. Send snapshots and a description to TSFSOHLITU, Today Department, Honolulu Star-Bulletin, P.O. Box 3080, Honolulu, Hawaii 96813, or e-mail JPEGS or TIFFs to features@starbulletin.com

HIFF seeks filmmakers
The 1999 Hawaii International Film Festival is encouraging Hawaii's budding filmmakers to submit their film and video entries for HIFF's 19th annual event, scheduled to run Nov. 5 to 14 in Honolulu, and Nov. 17 to 21 on neighbor islands.

The deadline for entries is July 12.

As an incentive to local filmmakers, the festival is waiving its usual $35 entry fee.

Films in all genres may be submitted in video, 16mm and 35mm formats. Call 528-FILM (3456) ext. 6 for more information. Those on neighbor islands may call toll-free at 1-(800)-752-8193.

Wildest show continues
Hana's Wilson Kanakaole performs slack-key guitar music Wednesday, continuing the "AT&T Wildest Show in Town" series at the Honolulu Zoo.

The gates open at 4:35 p.m. and the concert starts at 6 p.m. A $1 donation per person is requested to benefit the zoo's flamingos.

Look for upcoming shows as follows:
July 14 -- Swing Dance Party featuring Swingwood Revue
July 21 -- Jimmy Borges and Hawaii's Jazz Legends, with Gabe Baltazar on saxophone, Betty Lou Taylor on keyboards, Noel Okimoto on drums and Steve Jones on bass
July 28 -- Daniel Ho and Joy
Aug. 4 -- Blues with Bluzilla
Aug. 11 -- Audy Kimura
Aug. 18 -- "Alternative Rock Nite," featuring Rocky Brown and The Beat Poets
For more information, call AT&T at 531-0101.

Prince Lot Fest set
The 22nd Annual Prince Lot Hula Festival will take place 8:30 a.m. to 3:30 p.m. July 17 at Moanalua Gardens.

This year, the theme for Hawaii's oldest and largest non-competitive annual hula event, is 'A 'ohe pau ka 'ike i ka halau ho'okahi (All knowledge is not taught in the same school).

This year's lineup includes William "Sonny" Ching's Halau Na mamo O Pu'uanahulu (overall winner of the 1999 Merrie Monarch Festival), Michael Casupang's Pupukahi I Ke Alo O Na Pua, Colin Aiu's Halau Hula O Maiki and Vicky Holt Takamine's Pua Ali'i 'Ilima.

Aiu and Takamine have performed at every Prince Lot festival since its inception in 1977.

The public is encouraged to bring beach mats or low sand chairs to enjoy the event. There is no admission fee, but the Moanalua Gardens Foundation will accept donations.

For more information about the festival or Moanalua Gardens Foundation, call 839-5334.

Dance at Atherton a first
The Hawaii premiere of two works, "Johatsu" and "The Little Match Girl II" will be presented when Tangentz performs in Hawaii Public Radio's Atherton Performing Arts Studio July 17.

The event marks the first time that a dance recital will be held at Atherton.

Both works to be presented deal with the issue of anonymity in the modern world.

"Johatsu" ("evaporation"), a new work by Lori Ohtani, deals with factors that cause a person to drop out of society and live as a vagabond.

"The Little Match Girl II" by Naoko Maeshiba, based on a classic fairy tale, illuminates a world in which dehumanization deprives body and soul of life's basic needs. Maeshiba collaborated with local performance artist/soundscaper Monika Lilleike on this work.

Tickets to the event are $12.50 for HPR members, $15 general and $10 for students. Call 955-8821 for reservations.

Tangentz is a Honolulu-based dance company inspired by butoh. Ohtani formed the troupe in 1994.






Click for online
calendars and events.
---
Send WatDat? questions, stories
or any other story ideas or comments to:
Features, Honolulu Star-Bulletin, P.O. Box 3080,
Honolulu, HI 96802 or send a fax to 523-8509
or E-mail to features@starbulletin.com.
Please include your phone number.
E-mail to Features Editor
---
---
© 1999 Honolulu Star-Bulletin
https://archives.starbulletin.com