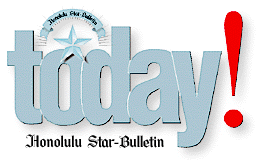 ---
Monday, July 5, 1999

By Ken Sakamoto, Star-Bulletin
The telephone company uses open splice cases to protect
junctions of added phone lines, creating more bulk in an
already cluttered skyline.

---




Open casings
add more bulk to
telephone pole clutter

Just when you think the poor telephone pole can't handle any more weight -- the poles in Kailua are already bent like bowstrings -- these pipe-like contraptions start popping up, adding visual clutter to an already messy landscape. They appear most often at intersections to boot, so you can count on flocks of pipes. These are at the corner of Hele Street and Keolu Drive in Enchanted Lake.

As it turns out, they aren't that heavy, because they're hollow. They're "splice cases," used by the phone company to protect junctions of added phone lines, explained Hawaiian Telephone's Keith Kamisugi. "They're like hollow pipes, metal, an open casing. They really help when you're putting together different kinds of lines."

Is increased Internet use creating demand for new phones lines?

"Not really," said Kamisugi. "And there are technologies, like DSL lines, that allow you to use voice and data on the phone line at the same time."

What about teenagers?

"Not a whole lot we can do about teenagers," said Kamisugi.

OK, they're big and scary-looking -- the splice cases, not teenagers -- but they probably beat using 600 feet of black electrical tape.

---

Burl Burlingame

---

Curious or puzzled about something you've seen, heard, felt or smelled? Drop us a line: WatDat?, Honolulu Star-Bulletin, P.O. Box 3080, Honolulu, Hi, fax at 523-7863 or e-mail at features@starbulletin.com and we'll find out.






Click for online
calendars and events.
E-mail to Features Editor
---
---
© 1999 Honolulu Star-Bulletin
https://archives.starbulletin.com