---
Wednesday, June 30, 1999
O B O N D A N C I N G D A Y S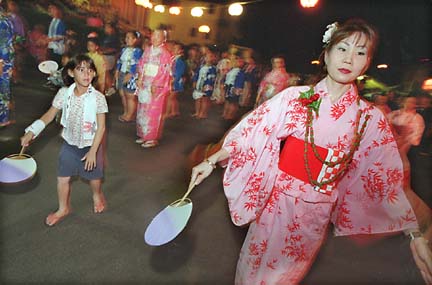 By George F. Lee, Star-Bulletin
Eight-year-old Skye Cardenas follows the movements of
bon dancer Estelle Araki of Bando Mitsumasa II during
the bon dance at the Honpa Hongwanji Buddhist temple.
---



Like observances in Japan, the
honorific form of bon dance is performed
by club members young and old throughout
the islands 'to show appreciation for the ancestors'

By Susan Kreifels
Star-Bulletin

Lillian Kuroiwa, 81, is what Hawaii's Obon season is all about.

She's dancing to honor her husband, who passed away last year. And she's dancing for herself -- the pure joy of it.

Kuroiwa, a member of the Iwakuni Odori Aikokai, practices Obon dances on Tuesday and Wednesday nights, dances at different temples on Friday and Saturday, and squeezes in a dance class she teaches to senior citizens in Kaneohe on Friday. Her hectic schedule will run from the beginning of the Obon season, which started this month, through September.

"So many," she answered energetically when asked what her favorite Obon dance is. "I can't pinpoint. We all love dancing."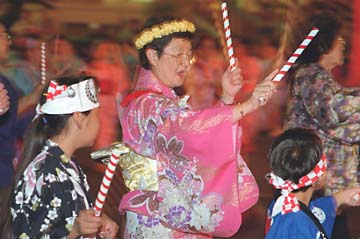 By George F. Lee, Star-Bulletin
Obon dancer Michie Takemoto leads the young ones in a
dance using the taikobachi, or taiko sticks, at the Honpa
Hongwanji. Obon dancing is a Buddhist tradition. The
Obon season in Hawaii starts in June and celebrations
are held through September.
---
The dancing is also called bon, which literally translates to tray (see related story) but Obon is the honorific form. Odori translates to dance, and aikokai means club.

The Hawaii clubs take their name from an area in Japan where they dance the same style. Kaoru Uto, a retired music and band teacher who calls himself an Obon "D.J.," says the celebration has been in Hawaii as long as Japanese have.

Obon is a religious Buddhist tradition to "show appreciation for the ancestors," said Hiromi Kawaji, head minister at Honpa Hongwanji Hawaii Betsuin Buddhist temple on Pali Highway. And to "dance out of pure joy."

And that they do in Hawaii, where the Obon season stretches through the summer, giving each Buddhist temple a chance to hold weekend dances and each Obon dance club the opportunity to travel the circuit.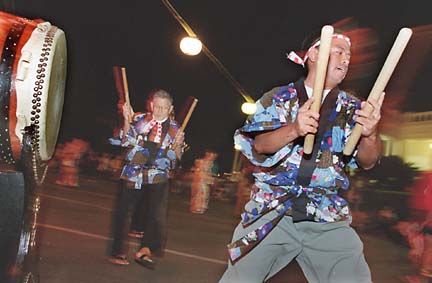 By George F. Lee, Star-Bulletin
Taiko drummers from the Iwakuni Bon Dance club,
Shoichi Komatsu, left, and Gary Tsuzaki, perform during
the bon dance at Honpa Hongwanji temple.
---
That's one of the differences from Japan, where the season lasts only the month of August. There the dancing often takes place in the streets rather than on temple grounds, which are too tiny and squeezed in between skyscrapers in the densely populated country.

Hawaii's season is also different from that of the U.S. mainland, observed Debbie Kubota, who moved to Kailua from Pasadena, Calif. Kubota, dancing with her three children at the Betsuin's Obon celebration last week, said festivities here use more props such as fans, taiko drum sticks and towels. The dances in Hawaii also feature live music rather than just recordings.

And, of course, Obon dancers elsewhere don't wear leis draped over their cotton yukata, or robes, and their hapi coats -- traditional clothing often worn in the summer rather than the silk kimono.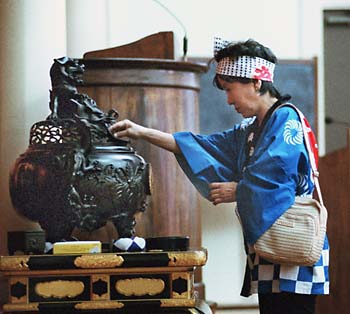 By George F. Lee, Star-Bulletin
Obon participants stop at the shrine to offer prayers
and incense shortly before the start of the dance.
---
To the newcomer the Obon may look like a Japanese version of country-western line-dancing. But the Buddhist tradition is countless generations old. The songs, almost all in Japanese, tell stories of the great Buddha, of brave clans and feudal lords, of farmers and coal miners, even of early Japanese plantation workers in Hawaii. Live music can include a singer, taiko drums and flutes.

The steps, claps and hand motions are usually simple enough for most gaijin, or non-Japanese, to learn. And all are welcome, sometimes even grabbed by the hand and led into the lines.

But the experienced Obon dancers stand out in the light of colorful paper lanterns -- their practiced steps and motions repeating the grace and tradition of their ancestors.

The children stand out as well, a little awkward, but proudly imitating the moves of their grandparents.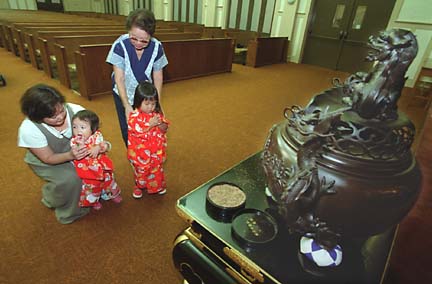 By George F. Lee, Star-Bulletin
Debra Noborikawa, left, and auntie Sue Marutani
attempt to teach sisters Katie and Jackie Noborikawa
the proper style of worship before the shrine at the
Honpa Hongwanji temple.
---
For the young, Obon is an opportunity to learn their ancestral culture. Teresa Sakai, 11, and 8-year-old sister Melanie travel from Los Angeles every summer to visit their grandmother during Obon season. The two joined grandma Yuki Sakai, who sewed their matching yukata, to light incense sticks in honor of Buddha during the religious ceremony that precedes every dance.

Kids in Los Angeles, Teresa said, "probably don't know" Obon like they do in Hawaii.

Maybe not in Oregon either. Aaron Bloom, 20 and part Japanese, is visiting his grandfather, Alfred Bloom. For Aaron, from Eugene, Ore., Obon "is a whole new experience."

But not to Jasmine Apana, a 15-year-old from Roosevelt High School who enjoys the cultural traditions. A member of the Betsuin temple, she worked the first night of the Obon at the food stands, selling yakitori meat on a stick and other traditional Japanese foods.

The second night she got to dance. Along the rainy Pali Highway, the dance often takes place under showers.

"We think of rain as a blessing," Apana said. "You get hot and sweaty."

Apana said she believes more young people are participating in Obon. And the music has taken on some modern sounds, like the "Shiawase Samba," sung in Japanese to a samba beat with a few English words thrown in -- "happy, happy, happy."

But the music doesn't stray too far from tradition. Alan Inaba, vice president of the Iwakuni Odori Aikokai, said some churches drew the line when the popular and well-known "Macarena" showed up.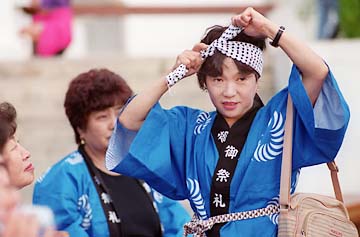 By George F. Lee, Star-Bulletin
Itoku Misumura tightens her hachimaki, or headband,
before the bon dance at the Honpa Hongwanji Buddhist temple.
---
"The true meaning of Obon has been forgotten by a lot of young people," Inaba said.

Hawaii's clubs take their dancing seriously, and they are known in Japan and the mainland. For example, dancers from Iwakuni, Japan, heard Hawaii's 83-year-old James Kunichika singing Obon songs. They not only invited him to their own Obon, they changed the date from August to the less hot November so Kunichika could make it, Inaba said.

"He's the only one who really does authentic Iwakuni songs in Hawaii," Inaba said. "Even in Iwakuni, they don't have someone sing like he does."




Remembering the dead,
reuniting with ancestors

Obon season is a time to honor the dead and welcome the ancestors back for a reunion with the living. It is based on a story about Mokuren, one of Buddha's disciples. Mokuren saw a vision of his dead mother's ghost in purgatory suffering for all the greed committed by humans on Earth. All the food she tried to eat turned into flames. On Buddha's advice, Mokuren started feeding the monks and hungry people, freeing his mother from her suffering as he saw her rising into Buddha's land. He was so happy that he picked up a tray (bon) and started dancing.

While most Obon dances are performed to music in Japanese, some have been written in English. This song was composed in 1989 in honor of the centennial celebration for the Honpa Hongwanji Hawaii Betsuin temple on Pali Highway. The lyrics are by Cecilia Lindo and music and arrangement by Setsuo Fujiyama.

Part of the lyrics provided by Honpa Hongwanji Hawaii Betsuin:

Listen, the taiko goes boom, boom, boom, boom,
It honors all mothers and fathers past,
Who journeyed to Hawaii Nei from land of birth,
And knowing that the Dharma could set them free.

---

Susan Kreifels



E-mail to City Desk
---
---
© 1999 Honolulu Star-Bulletin
https://archives.starbulletin.com