[News]
[Business]
[Features]
[Sports]
[Editorial]
[Do It!]
[Info]
[Stylebook]
[Classified Ads]
[Home]


OBITUARIES and
WEATHER in the
news section daily.




Most recent columns



To March 18, 1996
PAST WEEK:
| M | T | W | T | F | S |






Aloha Worldwide

1998 Election

Legislature

SAT Scores

Stylebook







Phone numbers, e-mail addresses, subscription info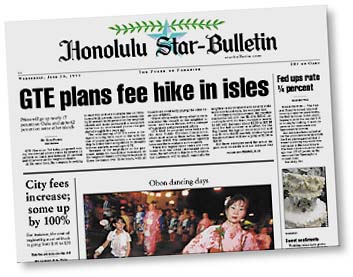 ---
Starbulletin.com publishes online editions Monday through Saturday.
Starbulletin.com publishes articles written by our staff and
selected articles of particular interest to our readers.
Entire contents of this Web site © copyright 1999 by
Honolulu Star-Bulletin. All rights reserved.

---
Featured on:




GTE fee hike; City, state fee hikes; Obon tradition thrives; Most dangerous intersection; Landslide organ donor; Medal of Honor; Missing Maui girl; Wong proceedings stopped; Special session; Residential tax rates; Gentry estate lawsuit; Rescued hiker dancing; State accounting Y2K-OK; Charitable giving; Killer sentenced; Kokua Line; Whatever Happened...






Wedding cakes - Sweet sentiments; Wedding wine; Hawaii's Kitchen; Dakine Anykine; Stuffs; Hawaii; Honolulu Lite; By Request; Simply Ono




What's happening in Honolulu?
UpdatedThursdays




Paogofie is Head Hammerhead; Nebraska's Kimura goes to 'Bows; An Honest Day's Word; Bodytalk; Sports Notebook; Hawaii Beat; Scoreboard



HTA goal - Boost tourist spending; Isle auto sales stalled; Aquasearch begins sales; Business Briefs; Executive Profile; Hawaii Stocks; Mortgage Rates



Providing prescription drugs under Medicare; China overrules Hong Kong court; Capitol View; Letters to the Editor