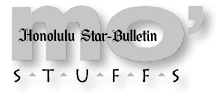 ---
Wednesday, June 30, 1999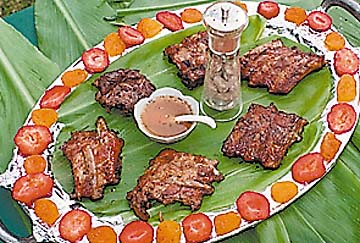 Star-Bulletin
Ruth Liu's Finger Li Hing Good Ribs.
---
A record-setting
weekend for 'Taste'
Last weekend's Taste of Honolulu netted $200,000 for Easter Seals Hawaii, thanks to record-breaking attendance of 50,000 big eaters. Sales were up 20 percent over last year; attendance was up 25 percent.

To bring the event to a close, here is the first-place winner in Taste of Honolulu's rib competition, sponsored by the Tony Roma's Famous for Ribs' restaurant chain.

The winner was Ruth Liu, president of International Specialties, a gourmet gift-basket company, for her ribs flavored with Scotch whiskey and li hing mui.

She won a trip for two to Maui. Second place and a $400 Weber gas grill donated by Eagle Hardware and Garden went to Robert Young, for a more traditional hoisin-based recipe. Other winners took home gift certificates to Tony Roma's.

Liu's winning recipe:
FINGER LI HING GOOD RIBS

1 pound spareribs
Li hing mui powder, for garnish

Marinade:
1-1/2 cups water
1/2 cup lemon juice
3-1/2 tablespoons packed light brown sugar
3 tablespoons honey
1 tablespoon grated ginger
1 jigger Scotch whiskey
Combine marinade ingredients. Soak ribs at least 4 hours. Prepare grill with coals or kiawe apple wood so that one side burns cooler. Grill 20-25 minutes, starting at high heat and moving ribs to the cooler side as they start to glaze. Sprinkle ribs with li hing powder to taste.

Nutritional information unavailable.
Winning meals

Best of the Taste awards, chosen by popular vote:

Best Beef: Big Island Steak House, ribs
Best Dessert Indigo: Double Double Chocolate Torte
Best Pasta: Ciao Mein, Seafood Fun Lasagna
Best Pork: Texas Rock-N-Roll Sushi Bar, ribs
Best Poultry: Indigo, Lemon Grass Chicken Brochettes
Best Salad: Nicholas/Nickolas, Maui Wowie
Best Seafood: The Colony, Casserole of Prawns
Best Vegetarian: Texas Rock-N-Roll Sushi Bar, Vegetarian Sushi

People's Choice Wine

Wine: Kendall-Jackson Grand Reserve Cabernet Sauvingon


Click for online
calendars and events.
---
Send WatDat? questions, stories
or any other story ideas or comments to:
Features, Honolulu Star-Bulletin, P.O. Box 3080,
Honolulu, HI 96802 or send a fax to 523-8509
or E-mail to features@starbulletin.com.
Please include your phone number.
E-mail to Features Editor
---
---
© 1999 Honolulu Star-Bulletin
https://archives.starbulletin.com