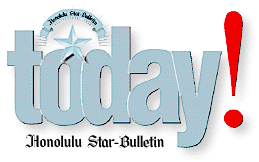 ---
Wednesday, June 30, 1999
DA KINE, ANYKINE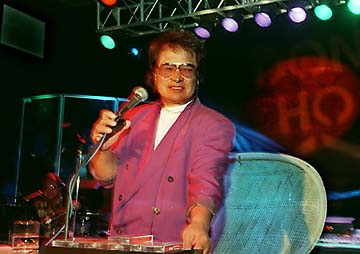 By Dennis Oda, Star-Bulletin
Don Ho makes like Didi Ah Yo...away he goes on a mainland tour.
---
Don Ho hits the road

Singer Don Ho takes his laid-back style on the road July 9 at House of Blues in Chicago starting his "Tiny Bubbles" 1999 tour, named for one of Ho's biggest recording hits.

The Hawaii entertainer's songs, stories and troupe of rising Hawaii stars continues on to Green Bay, Wisc.; and Reno, Nev., before performances July 24 and 25 at Whittier College, Calif. Dec. 7 through 19, the tour returns to Nevada to perform in Laughlin and Las Vegas.

There will also be special "Tiny Bubbles" shows aboard the ship Independence Sept. 26 and Oct. 3 and 10 while it is docked at Nawiliwili Harbor, Kauai.

Except for the tour dates, the Don Ho show will continue its regular Waikiki schedule, 7 p.m. Sunday through Thursday at the Waikiki Beachcomber Hotel.

For more information on the tour and the Waikiki show, check the web site at http://www.donho.com or call 923-3981.

Shelton joining KHON news

Television journalist Tina Shelton is moving from KITV to KHON Channel 2 News.

Shelton, who has been an anchor and senior reporter at KITV since 1985, will be an investigative reporter for KHON. She starts July 6, according to Jim McCoy, station news director.

A graduate of the University of Hawaii at Manoa, Shelton is the only television journalist to be named a Distinguished Alumni, she has also won awards from the Society of Professional Journalists.

In other personnel news, KHON reporter Mary Zanakis left the station about two weeks ago. McCoy said he could not comment on the reason for her departure.

Lanai pays homage to Aloha Festivals alii

Aloha Festivals alii for the island of Lanai will be honored in a Royal Court Investiture 6:15 to 6:45 p.m. tomorrow at Hulopo'e Beach Park.

Derwin Nalei Kwon will serve as king and Waynette Leialohalani Ho-Kwan will be queen, representing Lanai in festival celebrations throughout the year.

Aloha Festivals was created in 1946 as Aloha Week to help preserve Hawaii's traditions.

More information about the festival is available by calling its Oahu headquarters at 589-1771, or from neighbor islands, call toll-free 1 (800) 852-7690.

Sweetly old-fashioned

Contestants are being sought for Ka Himeni Ana, the 17th annual Hawaiian contest for old-fashioned singing.

The event, which will take place at 8 p.m. Aug. 28 at Hawaii Theatre, encourages musicians to revive sweet, old island songs, sung without amplification. Only tunes in the Hawaiian language, composed in the pre-World War II nahe nahe style may be sung, and accompanied by instruments such as ukulele, guitars, string basses and autoharps.

Professional and amateur groups of two to five members will compete for cash prizes of $1,000 for first place, $600 for second place, $400 third, $200 fourth and $100 fifth.

To obtain application forms or for more information, call Marge Hansen at 842-1133.

Kuakini seeks memorabilia

The year 2000 will mark the 100th anniversary of Kuakini Medical Center, which was founded by Japanese immigrants.

Kuakini is looking for any old pictures, documents, stories, artifacts and memories related to the center that may be shared as part of the anniversary celebration.

The hospital would also like to contact those born at Kuakini. Call the Kuakini Health System Marketing and Public Relations Department at 547-9168.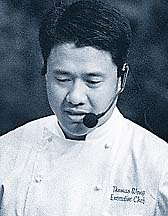 File photo
Chef Thomas Wong will demonstrate the preparation
of grilled foods with a local accent.
---
Barbecue tips

Thomas Wong, executive chef at the Royal Hawaiian Hotel, explains how to grill with style in "Local Style BBQ," his installment in the quarterly cooking demonstrations dubbed "On the Front Burner: The Flavors of Hawaii."

The Sheraton hotels have been sponsoring the events to showcase their chefs, as well as fresh local produce. The aim is to teach ways of blending herbs, spices and sauces while exploring ethnic cooking techniques and flavors.

Wong will prepare grilled pizza with Thai beef salad; kumu paupiate with miso broth topped with ogo, sausage and shiitake mushrooms; grilled banana and lychee flambe. His demonstration will be at 11:30 a.m. Saturday at the Royal Hawaiian.

Tickets are $50 per person, or $75 for two, and include a taste of the food. For reservations call 931-8408.

Coming up next is chef Ralf Bauer, 5:30 p.m. Oct. 2 at the Sheraton Princess Kaiulani.

Morsels

Satisfy your senses: If you like your art with a little food and wine on the side, the Honolulu Academy of Arts has an event that'll allow you to upgrade your cultural profile while stuffing yourself quite nicely. It's Showcase 1999, happening Aug. 22 in the Academy Courtyard. The event sold out last year, which is why it isn't too soon to put in your ticket order.

Considering that crafting fine food and bottling fine wine are both art forms, the eating and drinking fit well with the show and sale of fine art by rising stars such as Gail Bakutis, Ron Kent, Michael Lee and Nancy Poes. Matching their skills in the kitchen will be Roy Yamaguchi, Alan Wong, Jean-Marie Josselin and Philippe Padovani, along with a host of other top chefs. Master Sommelier Chuck Furuya will pick the wines to pair with the chefs' creations.

All-you-can-eat-and-drink tickets are $60, benefiting academy education programs. To order by mail, send a check to the Academy Guild, 900 S. Beretania St., Honolulu 96814. Call 532-6099.

Elegant takeout: Very quietly, for about four months, Mariposa Restaurant at Neiman Marcus Ala Moana has been offering takeout. Executive Chef Douglas Lum says they've been averaging 10 dinner orders a day.

Sauces and side veggies, are packed separately, "the idea being that you could go home, heat them all up and put them on your own china" says Lum, and have an elegant repast without worry about how much to tip.

Now this isn't your $6 plate lunch. Lum says entrees, complete with starch and vegetables, average $20. In that price range you can have, to quote the menu, "Smoked Pork Ribs brushed with our Red River tequila barbecue sauce and served with sauteed vegetables and mashed potatoes." Or "Seared Sea Scallops with herb and garlic linguini, sauteed spinach and mushrooms."

Salads are $6.50 and $7.50, appetizers range from $5 for soup to $12 for Chilled Prawn and Shrimp Cocktail. Desserts, $6, include Hamakua Meyer Lemon Tart with blackberry balsamic sauce, Mocha Brulee "infused with Kona coffee beans and bittersweet chocolate," and Individual Pineapple Upside Down Cake meant to be served "warm with Tahitian vanilla bean ice cream."

Pick up is at the store's valet entrance. Call 951-3420.

Beach Barbecue Feast: Plumeria Beach Cafe at the Kahala Mandarin Oriental presents a Kahala Beach Barbecue Dinner Buffet tomorrow through Monday. Executive Chef Wayne Hirabayashi and Executive Sous Chef Aaron Griffith will prepare baby back ribs, Cajun-spiced cheeseburgers, lamb chops wrapped in Parma ham and homemade sausages. Picnic fare such as salads, appetizers and desserts will complement the chef's grill. Prices are: $38.95 for adults; $19.95 for children 5-12. Call 739-8760 for reservations.

"Hawaii Chefs and their Cuisine": Executive chef/owner of Indigo Restaurant, Glenn Chu, will be featured at the Maui Prince Hotel's Prince Court restaurant tomorrow. The evening will begin at 7 p.m. with champagne, wine and dim sum, followed by a cooking demonstration and three-course dinner with wine. Cost is $88 per person. Call 875-5888 for reservations.

Wine Tasting at the Cove Bar: The staff will guide guests through wines from California, Washington and Europe, 5:30-8:30 p.m. tomorrow. Appetizers will be served. Price is $15 per person. Reservations are recommended at 946-6245. The Cove Bar is located at Ala Mona Center Makai Market.

"Taste of America": Hilton Hawaiian Village celebrates Fourth of July with a "Taste of America," featuring cuisine from New York, the Pacific Northwest, San Francisco and Atlanta. Bali By the Sea will take you to to New York with "An Evening at the Waldorf-Astoria" 6 to 10 p.m. Friday and Saturday; $55 per person. A "Taste of the Pacific Northwest" can be found at The Village Steak & Seafood Brewmaster's Dinner, 6 to 10 p.m. Friday and Saturday; $36 per person. "A Taste of the Golden Gate" will provide San Francisco cuisine at the Rainbow Lanai 5 to 9:30 p.m. Friday and Sunday; $28.50 per person. A "Taste of the South" will also be featured on the Rainbow Lanai, 5 to 9 p.m. Monday; $25 per person. Call 949-4321 for more information.

"Two Cooks in Chinatown": Martin Yan and Roy Yamaguchi will explore Honolulu's Chinatown markets in search of fresh ingredients for dishes from soups to stir-fries. Yan will also prepare his special Island Seafood Stir Fry on Hawaii Public Television's "Hawaii Cooks with Roy Yamaguchi," 7:30 p.m. Tuesday, KHET/PBS.

Dishes from Singha Thai: See Chef Chai Chaowasare in action as he prepares Thai dishes at the Lyon Arboretum from 9:30 to 11:45 a.m. July 10. Fee for the class is $22; senior citizens, $12. Printed recipes will be available and tasting sessions will be conducted.






Click for online
calendars and events.
E-mail to Features Editor
---
---
© 1999 Honolulu Star-Bulletin
https://archives.starbulletin.com