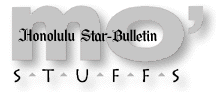 ---
Tuesday, June 29, 1999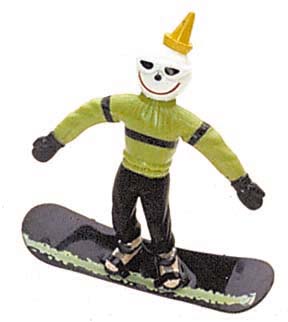 Extreme burger dude.
---
A taste for adventure
Jack in the Box is attempting to draw a connection between french fries and fitness with the release of the "Jock Jack" line of dolls.

In bendable figures available at Hawaii Jack in the Box locations starting tomorrow, the fast-food chain's spokesman dons fishing, snowboarding, skydiving, kayaking, stock-car racing, scuba, and luge gear.

In keeping with the Jack-as-CEO theme of the restaurant's marketing campaign, a company news release reads "Jack, like so many high-powered executives, really does have a taste for extreme recreational pursuits."

If you have a taste for a cheeseburger, visit Jack in the Box and have a look. The toys might bring a smile to the face of your favorite snowboarder or scuba diver.






Click for online
calendars and events.
---
Send WatDat? questions, stories
or any other story ideas or comments to:
Features, Honolulu Star-Bulletin, P.O. Box 3080,
Honolulu, HI 96802 or send a fax to 523-8509
or E-mail to features@starbulletin.com.
Please include your phone number.
E-mail to Features Editor
---
---
© 1999 Honolulu Star-Bulletin
https://archives.starbulletin.com