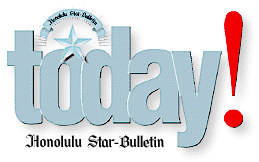 ---
Tuesday, June 29, 1999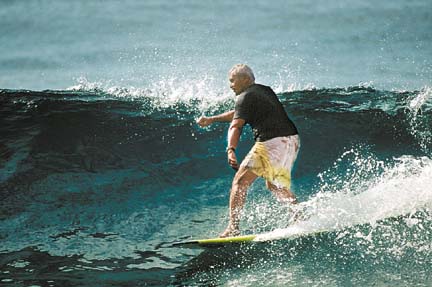 By Bernie Baker
Veteran Waikiki beachboy Rabbit Kekai, 79, is among
the surfers featured in "Surfing for Life."
---
Seniors set
swell example


The documentary "Surfing for Life"
wrapped up filming in Hawaii on
Sunday. It uses surfers to illustrate
strategies for healthier aging.

By Greg Ambrose
Special to the Star-Bulletin

A sense of urgency guides filmmaker David Brown as he hastens to finish his latest documentary.

It's not that he is eager to be rid of the project, though it has taken five years of hard work and much frustration. After all, the subject is a refreshing departure from his usual award-winning work on the deadly legacy of the nuclear age.

Brown is worried that the stars of his film, "Surfing For Life," might not live to see the finished product. After all, surf photography pioneer John "Doc" Ball is 92 and rides his surfboard or skateboard infrequently these days.

Makaha renaissance waterwoman Rell Sunn has lost her valiant battle with breast cancer, and surf photographer LeRoy "Granny" Grannis is 81 and struggling with an inner-ear problem that forces him to ride his surfboard kneeling.

But while Brown pulls all-nighters in the editing room on the home stretch, a trio of his film's subjects recently affirmed his choice of surfers as inspirational models for how to age with grace and vigor.

To kick off the four-day conference "Aging Societies in a New Millennium," Woody Brown, 87, recognized as the father of modern catamarans, steered such a craft off Waikiki filled with conference attendees.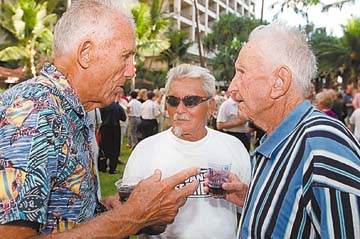 By George F. Lee, Star-Bulletin
Senior wave riders John Kelly, Rabbit Kekai and Woody Brown
put their heads together at the "Aging Societies in a New Millenium"
conference in Waikiki Sunday.
---
Once in the lineup, Waikiki beachboy and surfing legend Rabbit Kekai and environmentalist and ocean protector John Kelly, both 79, left the boat for a sunset surf session.

The conference, sponsored by the International Association of Homes and Services for the Aging, began Sunday and concludes tomorrow at the Hilton Hawaiian Village.

For Brown, creating "Surfing For Life" has been a curious mixture of elation and despair as he filmed and interviewed elder surfers to illustrate the elements that allow people to remain vigorous as they age.

The essential ingredients to remaining vital and energetic to the very end are exercise, humor, a passionate involvement in something you love, and a sense of community, he said. During every moment of the film, the surfing elders reinforce those lessons vividly in word and deed.

The highs of the project were exhilarating for Brown, such as the Napoleon holiday where Anona and Nappy Napoleon rounded up 25 of their children and grandchildren to skip school and play in the ocean for the day, riding waves and paddling outrigger canoes.

The film abounds with such life-affirming moments as big-wave pioneers Fred Van Dyke and Peter Cole talking about skipping school at Punahou as teachers to go surfing, and Dr. Shay Bintliff confessing to abandoning board meetings for the same reason on the Big Island.

The passage of time has not made it more difficult for these surfers to hear the siren song of the waves. When Woody Brown's board whacked him in the ear, causing a concussion, his doctor told him to quit surfing. Within a month Brown was back in the waves, still cruising along on his way to nine decades.

But the good times were sporadic for the project, which was constantly bedeviled by a lack of sponsors. Strapped for cash, Brown at times had to put the film on hold and free-lance as a cameraman for news stations, as well as work on documentaries on such diverse topics as Cuba and digital technology.

THE CAST INCLUDES: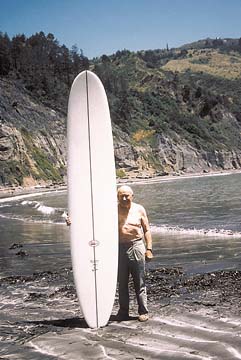 Seniority Inc.
John "Doc" Ball (age 92) is the oldest living American
surfer. A retired dentist and photographer, Ball still
surfs in Northern California's Shelter Cove.
---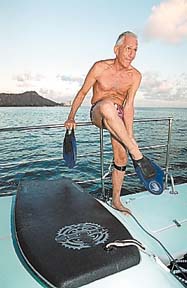 By George F. Lee, Star-Bulletin
Environmentalist and ocean protector John Kelly, 79,
gets ready to show his stuff in the last day
of filming on "Surfing for Life."
---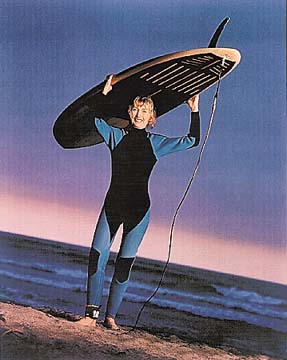 Seniority Inc.
Eve Fletcher (age 72), a surfer for nearly 40 years,
is one of the oldest women still surfing. "Surfing for Life"
includes scenes from Fletcher's 1958 "surfari" to Hawaii,
when she lived in a van she bought from legendary
surfer Fred Van Duke for $25.
---
Brown's partner in "Surfing For Life," San Francisco surfer and gerontologist Roy Earnest, continued as administrator of the Francis of Assisi Community for the elderly, while both of them worked steadily if slowly on the project.

To their delight, the film has constantly and unexpectedly evolved.

John Kelly so impressed them with how he was affected by the ancient Hawaiian traditions of love of the land, reverence for the ocean and respect for elders that they decided to alter the film to embrace Hawaiian cultural mythology and the philosophy of aloha and ohana.

Just when Brown and Earnest despaired of ever completing "Surfing For Life," the project was rejuvenated when Seniority Inc. signed on to provide the final dose of cash.

Frederick Marx, the producer/director of "Hoop Dreams," has joined the team, and with a few long days and nights of editing archival footage, music, and recent interviews and action shots, the long ride will be over.

"We feel great about it," said Brown, adding early screenings have earned important feedback from the surfing, aging, film and public broadcast communities. "We think we have a winner."

And then comes the fun part. They have been negotiating with directors of the Hawaii International Film Festival to premiere "Surfing For Life" in the islands, followed by a possible broadcast next summer on the "P.O.V." series of the Public Broadcast System.

"The film is doing what we hoped it would do: inspire a nonsurfing audience to see the positive aspects of aging," said Brown.

As the on-screen interviews wind down and the credits start to roll, one last image of the film is certain to achieve that goal, the sight of Doc Ball blazing down the sidewalk on a skateboard, still stoked on life.






Click for online
calendars and events.
E-mail to Features Editor
---
---
© 1999 Honolulu Star-Bulletin
https://archives.starbulletin.com