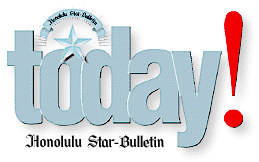 ---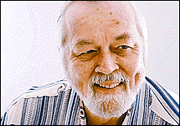 Hawaii

By Dave Donnelly
Tuesday, June 29, 1999
---
Forecasting a
stellar show

STORM warnings: Tickets went on sale yesterday for what may well be the most exciting concert of the year. Gaelic Storm returns to Andrew's Outdoor Theater July 10, and you can bet many of the 2,500 hardy souls who took in the Irish whirlwind last year when it appeared there will be returning. This is the group known for its appearance playing music in steerage during "Titanic," while Leonardo DiCaprio and Kate Winslett fell in love. Those people wanting to see this exciting group are warned not to show up at Andrew's without tickets in hand -- they can be purchased (as long as they last) at the Stan Sheriff Arena box office and the Ward Centre Rainbowtique, or by calling 944-BOWS. Gaelic Storm will also perform at the Maui Arts & Cultural Center on July 8 and at the Manele Bay Hotel on Lanai on July 12. The group may remind you of the Saw Doctors, the Galway band which appeared at the Guinness Flahd in New York and was described by the Times as singing "lyrics one can understand even when drunk." No booze will be allowed at Andrew's, however, unless you drink it before you get there ...

ONE sporting legend is in town and another plans to visit here after the Fourth of July. Race driving immortal Mario Andretti, spokes-man for the Super Prix of CART racing, appears at a news conference today and tours Pearl Harbor tomorrow. And boxing great Marvelous Marvin Hagler has Hawaii penciled in for a vacation next week ...

Golden years

BACK in 1974, Robert and Barbara Wegrzyn of Battle Creek, Michigan celebrated their 25th wedding anniversary at the Ala Moana Hotel's Plantation Cafe. They so enjoyed the hospitality of the hotel and Hawaii in general that eventually they moved to the 50th State. Now residents of Salt Lake, the Wegrzyns returned to the Plantation Cafe Saturday night, this time to celebrate their 50th anniversary, and threw in a family reunion to boot. Cafe manager Jamieson Longoria was happy the couple returned, but expressed a hope they not wait another 25th years for their next visit ...

PROMOTER Mike Rossell was all smiles when he popped into Hank's on Nuuanu Saturday night -- his Hawaii Golf Expo at the Blaisdell was so successful it drew more people the first night it ran than it had in each of the previous two years. And if you're wondering about the $100,000 putting challenge, Rossell had no worries there. Each of the five qualifiers not only failed to "putt for dough," as they say, but not one of them could even repeat the 10-footer that qualified them, let alone a 50-footer. Incidentally, Tom Haynes, president of the new Hawaii Golf Media Association, told those at the Expo that his newest member is Arnold Palmer, who accepted an honorary lifetime membership ...

An orphan's voice

THE annual Fourth of July spectacular at Schofield Barracks has a plethora of talent on view, from "Battle of the Bands" winners to professional groups like Disguyz, Krush and the Society of Seven. Lots of music from the 25th Infantry Division Band, including the "1812 Overture" -- with cannon -- and the annual "Flags We Follow" feature with Tina Shelton and Jo Pruden. But producer Vanita Rae Smith is still looking for someone who was orphaned by World War II to read a tribute to orphans. Great opportunity to appear before 65,000 people. Call her at 438-1980 if interested ...

---




Dave Donnelly has been writing on happenings
in Hawaii for the Star-Bulletin since 1968.
His columns run Monday through Friday.

Contact Dave by e-mail: donnelly@kestrok.com.
E-mail to Features Editor
---
---
© 1999 Honolulu Star-Bulletin
https://archives.starbulletin.com