---
Monday, June 28, 1999



M A R T I A L _ A R T S
---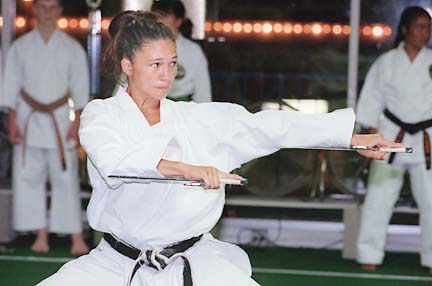 By Kathryn Bender, Star-Bulletin
Elisa Au performs a razor-sharp kobudo kata with sai.
---
Say Au!


World champion Elisa Au leads
Honolulu's International Karate
Federation team to the AAU/USA
National Championships this week

By Pat Gee
Special to the Star-Bulletin

BLESSED with dainty features and caramel-colored skin and hair, which she gathers into a long ponytail, Elisa Au looks like a ballerina with her lithe, graceful body.

But give her a sparring partner and she turns into a slashing, punching, kicking karate artist possessing eye-of-the-tiger focus that transforms her soft, youthful face into a mask of stern concentration.

The shy, serious teen-ager says she plans to become a doctor one day. But first she wants to become the best woman karate champion in the world.

Au is almost there. Early this month she and other members from Hawaii's International Karate Federation team -- the top team in the nation -- brought home gold and silver from Germany. Au won the World Karate Confederation women's kata (forms) and the 55-kg kumite (sparring) titles.

Thirty-four IKF team members left Saturday for Orlando, Fla., for the Amateur Athletic Union/USA National Championship. The championships run through Friday.

Under the direction of founder and head sensei Chuzo Kotaka, the highest ranked shito-ryu karate artist in the world, the IKF team has been rated the top school in the country for the last 11 years.

Au started taking karate as a fun, after-school activity when she was 5 from sensei Glenn West. But she started getting serious about the sport when she went to her first national tournament and saw that "there was so much more to karate" than she thought.

She became a first degree black belt at the age of 10, and earned the second degree rank at 17.

"My most important goal is to excel in what I do. I'd like to become the best at my sport," she said. Specifically, that means being a champion in World Karate Federation competition, a caliber higher than the WKC tournaments.

Karate has helped her in school work as well as other sports, such as track, paddling and gymnastics, by teaching her "discipline, making sacrifices, putting my priorities in order," Au said.

"I've always been interested in competition and training. There's always more to learn; I haven't learned anything yet," Au said.

"Karate has built my character. It's hard for me to give up. Once I start something, I want to go all the way."

The IKF team, ranging in age from 5 to 43, includes first-time competitors as well as seasoned black belts, such as world champion George Kotaka, the founder's son.

More than 10,000 are expected to compete in the team and individual events at the Amateur Athletic Union/USA National Championship. Last year, IKF came home with 60 gold medals and both the men's and woman's grand kumite (sparring) championships.

---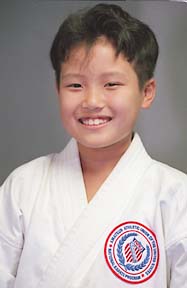 By Kathryn Bender, Star-Bulletin
Garikk Pereira.
---
Pereira's actions are heroic
to his IKF teammates

By Pat Gee
Special to the Star-Bulletin

When he was 5, Garikk Pereira says he wanted to be a like a Superhero, one of the many action figures kids play with who do heroic deeds.

No matter that he was born with a weak right arm and leg. His mom, Brenda, taught him that he could do almost anything if he was determined.

So she enrolled Garikk in a karate class to sneak in some physical therapy while having fun and to help him focus his mind, since he also has attention deficit disorder,

Garikk only remembers, "my mom forced me to" go to karate, with comical childlike bluntness.

But now he's glad because is in Florida this week, competing in his first national event as part of the top-ranked International Karate Federation team from Hawaii.

Garikk, 11, will be the first physically disabled child to go to the nationals from Hawaii. It's also the first time the federation has opened the competition to the disabled. He will compete in a special division, but if allowed, will also spar against the non-disabled.

Garikk's improvement has him competing against, and defeating, classmates of his rank (purple belt) or better, said his sensei, Glenn West, who also is his sixth grade teacher at Pauoa Elementary.

"I've never seen a kid develop so much self-confidence," West said. "He could lose at the nationals and come back with nothing, but he would still be a winner because he put his whole heart into it. He's probably got the biggest trophy he'll ever get, and that's self-confidence."

Garikk's training includes 500 sit-ups and push-ups a day and running the stadium steps at Kaiser High.

Garikk's attitude is what makes him heroic, said April Ambard, a student and teacher at IKF. "It takes a lot of courage for Garikk to get up in front of 10,000 people and compete," she said.

Garikk's goal is to become a black belt and help other students. "I want to be a sensei (teacher)," he said.
E-mail to Sports Editor
---
---
© 1999 Honolulu Star-Bulletin
https://archives.starbulletin.com