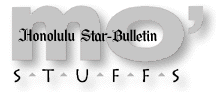 ---
Friday, June 18, 1999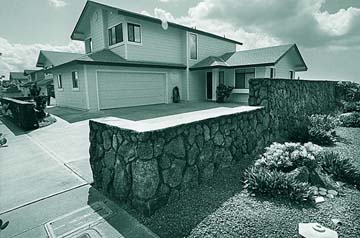 File photo
Some people dream of a two-story house with
an attached two-car garage.
---
There's no place like home
If you already have your dream house, skip this. But if you're like most people in Hawaii, that home is still a dream. To fan that dream, American Savings Bank is sponsoring its Better Home Show, 5 to 10 p.m. today, noon to 10 p.m. tomorrow, and noon to 6 p.m. Sunday at Blaisdell Center Arena and Exhibition Hall.

More than 300 exhibitors will display the latest in stuff for that cozy retreat of yours, from basic construction to home improvement, particularly baths and kitchens. Then there will be help with landscaping, decorating and furnishing your abode.

Can't afford a home? The show is presented by an institution that provides loans.

So there will be workshops, sponsored by the U.S. Department of Housing and Urban Development, on buying a home. "Preparing for Home Ownership" covers budgeting, shopping and financing, and will be at 8 p.m. today and tomorrow, and 4 p.m. tomorrow. "Buying a Foreclosed Home" will be at 7 p.m. today and tomorrow, and 3 p.m. tomorrow and Sunday.

Admission to the Home Show is $3 adults, $2.50 for seniors and $2 for ages 7 to 12. Children 6 and under are admitted free when accompanied by a paying adult.






Click for online
calendars and events.
---
Send WatDat? questions, stories
or any other story ideas or comments to:
Features, Honolulu Star-Bulletin, P.O. Box 3080,
Honolulu, HI 96802 or send a fax to 523-8509
or E-mail to features@starbulletin.com.
Please include your phone number.
E-mail to Features Editor
---
---
© 1999 Honolulu Star-Bulletin
https://archives.starbulletin.com