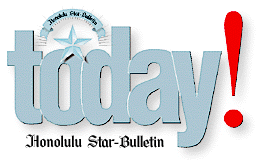 ---
Friday, June 18, 1999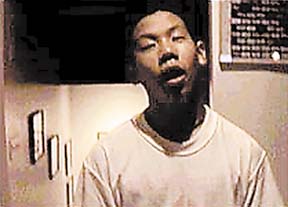 Photos courtesy Eric Lam and Daniel Levey
Daniel Levey, below, and Eric Lam stayed awake for 100 hours
to raise money for the Ronald McDonald House.
Levey shaved his head out of boredom.
---
Teens were sleepless in
'Insomniathon' for 100 hours

Star-Bulletin

They did it, Daniel Levey and Eric Lam did -- to raise money for Ronald McDonald House, the two Punahou students stayed awake for 100 hours.

And 5 minutes.

"Bang, we were just out," said Levey. "Five minutes after breaking 100 hours, we were gone."

The boys slept for 21 hours. They woke up, not exactly refreshed, but back on this planet.

"Staying awake like that is hard to handle," said Levey. "The worst part was at, like, 36 hours. After that you're too wasted to do anything. Things got weird. Every time I sat in a chair, it felt like it was falling."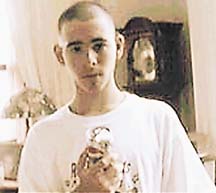 They played video games, answered e-mail in their chat room, Levey shaved his head. In the process, they raised more than $250 in pledges in an "Insomniathon" that began 6 a.m. June 5 and ended after 10 a.m. June 9.

We tried calling them when it was over, but they were already snoozing.

Pledges were made online at the boys' web site at http://start.at/insomnia, where people can still log in and skim their brief journal.

During the insomniathon, one e-mailer offered a suggestion that seemed to help.

"If you stick Q-tips way up your nose and wiggle them around, it stimulates nerve endings and wakes you up," said Levey. "We tried it and it worked."

Was that the sort of thing you'd only try if you were so tired your good sense was gone?

"I guess," said Levey.

Kids, don't try that at home.






Click for online
calendars and events.
E-mail to Features Editor
---
---
© 1999 Honolulu Star-Bulletin
https://archives.starbulletin.com