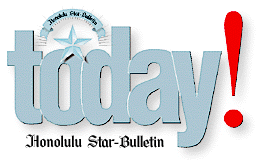 ---
Friday, June 18, 1999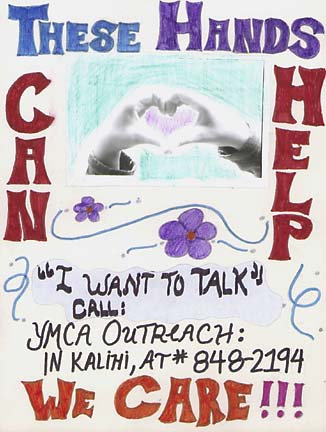 Star-Bulletin
"With These Hands" poster designed by
Campbell High School student Antoinette Perez.
---
Helping hands


Campbell High School
photography class students place
powerful hand images in posters
directing teens to seek help
handling drugs and abuse

By Treena Shapiro
Star-Bulletin

With a good idea and some helping hands, a photography teacher and her students created something positive for Campbell High School.

Jo Anne Giubilato's photography class used a $1500 Good Idea Grant from the Public Schools of Hawaii Foundation to design a series of posters encouraging students to seek help for drug, alcohol and physical abuse. The grants are awarded to teachers with innovative and creative ideas to help students.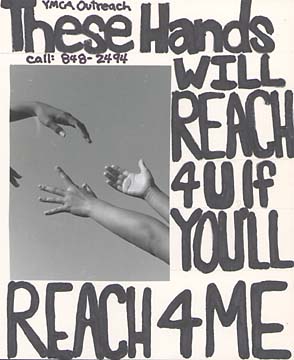 Star-Bulletin
"With These Hands" poster designed by Angela Abila.
---
The class worked on the project "With These Hands" in conjunction with the Drug Free Program and the YMCA Outreach program. "YMCA does tremendous work with our students," Giubilato said. As indicated by the title, the posters feature hands and encourage students in need to talk to someone.

Michelle Pagtulingan, a junior at Campbell, used poetry and a negative image to set her poster apart from the others. Coloring aside, Pagtulingan said that students will be drawn to the poster. "It's a positive image," she said.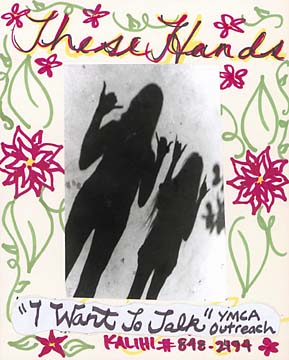 Star-Bulletin
"With These Hands" poster designed by Kandice Symster.
---
Campbell High School has earned a reputation for violence, ranking among the top five Hawaii schools for assaults and disorderly conduct, but Giubilato hopes that "With These Hands" will demonstrate the positive efforts students make for their school and community.

"I would love for Hawaii to see our school and our students in a positive light," Giubilato said.

"Yes, we have problems in our school that are a reflection of our society and nation. And yes, we are trying to deal with them and help students in need."






Click for online
calendars and events.
E-mail to Features Editor
---
---
© 1999 Honolulu Star-Bulletin
https://archives.starbulletin.com