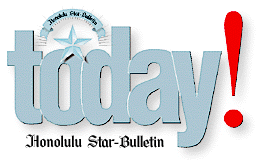 ---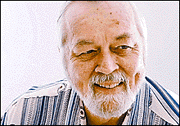 Hawaii

By Dave Donnelly
Friday, June 18, 1999
---
TV match-up
part of 'Taste'

THERE'S more than just food available at this year's "Taste of Honolulu" June 25 to 27 on the grounds adjacent to City Hall. Two competitions caught my eye. One is called "A Touch of Baywatch" and features localites selected to be regulars on the show. Stacy Kamano will team up with a chef from Alan Wong's and Kala'i Miller joins chef Linda Yamada of the Beach House in Poipu in a "Ready, Set, Cook" competition 5:30 to 6:30 p.m. June 26. (Does this mean Stacy can cook, too?) They then have a half hour to clean up before a second "Ready, Set, Cook" competition gets underway. Chef Glenn Chu of Indigo and his 12-year-old daughter Lacey will square off against Chef Jean Marie Josselin of A Pacific Cafe and his 12-year-old daughter, Leilani. The "Taste" is one of the best buys in town, with the $2 admission fee going to Easter Seals. Scrip will be sold for tastings from more than two dozen restaurants and vendors ...

THE next Army Community Theatre production is "The Sound of Music," but the only music on the mind of singer Loretta Ables is "Here Comes the Bride." At a romantic dinner at Alan Wong's celebrating two years of togetherness, boyfriend David Sayre popped the question and she must have hit a "High C" with her "Yes!" No wedding date has been set, and no word on who'll sing "Oh, Promise Me" or whatever ... Ables, incidentally, is now performing Thursday nights at the Lobby Lounge of the Kahala Mandarin, one of my favorite places for a nightcap. She also performs there tonight, and wouldn't it be nice if she could add Fridays to her regular schedule ...

Never too late

IT was a joyous 40th anniversary party for legendary barkeep Tommy Velasco (Palm Tree Inn, Zebra Room, etc.) and wife Rumelia. It had looked for a time like Tommy would be a lifelong bachelor, but after meeting Rumelia, he figured better late than never and the two married when he was 44. They were in no hurry to have kids, but eventually three came along, girls Adelaida and Rumelia (Jr.), plus Tony Jr. (Tommy's real name is Tony, but that's another story.) Eventually the girls each got married and in the past year each gave birth to a baby, so the 40th anniversary that Tommy never expected to happen, went off with two grandkids to boot. Cartoonist Corky Trinidad did the toast -- his mother was a sponsor at the wedding 40 years ago -- and City Councilman Mufi Hannemann sang "I Can't Stop Falling in Love With You," bringing down the house. But the real finale was the best -- the anniversary couple singing "The Hawaiian Wedding Song." Not a dry eye anywhere ...

GOOD luck trying to find a place to have lunch or brunch downtown on a weekend. But now comes The Wild Mushroom, open from 9 a.m. to 2 p.m. in the Richards St. YWCA. Not only do they serve brunch, but Azure McCall dishes out jazz from 11 to 1 each day ...

Aloha means keep out

RENOWNED chef Jacques Pepin praised as "best in show" the local gourmet dishes whipped up by chefs Tom Wong of the Royal Hawaiian and Mark Secker of the Princeville Resort at the Aspen Food & Wine Festival. Starwood Hotels P.R. exec Sharon Weiner was still basking in the glow of that praise when she arrived at the airport and saw "Aloha" signs on the baggage claim exit doors. How nice, she thought, until she realized the "welcoming" signs were being kept in place by heavy metal locks ...

---




Dave Donnelly has been writing on happenings
in Hawaii for the Star-Bulletin since 1968.
His columns run Monday through Friday.

Contact Dave by e-mail: donnelly@kestrok.com.
E-mail to Features Editor
---
---
© 1999 Honolulu Star-Bulletin
https://archives.starbulletin.com