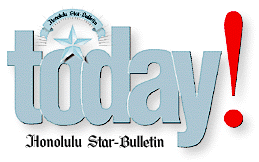 ---
Thursday, June 17, 1999

Chinatown's Sisu Gallery
zooms into history

By Suzanne Tswei
Special to the Star-Bulletin

Sisu Gallery is going out of business with a bang -- shooting rockets that go zoom, zoom into space. Not the big, ugly, real ones used in war, but warm, whimsical ones made of wood by artist Ron Smith.

Gallery owner Seth Goldstein hadn't planned it, but Smith's rockets pose a poetic farewell for a gallery that showcased fresh and often experimental art for two and a half years on the edge of Chinatown.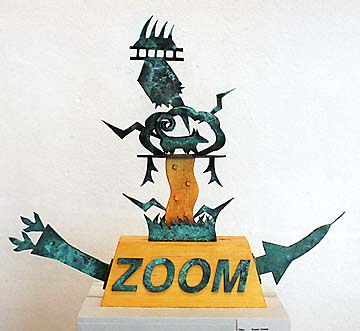 By Dennis Oda, Star-Bulletin
Neon puzzle "Five Things" (at top) and bronze and wood sculpture
"Zoom/Zoom" (above) by Ron Smith are among the pieces
in Sisu Gallery's final show.
---
Rockets aren't the only things going off into space. There are mushroom clouds from nuclear explosions, lightning rods, satellite dishes, flying houses, snakes, dogs, trees and hands among the things that Smith has created out of wood and assembled into five pieces of sculpture.

Smith, who has a Master of Fine Art degree from the University of Hawaii at Manoa, also has made five wall pieces out of neon lights, called "Five Things" that allow the viewers to use their own imagination in figuring out what the things are. Hint, none of the five things is a rocket.

At first glance, the works seem playful and childlike, but don't rely on first impressions. Smith's sculptures are well thought out and put together with a keen eye to colors (sometimes just the variations in the natural colors of wood), shapes and balance.




ZOOM/ZOOM

What:Sculpture by Ron Smith
Where: Sisu Gallery, 1160-A Nuuanu Ave.
When: 11 a.m. to 5 p.m. today and tomorrow; 11 a.m. to 4 p.m. Saturday
Admission: Free
Call: 537-5880
Also: Closing party begins 9 p.m. June 24; $3 donation requested




The show closes Saturday, and on June 24, a gallery closing party will begin at 9 p.m. and end whenever the last person decides to leave. Refreshments will be served and partygoers are asked to give a $3 donation at the door.

Goldstein said he is closing the gallery because sales have not brought enough money to pay the bills. However, he hopes to obtain financial backing from government or patrons to reopen as a nonprofit gallery in another space in the future.

"I have no regrets," said Goldstein. "The last three years or so have been the best years of my life."






Click for online
calendars and events.
E-mail to Features Editor
---
---
© 1999 Honolulu Star-Bulletin
https://archives.starbulletin.com