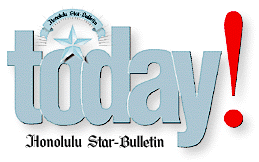 ---
Thursday, June 17, 1999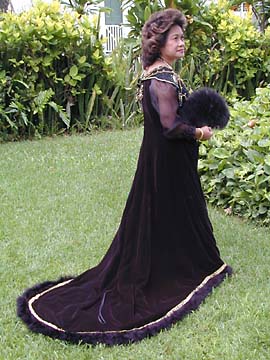 By Craig T. Kojima, Star-Bulletin
Marlene Ebeo wears a holoku of black velvet, lace and feathers.
---



The essence of Hawaiian style

By Heather Tang
Star-Bulletin

It could be called a fight against time. Luckily, it's a battle that many Hawaiians are winning -- in style.

Saturday's 70th Annual Holoku Ball is living proof of the resilience of Hawaiian heritage. The event begins at 5:30 p.m. at the Hilton Hawaiian Village Tapa Ballroom.

The Holoku Ball's signature event, the Holoku Parade, pays homage to modern and vintage holoku creations by designers including Jill Cullinan of Princess Kaiulani Fashions; Maile Amorin of Maile Visions; Allen Akina; and Elsie Krass.

For many in the Hawaiian community, the Holoku Ball provides an opportunity for members to embrace their heritage through the common element of fashion.

"The holoku has heavily impacted modern Hawaiian culture. The love and commitment behind the creation of each one makes them special," said Keawe Vredenburg, president of the Hawaiian Civic Club of Honolulu, which sponsors the event.

"It's a tradition peculiar to Hawaii where people meet formally in Hawaiian dress to celebrate Kamehameha's birthday," said Herman Lemke, who along with his wife has been a member of the HCCH for more than 50 years.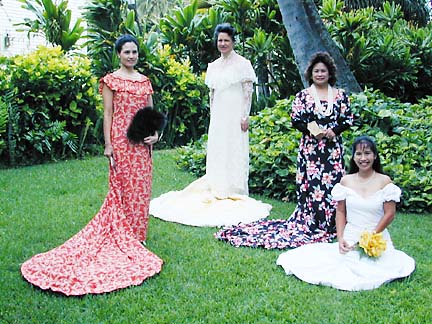 By Craig T. Kojima, Star-Bulletin
From left to right, Dawn Farm-Ramsey wears her grandmother's
70-year-old holoku, both Maile Omorandid and Marlene Ebeo
model hand-made holoku, and Mei Jeanne Wagner
sports her wedding holoku.
---
Lemke met his wife, Florence, at the club's 1944 Holoku Ball. They've attended the event every year since, enjoying the elegant ambience and fellowship.

The clothes help strengthen ties in the club. Exchanging hugs and kisses, the members are a close-knit bunch united with the common goal of continuing their ancestral traditions through the holoku.

"This is my 99 year-old grandmother's holoku, it's over 70 years-old," said Dawn Farm-Ramsey, trustee of the club's scholarship account and former club president. Proudly displaying her vintage holoku, she shows off its intricate ruffles and three-foot train. "They just don't make these anymore."

Sustaining many changes over the years, the original design of the holoku, including its characteristic train and form-fitting style have remained fairly constant.

Each design is an individual take on the formal gowns first created by Christian missionaries in 1820 for Hawaiian royalty. Designers add their own original touches through the use of innovative fabric and cuts, but usually stay within basic parameters of the design.

Members say preservation of this heritage helps strengthen dedication within the Hawaiian community.

According to Vredenburg, the Holoku Ball is a reminder of Hawaii's simpler past. Changes to the ball since its 1929 inception have been few.




70TH ANNUAL HOLOKU BALL

Where: Hilton Hawaiian Village Tapa Ballroom
When: 5:30 p.m. Saturday
Admission: $70 per person; corporate tables are also available
Information: Keawe Vredenburg, 533-1959




Since its founding by Prince Jonah Kuhio Kalanianaole in 1918, the 200-member HCCH has supported higher education for people of Hawaiian descent through scholarship programs. In 1998 alone, the organization granted 67 scholarships in the amount of $35,000, funded primarily by the Holoku Ball.

Each year, the club's selection of a Holoku Ball honoree salutes those whose work has benefited and helped preserve Hawaiian culture.

This year's honoree, Sen. Daniel K. Akaka, was chosen for his contributions to Hawaiian struggles, including his work on sovereignty issues, said former HCCH president Momi Jones.

"We need to look toward such leadership to allow us to reach the far-fetched goals of Hawaiians for years to come," she said.






Click for online
calendars and events.
E-mail to Features Editor
---
---
© 1999 Honolulu Star-Bulletin
https://archives.starbulletin.com