---
Wednesday, June 16, 1999



A condensed look at the
royal family tree

After Kamehameha unified the Hawaiian Islands at the turn of the 18th century, his successors kept the tenuous kingdom together for nearly a century. The monarchy had two dynasties: Kamehameha, then Kalakaua.

Start of Kamehameha Dynasty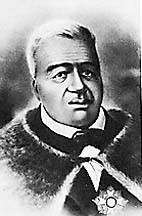 KAMEHAMEHA I (1758-1819), "The Lonely One." Warror king who unified the Hawaiian Islands. When he died, his companions buried him in a secret cave on the Kona coast; it is said to this day: "Only the stars of the heavens know the resting place of Kamehameha."

Among his dozens of wives was KEOPUOLANI , "The Sacred Wife," mother to the heirs apparent, Liholiho and Kauikeaouli.

Dowager Queen Kaahumanu (1772-1832), Barren, striking and inteliigent, "The Favorite Wife" of Kamehameha I was his constant companion and the only of his wives who met with foreigners. When he died, she became regent of Liholiho, then of his successor Kauikeaouli; she remarried, to Kaumualii, the governor of Kauai.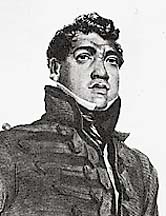 KAMEHAMEHA II, Liholiho (1797-1824) and Queen Kamamalu (1802-1824), his half-sister and his favorite of five wives. The couple died in London on a visit to meet England's King George.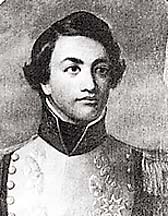 KAMEHAMEHA III, Kauikeaouli (1813-1854) and Queen Kalama (1817-1870). Age 10 when he became king upon Liholiho's death, gained full control only after regents Kaahumanu, then Kinau (a wife of Liholiho), died.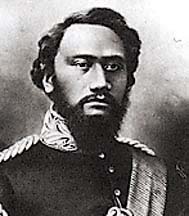 KAMEHAMEHA IV, Alexander Liholiho (1834-1863) and Queen Emma Kalanikaumaka Rooke (1836-1885). He was the grandson of Kamehameha I and the adopted son of Kamehameha III; she was the adopted daughter of Britisher Dr. Thomas Rooke, grandniece of Kamehameha I and granddaughter of his adviser, Englishman John Young.

Albert Edward Kauikeaouli Leiopapa o Kamehameha (1858-1862). Dies at age 4.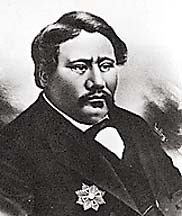 KAMEHAMEHA V, Lot (1830-1872), Kamehameha IV's brother. A bachelor and guardian of Hawaiian sovereignty, he was unable to persuade his childhood sweetheart, Princess Bernice Pauahi, to succeed him.

End of Kamehameha Dynasty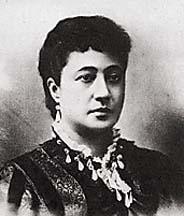 Princess Bernice Pauahi Bishop (1831-1884), great-granddaughter of Kamehameha I and heir to vast lands. Her will endows profits from these lands, via Bishop Estate, to educate Hawaiian children at Kamehameha Schools. Her husband, banker/businessman Charles Reed Bishop, established Bishop Museum in1889 in her memory.

Start of Kalakaua Dynasty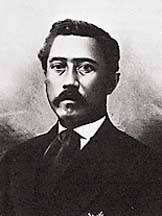 KING LUNALILO (1835-1874), grand-nephew of Kamehameha I. A lifelong bachelor, he was elected by the people.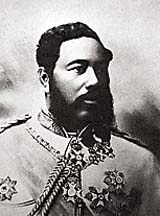 KING DAVID KALAKAUA (1836-1891), "The Merrie Monarch," and Queen Kapiolani (1834-1899). Voted in by the Legislature, he was a high chief descended from noble line of chiefs; she was high chiefess descended from Kauai royal line. He launched a renaissance of Hawaiian culture.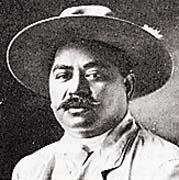 Prince Jonah Kuhio Kalanianaole (1871-1922), adopted son of Kapiolani and a favorite nephew of Liliuokalani, designated co-heir to throne after Princess Kaiulani died. He was Hawaii's delegate to Congress for 20 years.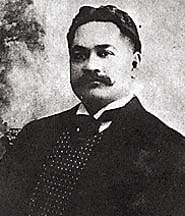 Prince David Kawananakoa (1868-1908), nephew of Queen Kapiolani, designated co-heir to the throne succeeding Princess Kaiulani, to whom he was betrothed. He later wed Princess Abigail Campbell Kawananakoa (1882-1945), daughter of a Hawaiian mother and Scotch-Irish father, James Campbell.

Son David Kalakaua (died 1954); daughter Kapiolani, who had one son and two daughters; daughter Liliuokalani, who had one son.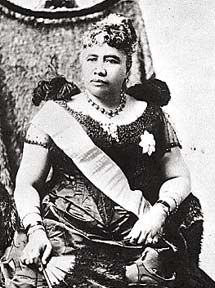 QUEEN LYDIA KAMAKAEHA LILIUOKALANI (1839-1917), the former high chiefess Lydia Kamakaeha and sister of Kalakaua. She wed American John Owen Dominis (1851-1887), Oahu governor under King Kalakaua. Her overthrow in 1893 ended the Hawaiian monarchy.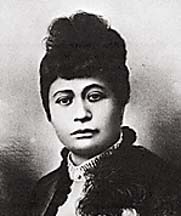 Princess Likelike (1851-1887), younger sister of Liliuokalani, wed Britisher Archibald Cleghorn.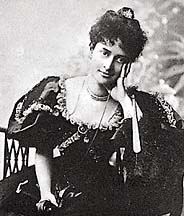 Kaiulani (1875-1899), Likelike's daughter and Queen Liliuokalani's heir designate, she died without restoration of the kingdom.
E-mail to City Desk
---
---
© 1999 Honolulu Star-Bulletin
https://archives.starbulletin.com