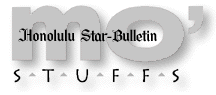 ---
Thursday, June 10, 1999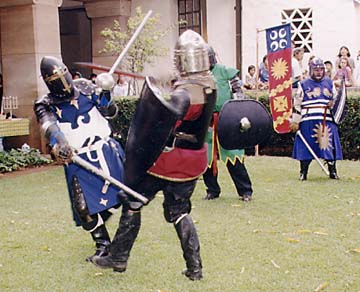 Honolulu Academy of Arts
Jousters battle during the Renaissance Faire.
---
Nothing like a good joust
for weekend excitement
Knights will battle for honor while lords and fair ladies show treasures of the Renaissance from 1 to 4:30 p.m. Sunday at the Honolulu Academy of Arts.

The Renaissance Faire is one of the academy's family activity programs offering a multicultural art experience for children ages 6 to 12 (they must be accompanied by an adult).

The Renaissance Faire coincides with the academy's traveling exhibition, "A Renaissance Treasury: The Flagg Collection of European Decorative Arts and Sculpture," with pieces dating from the 14th to early 18th century, as well as the academy's permanent collection of Italian Renaissance paintings.

Storyteller Arlene Ching will tell the story of "St. George and the Dragon," costumed players will perform music and dance of the period and there will be mock sword battles.

Other artisans will demonstrate crafts such as spinning, card weaving and calligraphy.

Kids and adults also will be able to try on period costumes and have their pictures taken. Keiki ages 6 to 12 will be able to decorate banners or treasure boxes.

Admission is free for children 12 and under. Adults pay a reduced admission fee of $1. No advance reservations are required. Participants meet at the Beretania Street entrance at 1 p.m.

For more information, call 532-8726.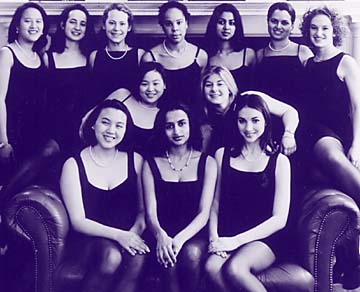 The Hasty Pudding Club
Harvard University's Radcliffe Pitches
is on a tour of Hawaii and Asia.
Radcliffe a cappella group performs
The Radcliffe Pitches, Harvard University's female a cappella singing group will perform five concerts on Oahu. The 11-member group sings at 5 to 5:45 p.m. tonight, tomorrow and Saturday at Sheraton Waikiki; 7 p.m. today at 3660 on the Rise; 8 p.m. tomorrow at Davey Jones Ribs, 250 Lewers St.; and noon Saturday at Crouching Lion Inn in Kaawa. There is no minimum and no cover to hear the group.

The Pitches was founded in 1975 at Harvard's Hasty Pudding Club. The members, all undergraduate women, have a repertoire that includes jazz, swing, contemporary pop and rock. To mark its 25th anniversary, the group is on a tour of Asia and Hawaii.

Call for more information.

Feeling groovy?
Dig up your Nehru jacket, mini skirt and go-go boots for "The Official Austin Powers Pre Party" today at Wave Waikiki.

The shindig celebrates the latest movie about the shagadelic Powers. There will be contests: Twister, shortest mini skirt, Austin Powers look-alike; prizes; go-go girls; a fashion show by Sanctuary Salon and Stacy's Vintage Emporium; and music by Beat Poets.

The Wave opens at 9 p.m. The first 50 people are admitted free, after that it's $5 per to get in. You must be at least 21. For more funky details, call Flash, 941-0424, ext. 12.






Click for online
calendars and events.
---
Send WatDat? questions, stories
or any other story ideas or comments to:
Features, Honolulu Star-Bulletin, P.O. Box 3080,
Honolulu, HI 96802 or send a fax to 523-8509
or E-mail to features@starbulletin.com.
Please include your phone number.
E-mail to Features Editor
---
---
© 1999 Honolulu Star-Bulletin
https://archives.starbulletin.com