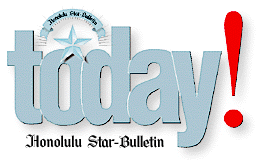 ---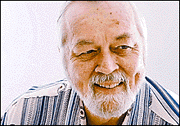 Hawaii

By Dave Donnelly
Thursday, June 10, 1999
---
Turner cuckoo
for summer

THEY just don't teach the same things in school these days. I spoke not long ago with a young woman who got a degree in theater from U.C.L.A. and she hadn't heard of playwright Brendan Behan. If they do teach his works there, she missed that class. And so I figure it's doubtful anyone learns the old Cuckoo Song (c. 1250) in 1999, the one beginning, "Summer is icumen in, Lhude sing cuccu." I mention this only to bring to your attention that summer is soon coming in (June 21, in fact) and Turner Classic Movies plans to get as "cuckoo" as it can, featuring "The Bowery Boys of Summer." It's a 48-film package starring Leo Gorcey, Huntz Hall and the rest of the Boys, who began on Broadway in 1935 as the "Dead End Kids." If you're as unfamiliar with the Bowery Boys as the U.C.L.A. grad was with Behan, here's your chance to catch up with the codgers. TCM will feature an all-day orgy of Bowery Boys films, eight of them in fact, starting at 2 p.m. HST on June 21. The network will continue with triple-features each Sunday beginning at 6 a.m. HST through September 23. Set your VCR if you must -- unless I miss my guess, you'll find them hilarious ...

IT looked for a time like the big shopping center in Waimea was going to turn into a ghost town, but then along came Hugo von Platen, the owner of Huggo's, who bought the shuttered Parker Ranch Broiler, sank a couple of million dollars into it and hired ex-John Dominis boss Don Buechner to run it. It's now considered by many to be one of the top eateries on the Big Isle. And the area vacated by Sure Save Super Market, which just filed for Chapter 11 bankruptcy, is rumored to be on the shopping list of yet another established marketeer. In time, that center should be thriving once again ...

One man's junk

IT may be junk to you and me, but to Mark Alan Chai it may be just the right material to use in some recycled art piece he's creating. He began with industrial strength cardboard, such as the giant coffee cup he created which hangs from the ceiling at Coffee Talk in Kaimuki. Now he seeks out things in junkyards, old corrugated roofing or what have you. Like so many isle folks, he'll be watching MTV's "Real People" when the filmed-in-Hawaii episodes begin on June 15. The set decorators for the show saw a couple of his recycled lamps in SiSu Gallery on Nuuanu. The lighting director fell in love with them and what started out as maybe one or two of Chai's lamps in the show has turned into more than a dozen. He'll be eager to see if he gets any inquiries after the show runs. Meanwhile, some of Chai's works (including the "Real People" lamps) will be on display Fridays and Saturdays at Four Calling Birds boutique above the former Keo's on Kapahulu, and a reception for him will take place there tomorrow at 5:30 ...

One by land, two by sea

RACING will be celebrated Saturday, both by land and by sea. That morning, the media will get its first glimpse of the Barber's Point air strip where the Hawaiian Super Prix I is slated to take place in November, with $10 million in prize money. One "name" CART driver, Mauricio Gugelmin, will be whizzing around the track in a test car for TV cameras and onlookers alike ... And at 11:30 a.m. Saturday, there'll be a blessing at Aloha Tower Marketplace of "Abracadabra 2000, the yacht supporters hope will represent Hawaii and the U.S. in the next America's Cup ...

---




Dave Donnelly has been writing on happenings
in Hawaii for the Star-Bulletin since 1968.
His columns run Monday through Friday.

Contact Dave by e-mail: donnelly@kestrok.com.
E-mail to Features Editor
---
---
© 1999 Honolulu Star-Bulletin
https://archives.starbulletin.com