---
Wednesday, June 9, 1999
Crunch Time in Women's Sports


By George F. Lee, Star-Bulletin
Offensive line coach Steven Donohue worked with
prospective linewomen Maina Suaava and Trina Souza
during practice at Aiea District Park last night.

---




Women's pro
football taking the
field in Hawaii


The still-to-be named team
plans to open its season on
Maui on Sept. 19

By Rod Ohira
Star-Bulletin

Cheryl Grimm thought she had experienced all that competitive sports had to offer women athletes, including a national championship with the University of Hawaii's 1979 Wahine volleyball team.

But at age 41, she's back to chase a lifelong dream.

"My fantasy in football is to hit and move people so I'd want to be a middle linebacker," said Grimm, a Honolulu police sergeant who attended a women's professional football tryout with more than 75 others last night at Aiea District Park.

"I wanted to play Little League baseball and they wouldn't let me. I've spent my whole life breaking down men's barriers just to see what the big deal was.

"I used to play football with boys and I just want to experience the hitting. But the physical aspect of the game at my age is going to be a challenge," the 5-foot-5, 195-pound Grimm added.

"Father John" Frederick, pastor of St. Michael the Archangel Church in Waipio, is coaching the yet-to-be-named Hawaii team, which plans to play a schedule of exhibition games this fall with hopes of joining the Women's Professional Football League in the year 2000.

"I'm astounded and amazed," Frederick said about last night's turnout, which nearly doubled the 42 players who showed up the week before for the first tryout.

"This is 11-women, tackle football and it's the last professional sport opening up to women.

"We've got women who have boxed, played rugby, soccer, softball, baseball and volleyball -- all the sports -- and from what I've seen they're more determined, consistent and coachable than a lot of men," he added.


By George F. Lee, Star-Bulletin
Quarterback hopefuls Irma DeCorte, left, and Heather
McGhee ran through a passing drill.

---


In 1998, Frederick spearheaded the introduction of indoor football to Hawaii and has previously been involved with local semi-pro football leagues.

"We're hoping to play our first game Sept. 19 at Maui's War Memorial Stadium against the Minnesota Vixen, so we've got a whole lot to teach," Frederick said. "Learning line-blocking techniques is going to be the most difficult thing for them."

Emma Mamea, 21, and her 30-year-old twin sisters -- Laina Charles and Lealoa Stowers -- have eight children among them, but they want a shot at playing football.

"We've played against our brothers and cousins," said Mamea, whose brother Fou Mamea is currently playing football for Iowa State. "And sometimes, we put them to shame."

She wants to play linebacker, but her sisters would like a shot at quarterback and running back.

"This is something new so yeah, I want her to try out if that's what she wants," John Charles said of his wife. "I know she can play but the toughest part for her is going to be the workouts."

Seila Mamea, 22, of Palolo Valley said a lot of women want to play football but never get a fair shot at making a team.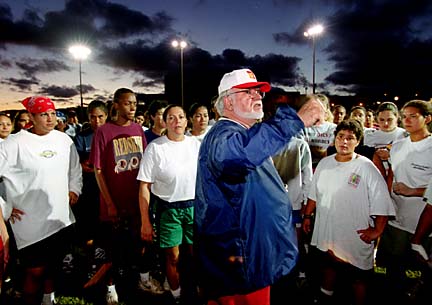 By George F. Lee, Star-Bulletin
Father John Frederick gave a pep talk to his prospective
players at Aiea District Park last night.
---
"I wanted to be a defensive end when I was at Kaimuki High School but was discouraged from trying out by coaches who were sensitive about having girls on the team," said Seila, who is Emma's cousin.

"But I think we can do the same things as men. I want to experience what it feels like to tackle someone. I don't want to be just a kicker on a boys team.

"If I can play against my cousins and brothers, I know I can play the game. I just need a chance to prove it."

Ila Sofa, 33, of Nanakuli played tackle football against her seven brothers. One of her brothers, Faitala, was a star player on Nanakuli High's Prep Bowl team.

"Ever since I was a little kid, I wanted to play football," Sofa said. "I played volleyball and softball but the physical contact isn't the same."

Kanani Gould, 38, says women football players have nothing to prove to anyone but themselves.

"It don't matter what people say or think," said Gould, whose niece -- Jaymi Lee Gould -- played fullback last year for Kaimuki High's junior varsity team.

"I only wish I were 20 years younger. I'm going to try to make this team because it's a chance to be in a league of our own."

Janet Scheffer, 40, who owns an advertising and public relations business, showed up for the second practice session last night with one of her arms in a sling.

"I'm out for four weeks," Scheffer tells Frederick, "but I'll be back so don't cut me."

Scheffer, a single mother, said she fell on her shoulder at last week's practice after diving for a pass.

"I'm a good racquetball player but when I heard there was a women's football tryout, I knew that was something I wanted to do," Scheffer said.

"It's the challenge. I think a lot of us know the game, all we need is an invitation to play. Women's football is big on the East Coast."

The Long Island Sharks have been the unofficial champions of the sport the past three years.

Besides the Minnesota Vixen, the proposed Women's Professional Football League could include the Miami Manatees, Orlando Ocelots, Savannah Vamps, Las Vegas Valkeries, Atlanta Amazons, DC Cobras, Alabama Slammers, New York Stealth, Tallahassee Lassies, Chicago Breeze, Wisconsin Wombats, LAXena's, Boston Black Widows, San Francisco Shrikes, Green Bay Bombshells and Baltimore Berserkers.

Hawaii plans to carry 30 players on its exhibition schedule roster.

"The first thing we wanted to do was find out if there was interest," Frederick said while looking at the large turnout. "I think we have the answer to that one."
E-mail to City Desk
---
---
© 1999 Honolulu Star-Bulletin
https://archives.starbulletin.com