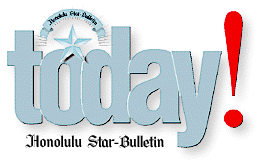 ---
Tuesday, June 1, 1999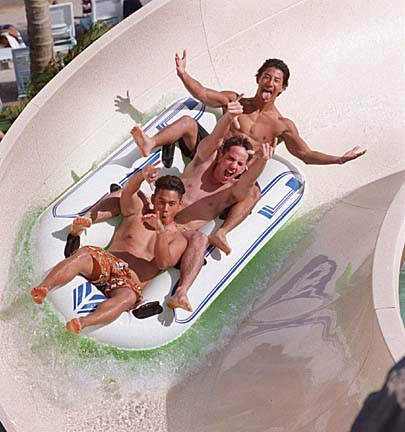 By Dennis Oda, Star-Bulletin
Front to back, Isaac Bancaco, Chauncey Shook and Kamaka
Jungao were among waterpark visitors over the long weekend.
---



What's it worth to you to
get your family soaking
wet? 100 bucks?

How does it rate?
Five young adventurers rank the park's slides and pools.

By Betty Shimabukuro
Star-Bulletin

IT costs more than Sea Life Park or an Atlantis Submarine ride, but less than the Polynesian Cultural Center, a day's kayak rental or an hour of horseback riding.

A family of four planning a day at the new Hawaiian Waters Adventure Park is looking at an entry fee of $100, plus tax -- that's assuming they take advantage of the $5 discount and the kids are all at least 4 feet tall. For $40 more they could all go to Disneyland, plane fare not included.

At the waterpark, they encourage you to look beyond that initial sticker shock and consider that the park is all-day entertainment, including unlimited use of the slides, pools and deck chairs.

Prices were set slightly higher than mainland waterpark rates, they say, but in line with other local attractions.

Which is basically true, but it's still a lot of cold, hard cash.

"The daily price is too high," said Jennie Espidola, who visited the park on opening day from her home in Nanakuli.




HAWAIIAN WATERS
ADVENTURE PARK

Getting there: Take the H1 Freeway to the Campbell Industrial Park exit just past Kapolei.
Hours: 10:30 a.m.-6 p.m. daily
Tickets: $29.99 for anyone over 4 feet tall; $19.99 for smaller children. $5 discounts available at Tesoro stations
Season passes: Limited number available at Foodland stores for $89.99 ($79.99 if you buy four)
Call: 674-9283




"We're on the lower-income side of the island -- how are families going to afford it? I'd like to see family discounts."

Espidola and her husband, Manuel, bought season passes, which they considered reasonable and they pronounced the park as a whole "awesome."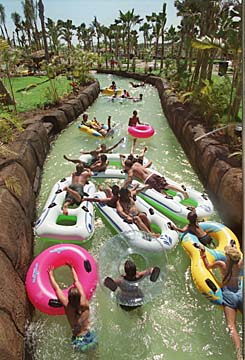 By Dennis Oda, Star-Bulletin
The Kapolei Kooler, a "lazy river," experiences a traffic jam..
---
"I think it's fabulous. I think it's about time they had something for everybody on this side of the island," Manuel said.

"We live two minutes away from the beach -- across the street -- but this is perfect."

For comparison's sake, take the waterpark admission as $24.99 (regular price is $29.99, but discounts should be available year-round through various merchants; right now it's Tesoro). This price is charged to anyone over 4 feet tall, because that's the height minimum for the scarier slides. Consider, though, that many 6- and 7-year-olds reach that height and may be too timid for the big slides.

Around the island, here's what other types of entertainment cost (adult kamaaina rates are listed):

Bishop Museum: $7.95.

Sea Life Park: $12.50.

Atlantis Submarine: $19.

Ultrazone Hawaii: $10 for the first laser-tag game, $8 for additional games; an afternoon's worth of games would be about $26. Discounts are frequently available, however.

Kayak rental: About $25 half-day; $32 full day.

Horseback riding: About $35 an hour.

Polynesian Cultural Center: $35, includes park attractions and buffet dinner (more elaborate meals cost more).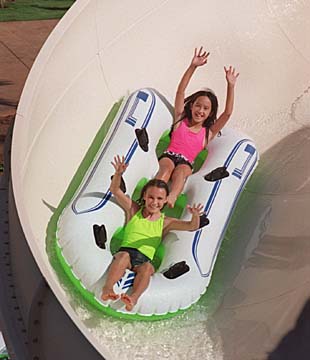 By Dennis Oda, Star-Bulletin
Our gal judges Christine Perez (Kapolei Elementary),
top, and Melissa Moller (Le Jardin) tackle the Big Kahuna.
---
California waterparks are cheaper, based on their Web pages on the Internet:

Wild Rivers (Irvine): $21.99 (children pay $17.99 up to age 9, regardless of height). In the summer, there's an after-4 p.m. rate of $9.95. The park has 12 big slides, compared to four here.

Waterworld USA (Sacramento): $16.99, but fewer slides than Hawaiian Waters.

Raging Waters (San Dimas): $22.99, with 15 slides, rivers and pools.

The cheapest way to see the park is to get at least 10 people together, including one child under 12, and celebrate the child's birthday. For that you pay $17.99 per person on weekdays, $19.99 on weekends. Plus you get a personal pizza for each person, drinks, goodie bags, a reserved picnic spot and the birthday kid gets a free pass. The prices apply to children or adults, of any height.

No kid in your group? Next best rate is for groups of 20 and more -- $21.99 per person.

And groups are finding the park attractive. Hawaiian Air has booked a 70th-anniversary party for 5,000 people, several other businesses are following suit and a few schools have planned Project Graduation nights at the park.






Click for online
calendars and events.
E-mail to Features Editor
---
---
© 1999 Honolulu Star-Bulletin
https://archives.starbulletin.com