---
Friday, May 28, 1999






A lien has been placed on
all properties owned by Lokelani
and Stephen Lindsey

By Rick Daysog
Star-Bulletin

Weeks after she was permanently removed as a $1 million-a-year trustee of the Bishop Estate, Lokelani Lindsey faces new troubles from the Internal Revenue Service, which says she and her husband owe $230,003 in back taxes.

The IRS has placed a tax lien on all Hawaii properties owned by the former trustee and her husband, Stephen Lindsey, for 1997 income taxes.

The IRS filed notice of the federal tax lien May 17 with the state Bureau of Conveyances.

The Lindseys' personal tax problems emerged while a separate division of the IRS was in the middle of a four-year audit of the charitable trust. The filing of the lien also coincides with a wide-ranging state attorney general investigation into alleged financial wrongdoing by the Bishop Estate's trustees.

---




'I'm not sure I would
trust this person with my
retirement plan.'
Randy Roth
UNIVERSITY OF HAWAII LAW PROFESSOR
AND 'BROKEN TRUST' CO-AUTHOR

James Duca, the Lindseys' tax attorney, said the former trustee intends to pay the taxes. Duca said he has had general discussions with the IRS to come up with a payment schedule.

Duca attributed Lindsey's failure to pay the taxes in part to payments she made to support many of her relatives. He said Lindsey also incurred huge attorneys' fees defending herself from various legal actions.

In addition to the attorney general's investigation, fellow trustees Oswald Stender and Gerard Jervis sued for Lindsey's removal as a trustee, saying she breached her fiduciary duties and was unfit to serve. On May 6, Circuit Judge Bambi Weil permanently removed Lindsey after a five-month trial.

Duca said he does not know how much Lindsey will end up owing on her 1998 taxes, since she recently filed for an extension.

It is also unclear whether Lindsey would face additional tax consequences arising from the IRS audit of the Bishop Estate.

The IRS has been investigating whether trustees were paid excessive compensation and whether they took improper benefits.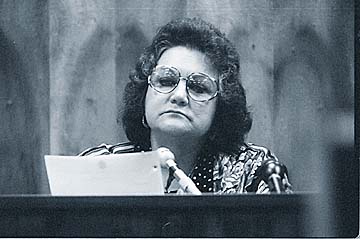 By Craig T. Kojima, Star-Bulletin
Lokelani Lindsey testifies in court proceedings in January.
The IRS has placed a tax lien on all Hawaii properties owned
by the former Bishop Estate trustee and her husband for 1997
income taxes. The IRS says the Lindseys owe
$230,000 in back taxes.
---
Some observers believe that Lindsey's financial problems underscore her unfitness to serve as a trustee. For the year ending June 30, 1998, the 60-year-old Lindsey earned more than $1 million as one of the five trustees of the Bishop Estate. Since becoming a board member in 1993, her pay has averaged about $900,000 a year.

"I'm not sure I would trust this person with my retirement plan," said Randy Roth, University of Hawaii law professor and co-author of the 1997 "Broken Trust" article criticizing the trustees' management of the Bishop Estate.

According to Duca, the federal tax liens were attached to all of the Lindseys' properties in Hawaii.

According to state land records, the Lindseys own an East Honolulu home, bought in 1994 for $1.25 million, and a Maui property, acquired in 1984 for $60,000.

A lien essentially is a creditor's claim against a debtor's property. If the debt is repaid, the lien is usually removed. If debt is not paid or worked out, the creditor can take steps to seize the property.

Duca said Lindsey has given "no thoughts" to filing for bankruptcy to protect her assets.

He also had no comment on Lindsey's plans to appeal Judge Weil's removal order. Attorneys Michael Green and David Gierlach, who are handling the removal issues, could not be reached for comment.

---



E-mail to City Desk
---
---
© 1999 Honolulu Star-Bulletin
https://archives.starbulletin.com