---
Wednesday, May 26, 1999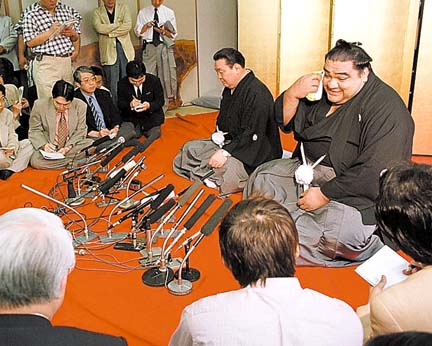 Associated Press
New yokozuna (grand champion) Musashimaru, accompanied
by his stable master Musashigawa, wipes sweat as he answers
questions from reporters after formally accepting the Japan Sumo
Association's decision to promote him to sumo's highest rank of
yokozuna this morning. Musashimaru, also known as Fiamalu Penitani,
28, became the 67th yokozuna of Japan's traditional sport and the second
foreign-born yokozuna after fellow Hawaii native Akebono, or Chad
Rowan, who has been in the top rank since 1993.
---
Musashimaru
attains yokozuna


Fiamalu Penitani is the second
wrestler from Hawaii to be
promoted to sumo's top rank

Associated Press

TOKYO -- Musashimaru is anything but your average sumo wrestler. For one thing, he's bigger than just about everybody else in the ring. He's also better.

But today, Japan applauded Musashimaru in his most extraordinary accomplishment yet -- the Hawaii-born giant's promotion to the hallowed summit of the ancient sport, a rank only one other foreign-born wrestler has ever held.

---




"I humbly accept."
Musashimaru
NEW YOKOZUNA

---


Musashimaru, or Fiamalu Penitani, displayed both the traditions of the sport and his own Hawaiian background -- like all sumo wrestlers, he wore his hair in a greased down topknot, but he also wore purple leis around his neck during the celebration after the ceremony.

"I humbly accept," the 473-pound Musashimaru said as he recited his vows in halting Japanese. "I will do my utmost not to tarnish the yokozuna name."

Musashimaru is the second wrestler from Hawaii to be named yokozuna, joining fellow islander Akebono, or Chad Rowan, to the top rank.

Musashimaru, who stands 6-foot-3, sealed his promotion by winning two consecutive tournament titles. He has won more bouts than he has lost in the 15-day tournaments 52 consecutive times -- a sumo record.
E-mail to Sports Editor
---
---
© 1999 Honolulu Star-Bulletin
https://archives.starbulletin.com