---
Wednesday, May 26, 1999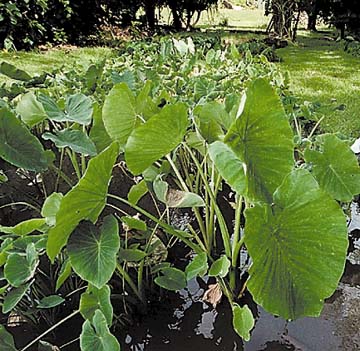 File photo
Waiahole pays tribute to taro Saturday.
---
Taro connection
links a community to
its heritage
In Waiahole, taro is a member of the family.

The connection is spiritual and practical, rooted in ancient tradition and modern health concerns.

Saturday, the community celebrates these bonds at the Waiahole Taro Festival, 9 a.m. to 4 p.m. at Waiahole Elementary School.

Come early for hikes to taro patches in Waiahole Valley or van rides to Kahana Valley, where lo'i -- traditional taro patches -- are being prepared. You'll be able to get your feet wet and help with the planting.

Back at the school, the festival will feature a native Hawaiian plant sale, poi-pounding, a show of "loi-inspired" art, Hawaiian games and foods.

Organizer Calvin Ho said the idea is to interest more people in planting taro.

"Waiahole has always been known for its taro," he said. "Some of us just wanted to keep the Waiahole name and reputation for taro strong."

Ho belongs to a cooperative of taro growers, the Waiahole Taro Co., and is active in the 5-year-old Taro Institute, which has been examining the area from Waiahole to Kualoa, looking for land suitable for taro-growing and for farmers interested in the crop.

"Taro is second to none the best food people can eat," Ho said. "Hawaiians have some of the worst health statistics and most of that is due to poor diet. That's why planting taro is so important, because that's the diet we should be eating."

Taro's cultural symbolism also cannot be denied, he said. "The whole idea of taro is family. In Hawaiian tradition, taro is part of our family, our genealogy."

Kalo -- or taro -- in Hawaiian legend is the older brother of na kanaka maoli -- mankind. In fact, Ho said, the word ohana, or family, comes from oha, a name for the baby taro plant.

"We take care of taro and taro takes care of us."
---
Betty Shimabukuro, Star-Bulletin
---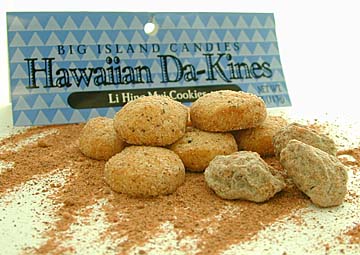 Star-Bulletin
New cookies are dusted with li hing powder.
---
Tangy treat

Big Island Candies, maker of those chocolate-dipped shortbread cookies that have torpedoed many a diet, has come out with another shortbread temptation: Li Hi Mui Cookies.

The quarter-sized treats are distinctively local, with their dusting of reddish, sweet-sour, li hing mui powder.

We tried them in the newsroom and the verdict was: nice, interesting, strange, tasty, downright weird. In other words, opinions were varied, but that's what makes horse races.

To try them yourself, you'll have to get them mail-order, unless you're on the Big Island. Call (800) 935-5510. Fax orders to (808) 961-0659. The Big Island Candies factory and showroom is in Hilo at 585 Hinano St. It's open 8:30 a.m.to 5 p.m. daily. The cookies sell for $4.25 for 4 ounces.

Tai chi master gives workshop

Chen Qingzhou, a 19th generation practitioner of the Chen style of tai chi, will be giving a rare workshop Friday, Saturday and Sunday at Gym 1 near Klum Gym on the University of Hawai'i at Manoa lower campus.

Chen-style tai chi is considered to be the original style of tai chi. Chen, a Chinese National Treasure, teaches the Old Frame Chen tai chi that originated in the village of Chenjiagou.

The workshops run 6:30 to 9:30 p.m. Friday; 8:30 to 11:30 a.m. and 2:30 to 5:30 p.m. Saturday; and 8:30 to 11:30 p.m. Sunday.

The workshop cost is $180. Those wishing to attend single sessions, may pay $45 per session. Call Dr. Greg Yuen at 599-5050 to register.

Learn more about Alzheimer's

"Current and Future Research on Alzheimer's Disease" will be the subject of a presentation noon to 1:30 p.m. tomorrow at Central Union Church.

Speaking on the subject will be Steven DeKosky, director the the Alzheimer's Disease Research Center, University of Pittsburgh Medical Center.

In Hawaii, there are 17,000 persons with Alzheimer's and related disorders. As the elderly population continues to grow, according to the Alzheimer's Association Honolulu chapter, Alzheimer's will become the epidemic of the 21st century, destroying the lives and savings of 14 million baby boomers and their families.

The disease destroys the mind by killing brain cells.

A $5 donation is requested for the talk. Brown bag lunch suggested. Call 591-2771.

Catch up to 'Forrest'

Be on the lookout for "Forrest Gump" through Friday and you may win certificates for a free appetizer at Bubba Gump Shrimp Co. Restaurant, set to open Saturday at Ala Moana Center.

A bearded man wearing a happy face T-shirt will be running around Oahu, inspired by a segment of the Academy Award-winning film that starred Tom Hanks. He will be distributing certificates to those who encourage him by yelling, "Run Forrest Run."

He will be in the Windward Mall and Kailua area beginning 2 p.m. today and Waikiki at 6 p.m. today, at Kahala Mall at 2 p.m. tomorrow, and 11 to 1 p.m. and 3 to 5 p.m. Friday in the Waikiki and Ala Moana area.

For more information about the restaurant, call 949-GUMP (4867).

NEA grants available

Applications for the National Endowment of the Arts grants to organizations for fiscal year 2000 are now available. The application postmark deadline is Aug. 16.

The Arts Endowment offers assistance for a full-range of arts disciplines and non-profit tax-exempt organizations involved in the arts.

The grants are offered for specific projects in Heritage and Preservation, Access, and Education. Eligible organizations with millennium focused projects should apply within the regular grants to organizations categories.

The NEA was created by Congress in 1965 as a federal grant-making agency supporting literary, design and performing arts.

For an application guidelines booklet or general information, call (202)-682-5400 or write to the National Endowment for the Arts, Nancy Hanks Center, 1100 Pennsylvania Ave., NW, Washington, D.C., 20506-0001.

The NEA website is http://arts.endow.gov.

Does baby look like dada?

If your cutie-patootie-pie's got daddy's looks to the teeth, that could pay off in Ward Centre's annual Daddy/Baby Look-Alike Contest taking place 9:30 a.m. June 19.

The contest, benefitting the March of Dimes, is open to all babies up to 30 months old and their dads. Registration will begin 8:30 a.m. the day of the contest, at the Ewa end of the center.

Three winners will receive trophies and prize packages. There are also honorable mention categories of Best Costumed Duo and Most Spirited Duo.

Entry fee is $10. All participants will receive a free photo key chain or magnet and gift bag memento.

Morsels

Wake up to vegetarian: Spice up your life with cooking classes offering global fare that could set your tastebuds afire. 2 p.m. Saturdays, Down to Earth Lifestyle Center, 2525 South King St. Free, samples abound. Call 955-7182.

Iron Horse invades Lahaina Grill: David Paul's Lahaina Grill and Iron Horse Vineyards present an evening blended with an assortment of fine wines and gourmet eats.

Dinner and reception, 6:30 p.m. June 2, at the Grill; $45 excluding tax and tip. Call (808) 667-5117 for reservations.

Culture, tradition enhance bounty: On-site fish ponds and herb gardens contribute to the quality and freshness of Executive Chef Michael Goodman's cuisine.

Discover more about the Four Seasons Resort Hualalai chef at 7:30 p.m. Tuesday , Hawaii Public Television's "Hawaii Cooks with Roy Yamaguchi."






Click for online
calendars and events.





---





Send WatDat? questions, stories
or any other story ideas or comments to:
Features, Honolulu Star-Bulletin, P.O. Box 3080,
Honolulu, HI 96802 or send a fax to 523-8509
or E-mail to features@starbulletin.com.
Please include your phone number.
E-mail to Features Editor
---
---
© 1999 Honolulu Star-Bulletin
https://archives.starbulletin.com