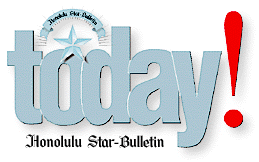 ---
Wednesday, May 26, 1999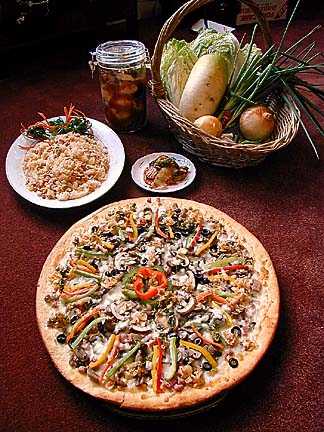 By Ken Ige, Star-Bulletin
Kim Chee Fried Rice and Kim Chee Pizza offer
spicy twists on familiar foods.
---



With a little creative thinking,
kim chee moves from side
dish to center stage

By Betty Shimabukuro
Star-Bulletin

As East meets West, kim chee diversifies. From the faithful accompanist's role in Korean cooking, kim chee slides comfortably into sandwiches and burgers. A chopped up handful in ground beef makes a mean meatloaf, in sour cream a dip that bites back.

Fried rice made with kim chee is one of the simplest dishes in the world. All the spices come with the kim chee -- just add rice, and meat or an egg if you feel like it.

Toni Lee, an organizer of this weekend's Korean May Heritage Festival, packs kim chee into pizza -- no tomato sauce; rather a layer of kim chee under the cheese.

"We love kim chee -- with everything," Lee says.

Consumed by the gallon in Korean families, kim chee is the standard side dish, no matter what the main dish. Pungent, spicy, drowning in volatile peppers, kim chee radiates heat.

More than 170 varieties of kim chee have been documented, according to the Korean Overseas Information Service, although the old reliable remains the version made with won bok, or Chinese cabbage. (One seasonal variety, made from baby radishes, is called Chong-gac, or Bachelor Radish Kim Chee, because the radish's leafy parts are wild and unruly, presumably like a man before tamed by marriage.)

Traditionally, all the women who married into a family learned to make kim chee the same way from their mother-in-law. Thus was each family's distinctive kim chee taste passed through the generations.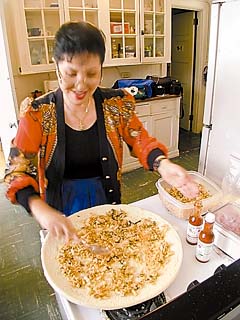 By Ken Ige, Star-Bulletin
Toni Lee works on a pizza in the kitchen at the Korean Consulate.
---
KIM CHEE PIZZA

Toni Lee

1 16-inch prepared pizza crust
2 tablespoons kim chee sauce (such as Aunty Soon's brand)
2 cups won bok kim chee chopped and squeezed of all liquid
2 cups chopped Spam or barbecued meat
2 cups shredded mozarella cheese
Optional toppings: Sliced bell peppers, olives, mushrooms

Spread kimchi sauce evenly over crust. Top with kim chee, meat and 1 cup of cheese. Add other vegetables if desired. Top with remaining cheese. Bake in 420-degree oven for 10-15 minutes, until crust is brown.

Korean families suffer no lack of kim chee in Hawaii.

Palama Super Market makes 100 gallons every day, president Hyo K. Lim says. The store's shelves offer a half-dozen varieties in gallon and half-gallon sizes, mostly made with Hawaii-grown produce.

Lim also imports three shipping containers of winter kim chee from Korea each year. "Wintertime, November, won bok tastes the best," he says. "Kim chee tastes better."

Taste and heat level distinguish true Korean kim chee from other versions, says Jennifer Kim, a spokeswoman for the Korean Consulate.

Kim chee purchased from Palama Super Market or another Korean market will be spicier, tastier, than other locally made brands, Kim says. Not to mention those brands are packaged in pint-sized (literally) bottles that take non-Korean families weeks to consume.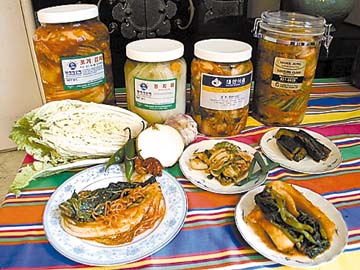 By Ken Ige, Star-Bulletin
Varieties of kim chee include won bok (chopped or halved)
cucumber and radish. The second bottle from the left is dongchi-me,
or non-spicy "water" kim chee, flavored with a single whole pepper.
It's favored for kooksoo, the traditional noodle dish.
---
Lim says medium-hot by Korean standards equals very hot in local terms. His gallon jars last just a week in the most diligent kim chee-eating families, where kim chee is a staple at breakfast, lunch and dinner.

Ironically, Kim says kim chee, for all its volatility, has calming properties once inside a person.

"When you eat something really rich, then you eat kim chee to dilute the richness and settle the stomach."

Pizza maker Lee, president of the Korean Cultural Club, hit on the idea of Kim chee Pizza while serving her family a Pizza Hut meal one evening. As usual, she was serving kim chee on the side.

Pizza parlors in Korea actually do offer kim chee as a topping, but Lee, who has developed Korean recipes for Hawaiian Electric Co., went after her own formula.

"I experimented so many times," Lee says. "Which meat tastes better, bologna, barbecue ... I think pork is best." She also favors Spam, which she says is easy and goes well with kim chee.

A final note on kim chee. It smells. If you're going to cook with it, expect the aroma to linger.

At the Korean Consulate, Kim says there is only one way to deal with that problem: "Disregard."




KOREAN MAY HERITAGE FESTIVAL

Events: Fashion show, cultural displays including wedding table setting, Korean entertainment
When: 10 a.m.-3 p.m. Saturday
Kim chee demonstration: 2 p.m., led by Ki Youb Kang, Seoul Jung restaurant
Place: Hawaii's Plantation Village, Waipahu
Admission: $1; food plate, $6
Call: 677-0110




---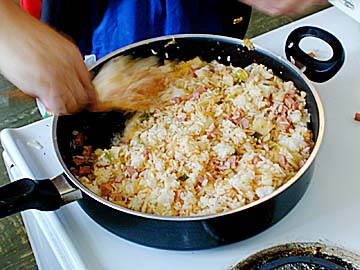 By Ken Ige, Star-Bulletin
Kim chee contains all the flavorings to make a simplified fried rice.
---
A side dish steps forward

Kim chee has never been satisfied with side-dish status. Traditional Korean cooking often includes kim chee as an ingredient that enlivens entrees.

These recipes for pancakes (Bindae Duk) and fried rice were adapted for local tastes by Jennifer Kim of the Korean Consulate. Kim Chee Soup is a more traditional favorite.

KIM CHEE FRIED RICE

Jennifer Kim, Korean Consulate

1 tablespoon vegetable oil
1/4 pound pork, cut into fine shreds (may substitute diced Spam)
4 cups cooked rice (see note)
2 cups chopped kim chee, rinsed and drained
Salt and pepper to taste, optional

Heat oil and stir-fry pork. Add kim chee and stir-fry 3 minutes, adding salt and pepper if desired. Add rice and toss well until heated through. Serves 6.

Note: Rice should be prepared drier than usual; cook with less water.

Approximate nutritional analysis, per serving (made with pork, no added salt): 250 calories, 6 g total fat, 1.5 g saturated fat, 15 mg cholesterol,430 mg sodium.*

KIM CHEE PANCAKE

Jennifer Kim, Korean Consulate

2 cups split mung beans
1 cup water
1 teaspoon salt
Pepper to taste
1/4 cup finely chopped cooked pork
1 cup kim chee, chopped, squeezed
2 tablespoons vegetable oil

Soak beans in water for 3-4 hours. Drain.

Place beans and 1 cup water in blender and pulverize. Mix in salt, pepper, pork and kim chee.

Heat oil in a skillet. Drop large spoonfuls of batter onto skillet and cook until golden brown, turning once. Makes about 10 thin pancakes, 4-5 inches across. Cut in fourths to serve.

Approximate nutritional analysis, per pancake: 80 calories, 3.5 g total fat, 0.5 g saturated fat, less than 5 mg cholesterol, 320 mg sodium.*

HEARTY KIM CHEE SOUP

"Dok Sunni: Recipes from My Mother's Korean Kitchen,"
by Jenny Kwak, St. Martin's Press, 1998

1 pound kim chee, in 1-inch squares
1 teaspoon crushed garlic
7 ounces pork, sliced thin (optional)
2 tablespoons salad oil
1 cup kim chee juice (from kim chee)
1 cup water
8 ounces tofu, in cubes
4 ounces scallions, in 1-inch pieces

Saute kim chee, garlic and pork in oil, about 2 minutes. Transfer to a pot and add kim chee juice and water. Bring to a boil. Add tofu and scallions; bring to a boil again. Serves 3-4.

Approximate nutritional analysis, per serving (with pork):560 calories, 21 g total fat, 4 g saturated fat, 35 mg cholesterol,greater than 1,100 mg sodium.*




KOREAN MARKETS

Palama Super Market: 1210 Dillingham Blvd., 847-4427
Dae Han Korean General Food: 1602 Kalakaua Ave., 949-8653
Queen's Super Market: 1010 Kalihi St., 832-2444




---

Make kim chee like a pro

Ki Youb Kang, general manger of the Waikiki Resort Hotel and its Seoul Jung Korean restaurant, will demonstrate the making of kim chee at Saturday's Korean May Heritage Festival.

Kang also teaches kim chee making to groups for a minimal charge to cover ingredients. For information call 921-8620.

Here is his recipe:

WHOLE CABBAGE KIM CHEE

Seoul Jung restaurant

1-1/2 cups coarse salt
10 cups water
1 head won bok, about 3 pounds, in 2-3 sections
1-1/2 to 2 pounds daikon (preferably Korean), julienned
1/2 cup red pepper powder
1/4 bunch green onion, in 2-inch slices
1/3 bunch watercress, in 2-inch lengths
1 garlic bulb, crushed
1 piece ginger, about 5 inches long, crushed
1/3 cup salted baby shrimp, chopped (see note)
1/4 cup salted anchovy juice or fish sauce (see note)
1 teaspoon salt
2 teaspoons sugar

Make a brine of the coarse salt and water. Soak cabbage in brine 3 hours.

Mix daikon strips with pepper powder until red color is set.

Combine remaining ingredients and mix with daikon. Pack the mixture inside the cabbage leaves, firmly wrapping with outer leaves.

Place cabbage into a crock, jar or bottle and refrigerate 2-3 days. Moisture will be drawn out of the cabbage to form kim chee juice.

Note: Salted baby shrimp and anchovy juice may be found in the Asian sections of many markets, or at Korean groceries.

Nutritional information unavailable.




Click for online
calendars and events.
E-mail to Features Editor
---
---
© 1999 Honolulu Star-Bulletin
https://archives.starbulletin.com