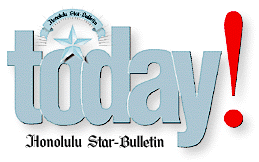 ---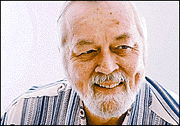 Hawaii

By Dave Donnelly
Tuesday, May 25, 1999
---
Melodrama mars
Hoku awards

THERE was a kind of fascination watching what I like to call the "Hokey Awards" Sunday night on TV. While I didn't see all of it, I saw enough to reinforce my feeling that it's an "Only in Hawaii" kind of show. Where else would the best female singer come on stage chewing gum? And when the group Pure Heart won its first award, member Jake Shimabukuro was convulsed into sobs surpassing that of many who lost loved ones in horrible massacres. He totally broke down. I wondered how he would have reacted if the group has lost! ... There was apparently no limit on acceptance speeches or use of the phrase "much mahalos," and the Hoku people ought to consider planning an hour special for Kawai Cockett to thank everyone he knows in case he wins for best singer again ... Kudos to Amy Gilliom, just as thankful, but thankfully brief ...

PLUGGING away: Best slip of the tongue at the Hokeys went to Fiji. After thanking the limo company who gave him a free ride, he said, "I'm here to prevent, uh, I mean present ..." And you have to hand it to Kimo McVay. On winning a Lifetime Achievement Award he got in plugs for both his client, magician John Hirokawa, whom he represents; and his angel, Robert Iwamoto, who pays the bills ... Next year, could we knock an hour off the running time? ...

SPEAKING of Kawai Cockett, the Four Seasons Resort Hualalai must have been pleased to see him win a Hoku. He'll be one of the "treasured performing artists" of the '40s and '50s performing there over the Memorial Day Weekend. Others are Kealoha Kalama and Myra English ...

Ticket Wars

NOW that the geeks, dweebs and nerds have all seen "The Phantom Menace," many in costume, sanity may take over and the film will do well, if not set the records of "Jurassic Park" or "Titanic." One downside of seeing a film at the Dole Cannery Theaters as I did Saturday afternoon, was that everyone wanting a ticket to any movie has to stand in the same line. So I waited behind a mob of "Star Wars" fans wanting to see the new "prequel," to get a ticket to watch "Central Station," the fine Brazilian film. I was one of four people in the theater when the film began, and it nearly doubled, with three more people coming in for a total of seven before it was over. Don't look for that one to set any box office records, though in many ways it's probably a much better film ...

CAN somebody shake talk show hostess Rosie O'Donnell back into reality? After her diatribe against Tom Selleck for being in a National Rifle Association ad, she asked Bernadette Peters to change a line in a song, "I can shoot a partridge with a single cartridge." Peters said no. Rosie, the show is called "Annie Get Your Gun"!!! Next time go for "Cats"! ...

Valet of the Malls

FOR those who simply can't abide cruising around busy shopping center parking lots looking for an available space, Market City has the answer: Valets! To alleviate parking congestion from folks trying to get into places like Foodland, Blockbuster, Gina's BBQ and Catch of the Day, Market City is offering free valet parking Saturday and Sunday from 11 a.m. to 8 p.m. and Monday from 10 to 8 p.m. All motorists have to do is drop their car off in front of Torito's on the upper level. If things go well, the neighborhood shopping center will use valet service on other holidays also ...

---




Dave Donnelly has been writing on happenings
in Hawaii for the Star-Bulletin since 1968.
His columns run Monday through Friday.

Contact Dave by e-mail: donnelly@kestrok.com.
E-mail to Features Editor
---
---
© 1999 Honolulu Star-Bulletin
https://archives.starbulletin.com