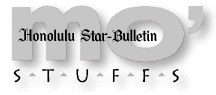 ---
Monday, May 24, 1999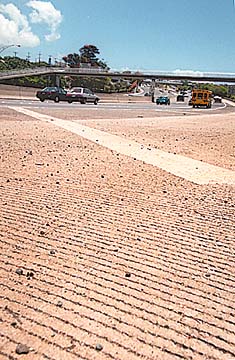 By Ken Sakamoto, Star-Bulletin
Concrete doesn't absorb water like asphalt so traction
grooves are added to portions of roadways
made of that material.
---
Concrete roads get cars
bopping on H-1
Drive a car with bad shocks or haul a trailer down H-1 in the Kaimuki area, and the ride gets quite rhythmic. There's a long stretch of H-1 that's concrete instead of asphalt, and sometimes the vibration gets so intense that you think you have a flat.

Why does concrete ride so much differently than asphalt?

State highways administrator Pericles Manthos says it's not just because they're two different materials, but because the materials and methods of applying them have improved.
"You have two schools, one that likes concrete because it's long-lasting, and one that likes asphalt because it's easier to apply and repair," said Manthos.
"That section of H-1 was poured quite a while ago, when they were still pouring concrete in sections and leveling them with flat wooden screeds. Newer sections, like the current widening in Aiea, uses more sophisticated techniques, slip-forms that are ground down to make them more level."
Laying concrete is like laying bricks; the bucking motion comes from the subtle difference between the level middles of the sections and the slight angles of the joints. Laying asphalt is a more organic process; it smooshes out like pudding and forms a continuous layer that behaves more like a liquid than a solid.
Asphalt is also more porous and rain falling upon it tends to percolate away. Not so with concrete, which is why concrete road sections generally have traction grooves combed in with diamond-bladed saws.
Concrete is springier as well. Elevated sections, such as those on H-3, are actually bowed upward in the middle. This "deflection" is designed to level out under the concrete's weight and the weight of average traffic.
"When we measure the sprung beams on H-3 to see how they're doing, we can't have cars travelling on them, because the roadway actually bounces up and down like a rubber band," said Manthos.
Williams concert cancelled
The Hank Williams III concert scheduled for June 19 at World Cafe has been cancelled. Anyone holding onto a paid ticket should call MCM Productions at 593-0317 for a refund. No reason was given for the cancellation.
Teenie Beanies at auction
If you can't get enough of those lovable Teenie Beanie Babies, there's a way to get the whole set and help a good cause.

Beginning today, a complete set of Ty Teenie Beanie Babies will be available through an auction benefitting Ronald McDonald House Charities-Hawaii. Log on to the KHNL website at http://www.khnl.com or call KSSK 973-5745 for more information.

Twelve new Teenie Beanies are being offered with Happy Meals, or $1.69 with the purchase of any regularly priced McDonald's item through June 3. From June 4 to 17, four Teenie Beanie International Bears will be sold for $2.49 each, while supplies last, with the purchase of any regularly priced menu item.
Shop for a job at Expo
Those seeking jobs or exploring career options can save a lot of legwork at the WorkForce 2000 Job Fair and Career Expo being held 9 a.m. to 6 p.m. Wednesday at Blaisdell Center.

Job recruiters and workshops will be held to assist participants in writing resumes, preparing for the interview, job training, searching for jobs on the Internet, and exploring "hidden" job markets. Admission is $2.



RADIO LOG

KONG 570-AM / 93.5 FM: Adult contemporary rock with some Hawaiian music
KSSK 590-AM / 92.3-FM: Adult contemporary music
KHNR 650-AM: All news
KQMQ 690-AM / 93.1-FM: Contemporary hits
KGU 760-AM: Sports radio
KHVH 830-AM: News, talk, traffic, weather
KAIM 870-AM / 95.5-FM: Christian music AM; contemporary Christian music FM
KJPN 940-AM: Japanese-language news, adult contemporary music and talk shows
KIKI 990-AM / 93.9-FM: Contemporary country AM; contemporary hits FM
KLHT 1040-AM: Christian radio
KWAI 1080-AM: Talk radio
KZOO 1210-AM: Japanese-language, broadcasts from Japan
KNDI 1270-AM: Live news from Philippines
KIFO 1380-AM: News, public affairs
KCCN 1420-AM / 100.3-FM: All talk / UH sports AM; contemporary island hits, FM
KUMU 1500-AM / 94.7-FM: Adult standards, AM; light favorites, FM
KHPR 88.1-FM: Classical, news, public affairs
KIPO 89.3-FM: Jazz, classical, news
KTUH 90.3-FM: Jazz, blues, Hawaiian, rock, countryand alternative
KKUA 90.7-FM: Classical, news and public affairs
KKCR 90.9 / 91.9-FM: Hawaiian music, midnight-3 p.m.; and rock, reggae, classical and new age
KRTR 96.3-FM: Adult contemporary music and news
KPOI 97.5-FM: Modern rock
KKLV 98.5-FM: Classic rock
KORL 99.5-FM: Tourist information
STAR 101.9-FM: Modern hits
KKHN 102.7-FM: Country
KXME 104.3-FM: Top 40
KINE 105.1-FM: Hawaiian
KGMZ 107.9-FM: Oldies





Click for online
calendars and events.
---
Send WatDat? questions, stories
or any other story ideas or comments to:
Features, Honolulu Star-Bulletin, P.O. Box 3080,
Honolulu, HI 96802 or send a fax to 523-8509
or E-mail to features@starbulletin.com.
Please include your phone number.
E-mail to Features Editor
---
---
© 1999 Honolulu Star-Bulletin
https://archives.starbulletin.com