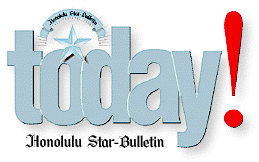 ---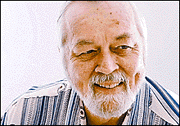 Hawaii

By Dave Donnelly
Monday, May 24, 1999
---
Parrish heads for
'Disney' land

ANOTHER young local actress is heading for the silver screen. Janel Parrish left last week for the mainland where she'll be appearing in a new Disney film about Pinocchio's creator, "Geppetto." Playing the title role will be TV's Drew Carey. You may remember Janel from her roles in "To Kill a Mockingbird" at Manoa Valley Theatre and especially as Cosette in "Les Miserables." Giving her some last minute encouragement before her departure was casting director Garrison True, who worked with Janel in acting classes he teaches and who's very big on her potential ...

SOME of the town's theater community, still miffed over the Honolulu Theater for Youth being asked not to return to the Zoo, where they'd been performing a pre-arranged play -- the noise was bothering the animals -- are confused. Those attending the Michael Feinstein concert Friday at the Waikiki Shell were overwhelmed with the amplified blues from the John Mayall concert, which was emanating from -- the Zoo! Said one upset patron, "Maybe the animals like rock music." I'm sure the City has a logical explanation. Don't they? ...

Music to his ears

YOU'LL forgive architect Jerry Allison if he's still in a state of shock. When he was in high school in Seattle, a classmate was Quincy Jones. While the latter proceeded to great heights in music, Allison turned to architecture and is now a principal of Wimberly Allison Tong & Goo. A couple of months ago, music impresario Jones met up with his old classmate and commissioned him to design a home for his two-acre Bel Air estate site. Since then, Allison and another WAT&G principal, Kevin Chun, have been working secretly on the project. All that changed, however, when Jones invited Allison and wife Charlotte to attend the ASCAP Awards, at which Quincy was presented the Henry Mancini Award for "singular achievements in the world of film and television music." But Allison was stunned when Quincy in his acceptance speech exuded, "Now let me tell you what I'm really excited about -- I'm having a wonderful time working with one of the world's great architects in designing my new house. Stand up, Charlotte and Jerry Allison." If that doesn't get him a discount, nothing will ...

VISITING from their new Incline Village home in Nevada are expatriates Mary Anne and David Stubenberg. Yesterday they had breakfast at the Big City Diner with another visiting pair, Mary Lou and Bob Sandla, now Floridians, and Laura Bach, former isle actress who's working at Tiffany's in New York and hoping for a showbiz break. The Stubenbergs recently flew in from Napa Valley, where they ran into Karen Takabayashi, who was in public relations in Hawaii before joining Shramsburg, the sparkling winemakers ...

Bits and pieces

MATTEO'S was a Garden of Eden last week -- "I Dream of Jeannie" star Barbara Eden hosted a big party there ... George "Cass" Castagnola, who's planning to open a new Italian eatery in Niu Valley Shopping Center on July 1, has been warming up at Harpo's in Kapahulu, where bossman Mike Trombetta says he's "never had so much fun in the kitchen" as he has for the past two months with Cass around ... The old Goldman Estate is for sale at a fraction of what the late Alfred Goldman sold it for to a Japanese investor ... After 18 defeats, "soaperstar" Susan Lucci has finally won an award. Would you say it qualified as a "Mercy Emmy?" ...

---




Dave Donnelly has been writing on happenings
in Hawaii for the Star-Bulletin since 1968.
His columns run Monday through Friday.

Contact Dave by e-mail: donnelly@kestrok.com.
E-mail to Features Editor
---
---
© 1999 Honolulu Star-Bulletin
https://archives.starbulletin.com