---
Friday, May 21, 1999
HAWAII BLESSES THE WALL'S RETURN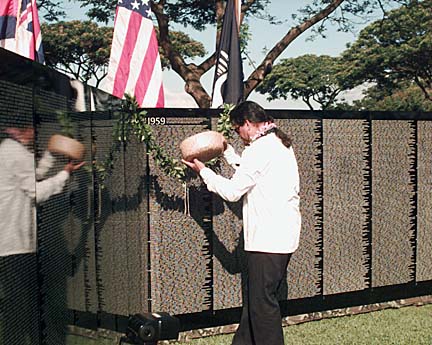 By Ken Sakamoto, Star-Bulletin
A blessing was part of opening ceremonies this morning for the
Vietnam Veterans Memorial Moving Wall at the USS Arizona
Memorial Visitor Center. The wall is open for viewing
around the clock through May 31.
---
Vietnam Wall
returns, drawing
strong emotions


The memorial's first visitors
today tell of their sadness and pride;
one says, 'It symbolizes America'

By Gregg K. Kakesako
Star-Bulletin

The Wall, once a source of controversy and now a symbol of pride, returned to Hawaii today.

And although this wall is only a half-size replica of the Vietnam Veterans Memorial in Washington, D.C., there is nothing small about the emotional reaction it evokes.

Patrick Patton, 23, wasn't even born when his uncle, Enrique Soliz, was killed in South Vietnam.

This morning, minutes after the opening ceremonies at the USS Arizona Memorial, Patton was at the wall tracing his uncle's name on a piece of paper to send to his parents and other relatives in Stockton, Calif.

"They say I am an exact replica of him," Patton said, "in my looks and even in my attitude."

Paul Quezon, 53, was drafted and wounded while serving as a "tunnel rat" with the 25th Infantry Division during a search-and-destroy mission near Phu Bi.

This morning he and his wife, Jenny, were at the wall trying to find the name of a fellow tunnel rat killed in May 1966 in the same ambush in which Quezon was wounded by a claymore mine blast.

Then the Quezons came across the name of Roman Villamor -- a relative also killed in Vietnam in the same year.

Villamor is among the 320 service members from Hawaii whose names are etched on the black wall.

"I feel both sad and happy to be here," said Paul Quezon, now an equipment operator at Hickam Air Force Base.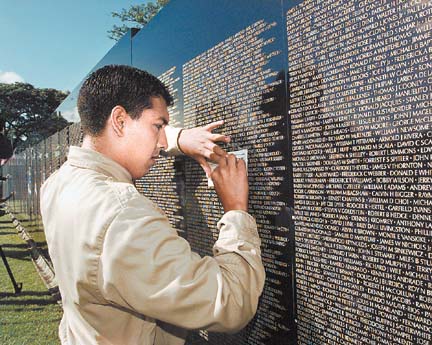 By Ken Sakamoto, Star-Bulletin
Patrick Patton of Stockton, Calif., makes a rubbing of the
name of his uncle, Enrique Soliz, at the Vietnam Veterans
Memorial traveling exhibit, which opened today on the
grounds of the USS Arizona Memorial. The half-size
replica will be in Hawaii through May 31.
---
"It's good to see the wall, since it symbolizes America."

That also was the message delivered by retired Navy Capt. Gerald Coffee, who was a prisoner of war in a North Vietnamese camp for seven years and nine days.

"We might have lost the battle for South Vietnam," the former Navy aviator said, "but we won the war for Southeast Asia."

Coffee said he survived his years of captivity because of "faith ... in myself, in my fellow man, in my country, America ... and in my God."

Coffee said although the wall honors the 58,213 service members killed in Vietnam and those still missing in action, the deaths of other men and women who have died in routine U.S. deployments since then should not be forgotten.

John Devitt, 50, who conceived of the traveling wall 17 years ago, said ceremonies commemorating its visit to the islands have "always stood out."




THE MOVING WALL

Where: Front lawn of the USS Arizona Memorial
When: Today-May 31
Hours: Around the clock
Admission: Free
Length: 252.4 feet
Features: The names of 58,213 service members killed or missing in Vietnam
Created: 1984




In 1987, when the traveling wall, one of three built by Devitt, was displayed in Hilo, "there were so many leis and flowers" that they covered the black panels that stretch over an area nearly the length of a football field.

"In Hilo, there were so many families there. But what I remember the most is when the whole crowd sang, the singing was in harmony."

No matter how many times Devitt -- a helicopter gunship door gunner in South Vietnam -- sees the wall, it still evokes emotions.

"Whenever I look at the wall I feel a sense of sadness," said Devitt, who now devotes all of his time scheduling the wall's travels throughout the country.

"There is an overwhelming sense of loss. There also is a sense of pride because there are still people in our country willing to give their lives to serve their country."

The moving wall will be on display on the front lawn of the USS Arizona Memorial 24 hours a day until Memorial Day, May 31.
E-mail to City Desk
---
---
© 1999 Honolulu Star-Bulletin
https://archives.starbulletin.com