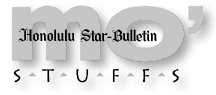 ---
Friday, May 21, 1999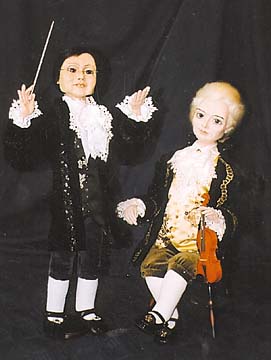 Courtesy of Honolulu Symphony
Two figures created in the likeness of Honolulu Symphony
maestro Samuel Wong, left, and Wolfgang
Amadeus Mozart, are up for bid.
---
Silent auction benefits
Honolulu Symphony
A silent auction is among the highlights of the Second Annual Symphony Ball, running 6 to 10:30 p.m. tomorrow at the Sheraton Waikiki.

More than 1,100 items will be up for grabs, including art and collectibles, travel wining and dining, jewelry, clothing and accessories, sports and fitness, and music and entertainment packages.

What's available? On the luxurious side there are:

The "Jet Set" item: A year's worth of first-class flights for one on Hawaiian Airlines. Estimated value: $39,000.

Use of a 1999 Lexus RX300 SUV for one year. Estimated value: $11,815.

Two art figures by Nina Denisovna Savenko -- one of Honolulu Symphony maestro Samuel Wong and one of Wolfgang Amadeus Mozart. Estimated value: $3,000.

A 2.21 carat diamond tie tack. Estimated value: $13,700.

Seven night cruise to the isles of Italy. Estimated value: $10,400.

A cocktail party for 50. Estimated value: $6,000.
On the more modest end, items up for bid include:

Two nights for four at Kaloko Mauka tropical forest above Kona in two equipped tree houses. Estimated value: $1,000

Lunch at First Hawaiian Bank's exclusive "Banker's Club" with seven of your friends. Estimated value: $500.

Guest judge appearance on "Hawaii Stars": Estimated value: $350.
Payment for winning bids must be settled by 11 p.m., and can be made by cash, check or credit card.
Tickets to the Symphony Ball are $200, which includes dinner. For information call the symphony at 524-0815, ext. 237.

Itchin' for a new kitchen? Help is at hand
The Hawaii Remodelers Council wants to help homeowners Remodel-It-Right.

Contractors designers and suppliers will be on hand from 10 a.m. to 3 p.m. Saturday at Windward Mall to provide information on techniques and products.

GE Capitol and Hawaii Remodeling magazine will present a seminar from 11 a.m. to 12:30 p.m. in the former Liberty House Penthouse space.

Speakers will include: Marvin Koshi of GE Capital Hawaii on remodeling loans, Mel Lee of the City and County Building Department on permits, and Leonard Peters of Architectural Builders Co. on how to get started on a remodeling project.

Similar remodeling shows will take place 6:30 to 8 p.m. June 9 at the Kaimuki Recreational Center, 10 a.m. to 3 p.m. Sept. 11 at The Ward Warehouse, and 6:30 to 8:30 p.m. Oct. 14 at Kailua District Park.

For more information on Remodel-It-Right, call 847-4666, ext. 206.

Read All About It
Read All About It presents news and notices about Hawaii's literary scene. Send items -- at least two weeks in advance of publication date -- to Read All About It, P.O. Box 3080, Honolulu, Hawaii 96802.
SPECIAL
Teacher's Day
Borders, Ward Centre and Waikele
9 a.m.-noon tomorrow, both locations. Guest speakers, information tables, HSTA benefit information table, more. All teachers from grades K-12 receive a 25-percent discount -- see store for details.
MISCELLANEOUS
WRITERS NEEDED
For anthology of single women's personal experiences depicting how strong they are or have become. Women can be divorced, widowed or never married. For information, send a self-addressed, stamped envelope to: Dianne Lorang, The Write Help, 7485 S. Washington Circle, Littleton, Colo. 80122; or e-mail her at mdmbe@worldnet.att.net. For information, connect to http://home.att.net/~mdmbe.

"MAKANA AKAMAI"
536-4174
Friends of the Library needs book donations to help the library's book budget. Call for a brochure listing books wanted. The books listed are selected by the library staff to expand the library's collection and provide requested materials. Books may be donated to a favorite library.
CONTINUING
AFRICAN AMERICAN LITERARY BOOK GROUP
1132 Bishop St., Suite 1404; 528-5037
Group discusses fiction and non-fiction African literature, 6:30-8:30 p.m. the second and fourth Monday of every month. Call to confirm attendance and book title.

CRAFTS AND STORIES
Barnes and Noble, 737-3323
Meets 10 a.m. and 4:30 p.m. Tuesdays and Thursdays.

GET IN TOUCH WITH YOUR CREATIVE SIDE
678-0561
Two group studies focus on books by Julia Cameron, 6:30-8:30 p.m. On Wednesdays, the group will discuss Cameron's book "Artist Way"; and on Thursdays, another group will discuss Cameron's book "The Vein of Gold." Call Sue for locations.

HONOLULU CHAPTER OF THE NATIONAL WRITERS ASSOCIATION
Manoa Gardens, 845-9585
Meets 7 p.m., second Tuesdays of each month, 2790 Kahaloa Drive. Manuscript critique too.

LITERATURE READERS GROUP
Borders, Ward Centre; 591-8995
Meets 7 p.m. second Tuesday of each month.

MENSA BOOK GROUP
Barnes & Noble; 734-1159
Meets 3 p.m. first Sunday of February, May, August and November. Look for the Mensa sign. Call Gerry DeBenedetti.

ONLINE FUN
(212) 414-6157
Barnes and Noble author chat group at barnesandnoble.com and barnesandnoble@aol (keyword: bn). Call Elke Villa or e-mail her at evilla@bn.com.

OPEN MIC
Barnes & Noble, 737-3323
Poets and writers welcomed to share their works, 7 p.m. third Friday of each month.

PROFESSIONAL WRITERS GROUP OF HAWAII
941-1768
Meets 4-6 p.m. second and fourth Saturdays of each month. Call Susan.

ROMANCE READERS ANONYMOUS
Borders, Waikele; 676-6699
Meets 6:30 p.m. second Thursday of each month.

ROMANCE READERS GROUP
Borders, Ward Centre; 591-8995
Meets 7 p.m. last Tuesday of each month

ROMANCE WRITERS OF AMERICA, ALOHA CHAPTER
Aina Haina Library, 739-7722

SCIENCE AND FANTASY FICTION READING GROUP
Borders, Ward Centre; 591-8995
Meets 7 p.m. last Wednesday of each month.






Click for online
calendars and events.
---
Send WatDat? questions, stories
or any other story ideas or comments to:
Features, Honolulu Star-Bulletin, P.O. Box 3080,
Honolulu, HI 96802 or send a fax to 523-8509
or E-mail to features@starbulletin.com.
Please include your phone number.
E-mail to Features Editor
---
---
© 1999 Honolulu Star-Bulletin
https://archives.starbulletin.com