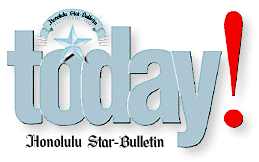 ---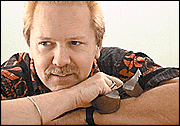 Island Mele

By John Berger
Friday, May 21, 1999
---
A band to believe in

Believe in Us
By: DizGuys
Label: Outrigger Entertainment

DIZGUYZ follows its "Whisper I Love You"/"Turn it Up (Bass and Treble)" single with a debut album of equal promise. Nothing here sounds like local pop. DizGuys are ready for the national charts.

The arrangements are in the style of Boyz II Men, Backstreet Boys and 'N Sync. Several have the enervated sound now hot on the national charts. Others show DizGuys' versatility with heavier rhythms. All but one song are originals by the group or its production team.

The surprise gem is "Hawai'i Pono'i" sung in an a capella urban style. It honors their heritage and makes DisGuyz unique among the national competition. DizGuys should already be on Hawaiian radio.

Na Mele Henoheno Na Makahiki Mua Helu 'Ekahi
By: Makaha Sons of Ni'ihau
Label: Poki

THE Makaha Sons of Ni'ihau was one of the most significant acts of its time. This anthology reintroduces songs from its first three albums and the pure grassroots Hawaiian music of the original quintet -- Sam Gray, Jerome Koko, Louis "Moon" Kauakahi, and Skippy and Israel Kamakawiwo'ole.

The smooth harmonies and clean acoustic arrangements remained intact as Gray and Koko were replaced by Mel Amina and Abraham Nahulu, and Elmer Lim Jr. was grafted on as a sixth member.

This is a fine retrospective musically but doesn't explain why these songs were included, their meaning, or which come from which album. That basic information should be here.

Focus 1
By: Focus 1
Label: Pipeline Productions

RELEASED too late for Mother's Day, this CD-single introduces Bobby "Nappy" Napoleon, Ritchie Pelen, Dave "Ke" Stagner and Todd Uyehara.

Uyehara and Sean Na auao co-wrote "No Time, " and Uyehara's ukulele adds a crisp edge to this contemporary local lament about hectic modern life. The second song, "Mother," by Uyehara, Stagner and Marvic Esquibil, is an earnest local-pop ballad in search of a stronger arrangement.

See Record Reviews for some of John Berger's past reviews.

---




John Berger, who has covered the local
entertainment scene since 1972, writes reviews of recordings
produced by Hawaii artists. See the Star-Bulletin's Home Zone
section on Fridays for the latest reviews.
E-mail to Features Editor
---
---
© 1999 Honolulu Star-Bulletin
https://archives.starbulletin.com