---
Tuesday, May 18, 1999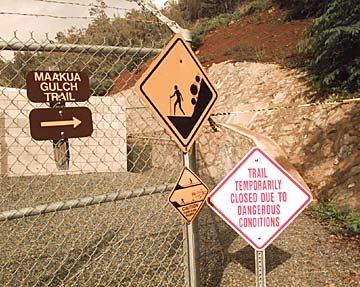 By Ken Ige, Star-Bulletin
Signs warn of dangers and closure of the Maakua Gulch trail.
---
Hiker hurt near falls

The victim is airlifted out from Maakua Gulch

A man in his 20s was hospitalized this morning after he was injured while hiking on a closed trail in the mountains about a mile from Sacred Falls State Park.

The hiker suffered his injury yesterday afternoon and spent the night at Maakua Gulch.

It was just eight days ago that a landslide at Sacred Falls killed eight people and injured more than 30. That same day, the trail to Maakua Gulch was closed.

The injured hiker was airlifted this morning from the trail to Hauula Beach Park. He then was taken by ambulance to Wahiawa General Hospital, where he remains in good condition with a knee injury, fire officials said.

He was with a group of hikers near the falls when he was injured. They didn't report the incident until today because, "They didn't want the publicity," said Fire Capt. Mike Keitzer.

---

Star-Bulletin staff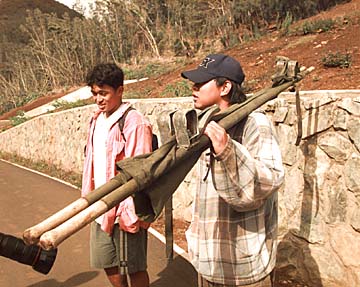 By Ken Ige, Star-Bulletin
Yu Ohki, at left, and Toshi Nakagawa went in at 1 a.m. today
to help a friend who had hurt his leg yesterday. But the injured
man proved too big and the trail too rough for
them to make the rescue.
---
E-mail to City Desk
---
---
© 1999 Honolulu Star-Bulletin
https://archives.starbulletin.com