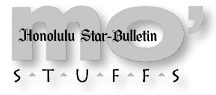 ---
Friday, May 14, 1999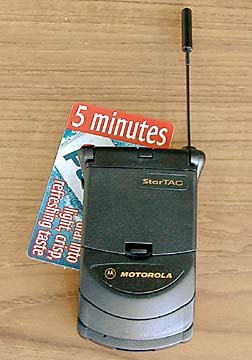 By Craig T. Kojima, Star-Bulletin
The StarTac Phone is not much bigger than a phone card.
---
Teeny cell phone
big on features
It wasn't too long ago when cellular phones were so heavy you could use them as a hammer. Now, these "Dark Age" models, which cost well over $1,000 then, are paperweights and bookends.

Enter Motorola's new digital StarTac ST7790, a marvel of technology. At 3.6 ounces and 5.1 cubic inches, this flip-top phone loaded with features is smaller than most alpha-numeric pagers and has features unavailable in a cell phone.

Some features:
Built-in phone book that stores up to 99 names and numbers, stores the last 10 numbers dialed and the last 20 caller ID numbers received;
Large LCD scrolling display allows 20 characters so you can read messages easily;
A smart button accesses menus, scrolling, selecting functions and placing calls.
The short message service provides a 2,400 character message memory so the user can receive and store pagerlike alphanumeric messages;
The dedicated message button allows you to scroll through new or previously stored messages;
There's a VibraCall alert to discreetly let you know there's an incoming call;
And there's even a way to do a three-way conference call.
Particularly amazing is the tiny battery that provides up to three hours of talk time and 110 hours of standby time!

Larger-than-usual oblong buttons prevent misdialing. The digital sound is clear and the volume is easy to adjust.

How do you improve on cell perfection? I want the next digital StarTac to be waterproof because this baby would be great to have tucked in your shorts while surfing or in a kayak while paddling.

With a two-year phone service agreement with Honolulu Cellular, the digital StarTac ST7790 sells for about $450, and with a one-year agreement, $499; both prices after rebate. Want the phone but no agreement? Pony up $699.

For information, call 627-8500.
---
By Tim Ryan, Star-Bulletin

Party with DisGuyz
If you believe in DisGuyz, you can show your support Saturday at a CD autograph party hosted by Sam Goody in Windward Mall and KQMQ radio.

Members of the group will be on hand from 2:30-4:30 p.m. to sign copies of their debut CD, "Believe in Us."

The CD features 10 original songs, seven of them composed by band member Jason Lent and collaborator Elan Markos. Band member Junior Mika composed a tune called "Turn It Up (Bass & Treble)" and the other two numbers were written by Glenn Medeiros.

Other band members are Calsen Aiwohi, Justin Alverio and Ian Ayson.

DisGuyz performs regularly in the Yes! show at Polynesian Palace. For more information, call Outrigger Entertainment at 923-8075 or KQMQ at 296-9393.

Corky Siegel jams
Harmonica whiz Corky Siegel will perform at 7:30 p.m. tomorrow at the Honolulu Academy of Arts Theatre.

Siegel, who in the '60s brought an edgy, urban consciousness to blues with the Siegel-Schwall Blues Band, has lately been fusing chamber music and blues in intriguing cross-cultural experiments. He has jammed with Seiji Ozawa, Arthur Fiedler and "Little Walter" Horton.

Admission is $15; $12 for Academy members. Call 532-8700.

Retracing isle music
A documentary airing on KIPO 89.3 FM Sunday morning will detail ways music is helping to preserve Hawaiian culture.

"Rockin' the Boat: Reclaiming Paradise," will air from 11 a.m. to noon. The program retraces Hawaiian history through interviews and presents music beginning with chants and drumming in pre-contact times, moving through the 19th century with its missionary hymns, and continuing through this century's hapa-haole songs and the "Hawaiian renaissance" that 20 years ago influenced a generation of young musicians and also led to the rebirth of hula.

The program is narrated by Pulitzer Prize-winning author Alice Walker and features interviews with performers, scholars, politicians and activists including Haunani Apoliona, the Brothers Cazimero, Mililani Trask, Nona Beamer, Kekuhi Kanahele, Manu Boyd, Keith Haugen, Tom Moffatt and others.

Call HPR at 955-8821.

Foster grandparents wanted
Foster grandparents are being sought to serve as senior volunteers 20 hours a week, preferably in the afternoons, in schools, day programs and other education, health or welfare-related settings.

Candidates must be 60 or older, like children and being with people and must be willing to accept direct supervision. In addition, single volunteers may not have an income of more than $12,815 per year; couples must not earn more than $17,190.

Foster grandparents receive non-taxable stipends, a daily meal, reimbursed transportation, training, annual physical examinations and other benefits.

The Department of Human Services is targeting the Aiea district, but anyone interested in the program may call 453-6357 for information.

Get ready for 'Taste'
Food lovers get ready for the 8th annual Taste of Honolulu festival, this year scheduled to run June 25 to 27 on the Honolulu Civic Center grounds, adjacent to Honolulu Hale.

Some of Hawaii's top restaurants will make tasting portions of their menus available at nominal cost. The most challenging task will be deciding what to eat.

Some restaurants featured are Big Island Steakhouse, Brew Moon, California Beach Rock n' Sushi, Canoe's, Cascada, Chiang-Mai, China House, Ciao Mein, the Colony, Don Ho's Island Grill, Duke's Canoe Club, Indigo, Nicholas Nickolas, Prince Court, Pyramids, Red Lobster, Sarento's, Shizu, Texas Rock & Roll Sushi Bar and Tony Roma's.

Scrip is available in two packages through June 11. Package A is $20 plus tax for $25 worth of scrip. Package B is $40 plus tax for $50 worth of scrip and two admission tickets worth $2 each.

The annual event is a fund-raiser for Easter Seals Hawaii. Call the Taste of Honolulu hot line at 67-TASTE (82783).






Click for online
calendars and events.
---
Send WatDat? questions, stories
or any other story ideas or comments to:
Features, Honolulu Star-Bulletin, P.O. Box 3080,
Honolulu, HI 96802 or send a fax to 523-8509
or E-mail to features@starbulletin.com.
Please include your phone number.
E-mail to Features Editor
---
---
© 1999 Honolulu Star-Bulletin
https://archives.starbulletin.com