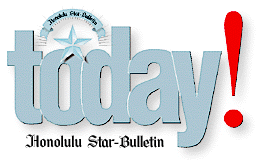 ---
Friday, May 14, 1999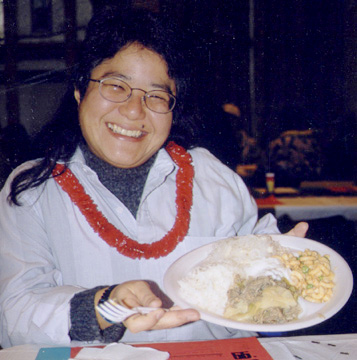 Courtesy of Catherine Toth
Renee Arakaki, who is pursuing her doctorate in music
at Northwestern University, shows her plate lunch at
the school's Hawaii Club luau.
---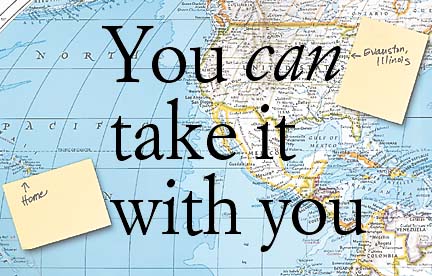 Isle sons and daughters in
the Midwest know firsthand
that longing for Hawaii is more
than missing plate lunches

By Catherine E. Toth
Special to the Star-Bulletin

CHICAGO -- Inside Parkes Hall were tropical flowers, Hawaiian music and lots of Aloha shirts. Outside, it was 30 degrees with the wind chill. Like many local kids who go to college on the Mainland, the Hawaii students at Northwestern University, which is just north of Chicago, found each other, started a Hawaii Club and put on an annual luau last month.

It was more like a local graduation party than a luau: long tables covered with fake tapa cloth and adorned with orchids, paper cups for the fruit punch served in a huge dispenser and construction-paper decorations on the stage. But to the approximately 150 people who attended the 14th annual event, this was a taste of the islands more than 5,000 miles away.

The club members prepared the menu of kalua pig, sticky rice, macaroni salad, chicken long rice, fruit salad and haupia the weekend before the event, which took place on a chilly Sunday evening.

"I thought it was cute," said Renee Arakaki, a 41-year-old doctoral student in music at NU. "The thing that struck me was most of the kids, you could tell, weren't really into Hawaiian things before, but because they're so far away from home, they're starting to really appreciate it. It makes them feel like they're home."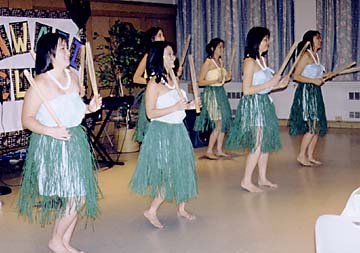 Courtesy of Catherine Toth
Men sang several local tunes, below, and women, above, danced hula.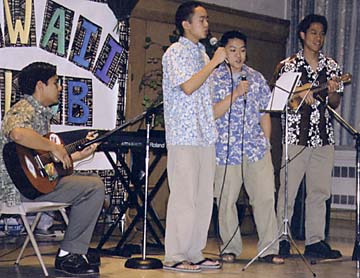 ---
The Hawaii Club at Northwestern has approximately 45 members; most of them helped prepare food for the luau and performed --either by dancing hula or singing Hawaiian songs -- for the curious Midwestern crowd. Four self-proclaimed "local boys" played their rendition of "You Don't

Write," a song by the Ka'au Crater Boys. At the end of the night, all the locals in attendance were dragged up to the front of the room to sing "Hawaii Aloha."

No other state has this phenomenon. There's no California or Texas Club at Northwestern. In fact, pick a university anywhere on the continent that has even a couple of local kids and you'll probably find a Hawaii Club.

"Hawaii people get lonely and look for people around campus wearing Hawaiian stuff," said Stacie Sakai, a bioengineering student at the University of Illinois. "I got involved (in the Hawaii Club) because I started to get homesick and hanging around Hawaii people made 'Hawaii come to Illinois' for me."

The Hawaii Club at Illinois, of which Sakai is president, recently put on its own annual luau, drawing nearly 350 people.

"At first, my idea was to get away from the islands and make new friends," the 19-year-old graduate of Punahou School said, "but after I got here, I realized that Hawaii would always be a big part of my life."

Many local students left for similar reasons: to be independent, to experience a new place, to learn new things.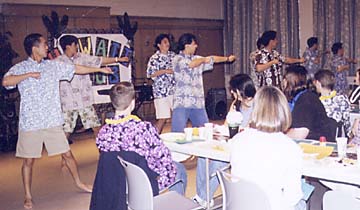 Courtesy of Catherine Toth
Members of the Northwestern University Hawaii Club
perform at their annual luau for an audience of about 150.
---
"I'm a computer science major and Illinois is pretty good for it," said Ryan Kanno, a 20-year-old junior and graduate of Iolani School. "Hawaii's a nice place to visit and hang out for a few months -- like in the summertime -- but there's no tech jobs."

Sakai chose Northwestern over West Coast universities because she wanted a different experience, one she felt she couldn't get anywhere else.

"I really wanted to go away just to get the experience of growing up, learning how to cook and doing my own laundry," said Tammy Uyetake, a 19-year-old sophomore majoring in radio/TV/film at Northwestern. "I really like the people here. In the Midwest, people are more laidback. The East Coast is always go, go, go. I just wanted a different experience and that's why I wanted to come to Chicago and not the West Coast. I've been there before."

Some come for completely different opportunities. Erika Nash, for example, chose Bradley University in Peoria, Ill., to play volleyball.

"I was recruited to play at Bradley," the 21-year-old senior in graphic design and daughter of University of Hawaii associate basketball coach Bob Nash said. "I also couldn't pass up an opportunity to go to school where I could experience the seasons and also become independent."

Like Northwestern and Illinois, Bradley has its own Hawaii Club with 35 to 40 members.

Arakaki, who earned her bachelor's and master's degrees at UH, added there is a need for local students to find each other on the Mainland, and especially in the Midwest.

"We understand each other," she said. "It's nice to talk to somebody and know that they know what 'da kine' means."

All Hawaii transplants share the same problems living in the Midwest. The most common: adapting to the weather.

"The winter was pretty bad," said Arakaki, who came back to Chicago in January, the day after the city recorded its worst blizzard in more than 30 years.

"I never knew what cold meant until the winters here."

Winters in the Midwest are harsh. In fact, the saying in Chicago is there are only two seasons in the city: winter and summer. Spring is really just an extension of winter, with snow falling in April and temperatures dropping into the mid-40s at times.

The change in the weather leads to a change in the wardrobe.

"Being out when it's cold is just really bad," Uyetake said. "Those are the days you want to be back home in nice, warm weather and wearing shorts."

Uyetake, like many local students, waited until she got to Chicago to buy her winter clothes. "Hawaii doesn't get that cold so they don't have the right clothes for Chicago," she said. "I talked to other people and they said to buy everything up here and that's what I did. I got a lot of thermal underwear and a fat winter jacket."

But ask anyone from Hawaii who moved to the Midwest what he or she misses the most and the answer is the same: the food.

"I really miss the plate lunches back home," Sakai said longingly. "L&L's --I can just taste it. I can always make (local food) myself, but it's not the same as when someone cooks it for you."

Nash said the rice cooker and 10-pound bag of rice she brought up to Bradley comes in handy. Kanno admitted he keeps Hurricane popcorn (with furikake and kakimochi) and macadamia nuts in the apartment he shares with two other Hawaii guys. Arakaki said she can't go without Hinode rice.

But they all admit there's more to Hawaii than just plate lunches and sticky rice.

"Being away from home has made me appreciate Hawaii more," Uyetake said. "I think it's the best place to live. It's great coming here to college, but it makes you realize the beauty of Hawaii."






Click for online
calendars and events.
E-mail to Features Editor
---
---
© 1999 Honolulu Star-Bulletin
https://archives.starbulletin.com