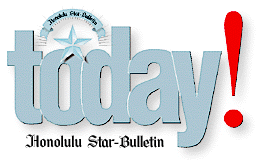 ---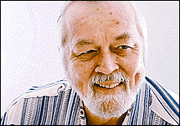 Hawaii

By Dave Donnelly
Friday, May 14, 1999
---
Beauty in eye of
phone book holder

THE 1999-2000 telephone directories are out, and the cover has already stirred a bit of controversy. It's a depiction of rocks under water -- I think -- and was designed by Hiroki Morinoue. But artist/illustrator Tom Sellers had a different impression of the cover. Sellers says he's been enjoying the art work on the phone books for some 30 years now, but was totally turned off this year. The cover resembles, says Seller, "the photographs on skin doctors' walls depicting melanoma tests." He figures it was selected by "a committee of one." Actually, says a GTE Hawaiian Tel spokesman, an executive committee made the selection, though the ultimate "thumbs up" came from president Warren Haruki. You may not find it offensive, but Sellers opines, "The islands mean more to me than this -- art?" ...

FORMER isle D.J. Danielle Tucker is returning to island airwaves. She'll be appearing on behalf of the Pacific Golf Academy on a program called "The Golf Club," airing on KGU Saturdays from 7 to 8 a.m. beginning tomorrow ... The Ronald McDonald House people are having a low-key presentation of aloha campaign for Don and Marion Murphy on Monday at 6 p.m. at Murphy's Bar & Grill. "The Big Red Shoes Award" is in gratitude for the pair's annual toy-wrapping and delivery to the Ronald McDonald House kids at Christmas time. The award is so named because it's some of Ronald's old shoes on a plaque with a brass plate and message of aloha ...

Reversal of fortunes

VISITING Hawaii for the next week or so is former Star-Bulletin reporter Ted Kurrus. A decade ago he uprooted here and bought a little bed-and-breakfast facility in Seaside, Oregon. Now, says Kurrus, he's returning. It was a very profitable enterprise, he reports, but he misses Hawaii and now can afford to retire here. His move mirrors that of writer Rick Carroll, who's been operating a bed and breakfast in Lanikai, but the last I heard he was selling it to return to the mainland. Something about the grass always looking greener ...

MAKING the rounds with Kurrus was Bob Jones, who was a reporter on the Advertiser when Kurrus was with the Bulletin and broke the then huge story of the infamous Sammy Amalu selling four Sheraton Hotels in Waikiki. The one tiny fly in the ointment which Kurrus uncovered was that Sammy didn't own them. I introduced Kurrus this week to another friend as the guy who broke the Amalu story, and Jones jumped in to deride his former boss, George Chaplin, for taking liberties in his book and crediting his paper with the story. "I wrote him a letter," stated Jones, "which said, 'Hey, I was there.' " ...

Hot and Cole

THEIR salute to Irving Berlin was such a success they took it to L.A. after premiering it at the Academy of Arts Theatre. And now Shari Lynn and Jimmy Borges are hoping to duplicate their success with a revue on the life and music of my favorite composer, Cole Porter. The revue is based on the Porter biography by George Eels, "The Life that Late He Led," and will be offered up as a birthday salute to Porter on June 5 at the Academy of Art Theatre. (Porter's birthday is June 9, but they wanted a Saturday night.) Accompanying the pair on such tunes as "Night & Day," "Begin the Beguine," "Love for Sale," will be Jim Howard on piano, Lyle Ritz on bass and Noel Okimoto on drums ...

---




Dave Donnelly has been writing on happenings
in Hawaii for the Star-Bulletin since 1968.
His columns run Monday through Friday.

Contact Dave by e-mail: donnelly@kestrok.com.
E-mail to Features Editor
---
---
© 1999 Honolulu Star-Bulletin
https://archives.starbulletin.com