---
Island Images



Thursday, May 13, 1999


Bishop Estate
begins anew
Photography by Ken Ige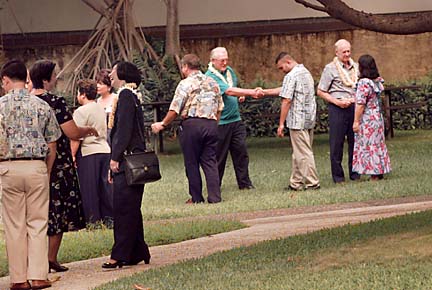 The interim trustees of the Bishop Estate met this
morning with trust employees at their new Kawaiahao
headquarters. New trustees Constance Lau,
Hawaiian Electric Industries Inc. treasurer (left
with lei), former Iolani School headmaster David Coon
(back center with lei) and attorney Ronald Libkuman
(right back with lei) mingled with employees as they
discussed the management of the multibillion-dollar
trust. Also appointed to the five-member interim
board were retired Adm. Robert Kihune and former
Honolulu Police Chief Francis Keala. The meeting
with employees came six days after Probate Judge
Kevin Chang's historic decision to temporarily
remove four trustees -- Richard "Dickie" Wong,
Henry Peters, Lokelani Lindsey and Gerard Jervis
-- and accept the voluntary resignation of a fifth,
Oswald Stender. Chang's decision was prompted
by an Internal Revenue Service threat to revoke
the estate's tax-exempt status if the permanent
trustees did not step down.
---
Bishop Estate archive
E-mail to City Desk
---
---
© 1999 Honolulu Star-Bulletin
https://archives.starbulletin.com