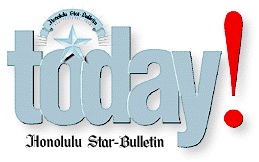 ---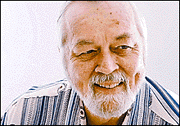 Hawaii

By Dave Donnelly
Monday, May 10, 1999
---
Sweet surprise
for mom's day

DID you get what you wanted for Mother's Day. Mrs. Peter Palzis did -- daughter Kelly Preston stopped by Vagabond House in Ward Centre last week and got some aromatic goodies for her mom. Preston, who's had some pretty good success on the big screen, might be better known if it weren't for the fact she's invariably referred to as Mrs. John Travolta. Vagabond House G.M. Gerry Ralston prepared for Mother's Day by bringing in a large selection of aromatherapy candles, French soaps, oils and bath lotions and some exquisite nightgowns. The aroma of the place really hit one gentleman shopper. He was eyeing the cozy, overstuffed furniture when the heavenly aroma hit him and, sniffing the air, he asked Ralston what the daily room rate would be ...

Musical melange

CHEF Chai Chaowasaree held the grand opening of his Chai's Island Bistro Friday night, and besides an array of specials -- with a heavenly aroma of their own -- presented Hapa in a cozy cabaret setting for diners. And what was the duo planning for Mother's Day? "Our first gig was on Mother's Day 16 years ago," said happy Hapa member Barry Flanagan, "so we're taking the day off to celebrate." And to promote the duo's new CD ... Meanwhile, at Don Ho's Island Grill, just steps from Chai's in Aloha Tower Marketplace, a quintet of tutus called the Soundettes were singing. I heard what sounded like Louis Armstrong doing a solo, and looked to see who they'd recruited. Surprise: It was one of the women! ... Dick Jensen performed at Don Ho's on Mother's Day and confirmed he'll be doing a regular Sunday gig there for owners Shep Gordon and Barry Silverman ...

HOLLYWOOD producers Carl Mazzocone, producing a major film on the USS Indianapolis sinking, spent a full week on Oahu as a gift from pal Mark Burg, who produced "Bull Durham" with Kevin Costner. Localite Kimo McVay ended up as their "driver," a natural since his dad, the late Capt. Charles McVay, commanded the Indy and was court-martialed after the sinking. McVay said it was like the two had never left L.A. as their cell phones were ringing off the hook and it was business as usual as they saw all the sites of Waikiki, including most of the big shows, visited clubs from Scruples to Columbia Inn, took a tour of Pearl Harbor on the CINCPAC barge and saw the inside of a nuclear sub. They also golfed at Koolau with Don Ho and promised to "godfather" his daughter, Hoku, when she seeks out a singing and acting career in L.A. The two, still with cell phones glued to ears, ended their stay by taking in the Dionne Warwick show at the Shell before winging back yesterday ...

Not so Zooper

AFTER two years of planning and four months of rehearsal, two weeks of which were on site at the Zoo, HTY's "Young at Art" company put on performances of "Cages: All the Rage" at the Zoo Thursday and Friday. The third and last performance was to have been on Saturday, but a call from Powers that Be on Friday told them they couldn't do their Saturday afternoon show because they were too loud. The Zoo kept all admission charges, mind you. City Councilman Jon Yoshimura called the cancellation "outrageous." On hearing of the incident, one observer said he found it odd that people who capture animals, remove them from their native environment and put them in cages for people to gawk at would be concerned about noise, not that Zoo goers don't make enough anyway...

---




Dave Donnelly has been writing on happenings
in Hawaii for the Star-Bulletin since 1968.
His columns run Monday through Friday.

Contact Dave by e-mail: donnelly@kestrok.com.
E-mail to Features Editor
---
---
© 1999 Honolulu Star-Bulletin
https://archives.starbulletin.com