---
Saturday, May 8, 1999






Kamehameha supporters
embrace the chance for
reform and healing

By Rick Daysog
Star-Bulletin

A judge has delivered a possibly fatal blow to the trustees of the Bishop Estate in a historic decision that many believe will lead to the resolution of the two-year controversy surrounding the estate.

Probate Judge Kevin Chang yesterday ordered the immediate and interim removal of trustees Richard "Dickie" Wong, Henry Peters, Lokelani Lindsey and Gerard Jervis in a move that could lead to their permanent dismissal from their $1 million-a-year jobs.

Chang also accepted the voluntary resignation of trustee Oswald Stender and named a panel of five interim trustees to assume the duties of the ousted board members.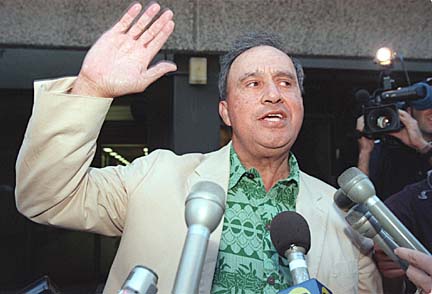 By George F. Lee, Star-Bulletin
Bishop Estate trustee Henry Peters reacted after Judge Kevin Chang
yesterday ordered the temporary removal of the trustees. Chang's
order also told Peters and the other trustees to "immediately
surrender their offices" and remove all personal
property within 20 days .
---
The interim trustees -- who were previously appointed by Chang to serve as special-purpose trustees to negotiate with the Internal Revenue Service -- are retired Adm. Robert Kihune, former Honolulu Police Chief Francis Keala, attorney Ronald Libkuman, Hawaiian Electric Industries Inc. treasurer Constance Lau and retired Iolani School headmaster David Paul Coon.

Chang's bombshell follows Circuit Judge Bambi Weil's ruling on Thursday permanently removing Lindsey from the multibillion-dollar trust's board after a four-month trial that ended in April. Trustees Stender and Jervis had sued for Lindsey's ouster, saying she breached her fiduciary duties, mismanaged the estate-run Kamehameha Schools and was unfit to serve.

Yesterday's decision, after a five-hour hearing, came after Chang ordered the trustees to demonstrate why they should not resign or be temporarily removed. The IRS, which has been conducting an audit of the estate since 1996, had threatened to revoke the charitable trust's tax-exempt status if the trustees were not removed.

Loss of the tax-exempt status could have cost the estate tens of millions of dollars a year and forced it to pay significant back taxes.

Chang said the trustees' refusal to step down "creates an immediate and substantial risk of significant harm to the trust estate" and "constitutes a breach of trust."

Under yesterday's order, Chang gave the attorney general's office, the estate's court-appointed master or the interim trustees 90 days to seek the permanent removal of the trustees. If no such suit is filed during the 90-day period, the former board members must ask the court to lift the temporary ban.

Chang also ordered the ousted trustees not to communicate with estate employees, attorneys and their agents and has ordered them off the boards of their various subsidiaries and affiliates.

In February, Chang forbade the trustees from negotiating with the IRS over issues raised by its audits. After reviewing some 2,500 pages of reports known as IRS Form 5701s, or notices of proposed adjustments, Chang found that the trustees had a conflict and prohibited them from handling audit issues.




"The school is wealthy but not
at all healthy. We're a very sad and
sick place after years of abuse.
They've kept us on our knees
for years now, and my sense is
that we're standing
tall today."
Kawika Eyre
KAMEHAMEHA SCHOOLS
HAWAIIAN LANGUAGE TEACHER




Yesterday, Wong said he would appeal Chang's ruling because he believes his rights to due process were violated. Since Chang removed the trustees from discussing audit issues with the IRS, Wong said he has never been informed of any wrongdoing.

"I'm entitled to due process and I want to face my accusers and face the allegations. I want to know why I was removed," Wong said.

"I'm not going to walk away from a fight."

Fellow trustee Henry Peters has also hinted at an appeal and has raised the possibility of suing the IRS. Peters yesterday denied wrongdoing, saying the trust today is far more wealthy and liquid than it ever has been.

Peters pointed to this week's public offering of Goldman Sachs Group Inc., which added about $600 million to the estate's coffers. After the estate's investing $500 million in the Wall Street investment banking firm, the value of its holdings in Goldman has risen to as much as $2 billion.

"I'm not here to win a popularity contest, I'm here to do my job as a trustee. I can tell you unequivocally that we've done a good job," Peters said.

"We are big, we are massive, we are wealthy. If you want to refer to that as too much power, than so be it. We are proud of our legacy. We've done a wonderful job here and we're not going to apologize for our success."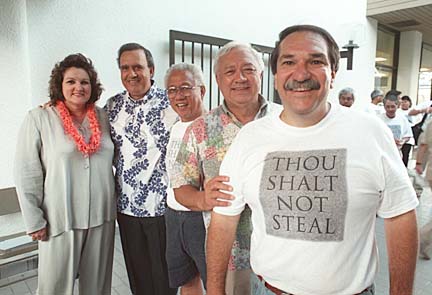 By Dennis Oda, Star-Bulletin
Former Bishop Estate trustees in happier times. Left to right,
Lokelani Lindsey, Henry Peters, Richard Wong, Oswald
Stender and Gerard Jervis smile for the camera.
---
To be sure, Wong and Peters are significant players in the controversy surrounding the trust. Both are targets of removal proceedings initiated by former Attorney General Margery Bronster and both have been indicted by separate grand juries investigating an alleged kickback scheme involving Bishop Estate land.

Stender said Chang's decision paves the way for major reforms of the Bishop Estate's operation. Future trustees will be more accountable to the needs of the Kamehameha Schools and to the interests of students, he said.

"I'm very pleased with the court's ruling today because it creates a new era for Kamehameha Schools and a new era for the management of the trust," Stender said.

Randall Roth, University of Hawaii law professor and co-author of the "Broken Trust" essay that criticized trustees' management of the estate, said that once the interim trustees take office, they will be able to waive the attorney-client privilege which former board members used to shield themselves from the state's investigation and to delay justice.

The interim trustees, according to Roth, see the benefit of cooperating with the state and federal probes.

"As a practical matter, what Chang's decision means is that the old trustees will never again be at the helm of the Bishop Estate," Roth said.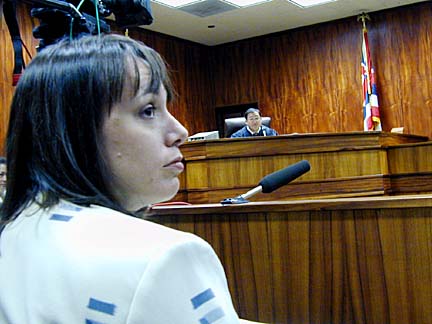 By Craig T. Kojima, Star-Bulletin
Former Attorney General Margery Bronster listened
in Judge Kevin Chang's courtroom yesterday.
---
"This legal system is slow but it does deliver."

Meanwhile, members of the Kamehameha Schools ohana embraced yesterday's ruling, calling it the beginning of a long-overdue healing process.

"We are pleased the judicial process has worked, but slowly," said a statement issued by Na Pua, an organization of 3,300 Kamehameha Schools alumni, faculty, parents and students.

"Today's court decision is a vindication of the Kamehameha ohana and particularly for the many individuals who placed themselves at risk by speaking out."

Yesterday's hearing, before a packed audience, was attended by more than two dozen lawyers, including Bronster, who received an ovation when she entered the courtroom.

Last week, the state Senate, by a 14-11 vote, rejected Bronster's bid for a second term as attorney general, in a vote many believed was engineered by estate trustees.

Bronster, who launched the state's investigation of the Bishop Estate that led to the indictments of Wong and Peters, praised Chang for his decision and also trustee Oswald Stender for voluntarily stepping down.

"I think the court's order was very well thought out and it is a very important step," Bronster said.

"There's still a lot to be done."

Attorneys for trustees Wong, Peters and Lindsey argued that their clients' rights to a fair trial were denied. Ron Malone, Wong's attorney, accused the special-purpose trustees of "caving in to the IRS," which he said wants board members out so it can negotiate a settlement in its favor.

Malone said he believed that Wong is the target of a "mob mentality" and urged Chang to order a full evidentiary hearing. The request was denied.

Deputy Attorney General Dorothy Sellers said the trustees' real motives for keeping their jobs were made clear by their attorneys' arguments.

"What we heard today was 'Me, me, me, me. My job, my power, my authority, my rights, my compensation, my due process rights,' " Sellers said.

"Tell the trustees that the game is over. Take them out."




CHRONOLOGY OF
KEY EVENTS

1997

May 15, 1997: More than 500 Kamehameha Schools parents, students, alumni and supporters march on Bishop Estate headquarters to protest what they said was trustees' micromanagement of the Kapalama Heights campus.

Aug. 9, 1997: The "Broken Trust" article in the Star-Bulletin alleges mismanagement of Bishop Estate assets and conflicts of interests by trustees and criticizes selection of trustees by state Supreme Court justices.

Aug. 12, 1997: Gov. Ben Cayetano orders Attorney General Margery Bronster to investigate.

Dec. 12, 1997: Fact-finder Patrick Yim alleges that trustee Lokelani Lindsey managed Kamehameha Schools by "intimidation."

Dec. 20, 1997: Supreme Court justices remove themselves from selecting Bishop Estate trustees.

Dec. 29, 1997: Bishop Estate trustees Gerard Jervis and Oswald Stender seek Lindsey's removal.

1998

Sept. 9, 1998: Attorney General Margery Bronster calls for temporary removal of four trustees, saying they jeopardized the tax-exempt status of the trust.

Sept. 10, 1998: Bronster calls for removal of trustees Richard Wong, Henry Peters and Lindsey, charging they took part in a pattern of self-dealing and mismanagement.

Nov. 11, 1998: The trial to remove trustee Lokelani Lindsey begins.

Nov. 25, 1998: An Oahu grand jury indicts Peters on a charge of theft.

1999

March 11, 1999: Trustee Gerard Jervis is rushed to a hospital after taking an overdose of sleeping pills a week after a trust employee died in an apparent suicide. The day before her death, Jervis and the female worker were caught in a compromising position in a men's restroom by security workers at a Waikiki hotel.

April 12, 1999: Bishop Estate Chairman Wong is indicted on charges of first-degree theft, perjury and conspiracy.

April 27, 1999: IRS files a report saying it may revoke the tax-exempt status of the estate if the five trustees don't step down.

May 6, 1999: Circuit Judge Bambi Weil permanently removes Lindsey as trustee.

May 7, 1999: Probate Court Judge Kevin Chang temporarily removes four trustees and accepts Stender's resignation on an interim basis.




---



E-mail to City Desk
---
---
© 1999 Honolulu Star-Bulletin
https://archives.starbulletin.com