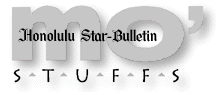 ---
Tuesday, May 4, 1999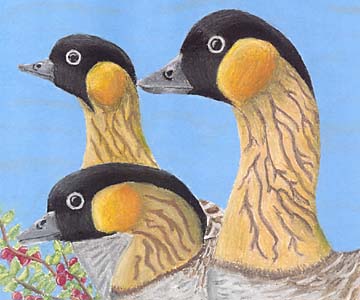 Cherry Ulep's depiction of three nene
will represent Hawaii in Washington, D.C.
---
Take a gander
at winning nene
Thirteen-year-old Cherry Ulep's painting of three nene will represent Hawaii in June's Federal Junior Duck Contest in Washington, D.C. Ulep's work will compete with entries from other states for a prize of $2,500 and a trip to our nation's capital.

The Kalakaua Middle School student used a combination of oil pastels and color pencils for her work.

Celestino Matutino Jr., a 14-year-old, also from Kalakaua, won second place in the local contest, and 15-year-old Jordan Bautista of Farrington High School took third place.

Twelve winning images submitted by young Hawaii artists will be on view at the Honolulu Zoo duck display through May 27.

Entry forms for the year 2000 contest will be mailed in October.

For more information, call the U.S. Fish and Wildlife Service's Honolulu office at 541-2749.


Adventure Guide to Hawaii
By John Penisten
Hunter Publishing
400 pages; softcover $15.95
Though "Adventure Guide to Hawaii" offers some stock recommendations (The Kodak Hula Show is a "must see"), it also has a lot of ideas designed to appeal to the active traveler.

The book covers Oahu, Maui, Molokai, Lanai, Kauai and the Big Island. It has recommendations about everything from restaurants to hang gliding companies.

Kama'aina may not find much that is new here, unless they are visiting an island with which they are unfamiliar, but it would be a good tool for malihini residents to learn more about the opportunities that exist in their new home.

Author John Penisten is a professional photographer and resident of Hilo.

For more information, visit www.hunterpublishing.com.

Preview
Coming to the big screen

Two movies begin their Oahu run Friday:

Election
Rated R
Tracy (Reese Witherspoon) is a highly motivated student at George Washington Carver High. Social studies teacher Mr. McAllister (Matthew Broderick) doesn't like Tracy's ambition. So when Tracy's election as student government president appears at hand, he recruits Paul Metzler (Chris Klein), a well-meaning jock, to run against her.

The Mummy
Rated PG-13
When treasure-seeking explorers in the Sahara Desert stumble upon an ancient tomb, they unwittingly set loose the vengeful reincarnation of the mummified Im-Ho-Tep. Ten years later, the Egyptian priest who had been sentenced to an eternity as one of the living dead takes on a human appearance and joins an expedition to find the tomb of his ancient love. Stars Brendan Fraser, Rachel Weisz and John Hannah.






Click for online
calendars and events.
---
Send WatDat? questions, stories
or any other story ideas or comments to:
Features, Honolulu Star-Bulletin, P.O. Box 3080,
Honolulu, HI 96802 or send a fax to 523-8509
or E-mail to features@starbulletin.com.
Please include your phone number.
E-mail to Features Editor
---
---
© 1999 Honolulu Star-Bulletin
https://archives.starbulletin.com