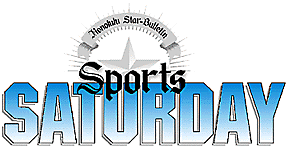 ---

Hawaii Beat
By Star-Bulletin Staff
Saturday, May 1, 1999

Gentle stars on mound
and at plate for Wahine

Kelly Gentle pitched a three-hitter and drilled a bases-loaded two-out single in the ninth inning to give Hawaii a 1-0 softball victory over Tulsa yesterday at Tulsa, Okla.

Gentle (17-9) struck out nine in a duel with Tulsa's Jenny Magill, who took a four-hitter into the ninth.

Dana Degen started the winning rally with a one-out single. Kristin Anderson bunted for another hit and one out later pinch-hitter Jennifer Tandarich singled, filling the bases. Gentle then singled to center, breaking the scoreless tie.

1C/2C channel paddle

More than 150 men and women in one- and two-person outrigger canoes from Hawaii, the U.S. mainland, Australia, Tahiti and Canada will take part in the 40.2-mile Ka'iwi Channel race from Molokai to Oahu tomorrow.

The paddlers are scheduled to leave the beach fronting the Kalua Koi Hotel in staggered starts for eight divisions from 8-9:30 a.m. The first finishers on the Waikiki side of Magic Island are expected at about 2 p.m.

Punahou Relays finale

The finals of the 54th annual Punahou Relays, with 1,150 athletes from all islands competing, are set for 1:30 p.m. today.

Titles will be decided in 16 running relays and 12 individual field events. There also will be two special events: the Hawaii's Fastest Human 100-meter dash and the Football-Power Relay in which runners must weigh at least 200 pounds.

Coaches at QB Club

Mike Taylor, the new Maryknoll girls' basketball coach, joins Chaminade basketball coach and athletic director Al Walker and University of Hawaii softball coach Bob Coolen as guest speakers at the Honolulu Quarterback Club meeting Monday at the Pagoda Restaurant. Lunch starts at 11:30 a.m. The public is invited.

Polo opener at Waimanalo

The polo season at Waimanalo begins tomorrow with a 1:30 p.m. ceremony and grand pony parade, followed by a 2:30 game. Gates open at 12:30 p.m.

Polo will be played every Sunday through Oct. 3. General admission is $3, with children under 10 admitted free.
---
See line scores and results in
the [Scoreboard] section.
---
http://uhathletics.hawaii.edu
E-mail to Sports Editor
---
---
© 1999 Honolulu Star-Bulletin
https://archives.starbulletin.com