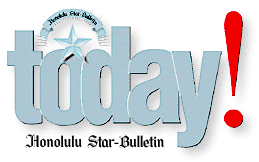 ---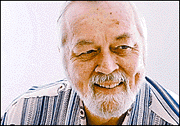 Hawaii

By Dave Donnelly
Wednesday, April 28, 1999
---
London rife with
revivals

THEATER in London is, traditionally, the best anywhere. More's the pity then, that there was so precious little new going on during my stay there last week. The city is awash in musicals, long running ones such as "Les Miserables," "Miss Saigon," "Phantom of the Opera" and "Buddy" (about singer Buddy Holly) and the hottest new one, "Mama Mia," with a story line sandwiched around 22 songs by the Swedish group Abba. Yeah, I didn't get too excited about that either. Then there are "Rent" and "Oklahoma," in the midst of long runs. "Forbidden Broadway," which I did see, makes fun of the trend with a take-off of "Oklahoma" in which Aunt Eller sings "Ooooooold Revivals." ...

THE theater was packed for "Prisoner of Second Avenue," with people wanting to see actors Richard Dreyfuss and Marsha Mason up close. The show was awarded a standing ovation prompting London critic Sheridan Morley to comment, "That means the Americans are going to see it." British audiences rarely give a "standing 'o' " ... Continuing my trek through the West End, there were even more revivals, such as Joss Ackland and Dorothy Tutin in D.L. Coburn's "The Gin Game" at the Savoy. But while nicely done, it was far from sold out ...

More long runs

THERE'S already a second cast in place for Coron McPherson's brief but dark trifle "The Weir," as the original cast already moved to Broadway. McPherson's earlier work consisted of one-man monologues, a form that served him well here as each of the five characters had long, personal experiences to relate one dark night in a small pub. What a surprise -- an Irish play set in a pub ... I enjoyed the play called "Art," which has three unknown Brits in it in London, and the likes of Judd Hirsch and George Wendt (and before them, Alan Alda) in New York. The three were all good, reacting to the purchase of a white painting that may or may not have some faint white lines running across it. I was reminded of the famous "Maybe Blue," which created a stir among art lovers and would-be critics in Honolulu some years back. "Art" would be a terrific play for Manoa Valley Theatre ...

I WASN'T nearly as taken by Michael Frayne's latest work, "Copenhagen," which was named best play of 1998 by one newspaper. Far from Frayne's funny "Noises Off," this work was so laborious one would have to be a physics buff to take much interest in it ... Far more successful was the last play I saw in London, a revival of David Hare's "Plenty," starring Cate Blanchett who appeared in it a scant four days after winning the British version of the Oscar for the film, "Elizabeth." She's terrific in Hare's play, a fascinating work ...

Cowardly connection

WHO should pop up on TV during the British academy awards than my old pal Sheridan Morley. Sherry and I go back to 1963 when we were both in a production of "The Man Who Came to Dinner" at UH. I played the "Man," Sheridan Whiteside, and Morley, who was spending a year at UH, played Beverly Carlton, a character based on Noel Coward. Morley was named "Sheridan," because his father, Robert Morley, was playing Whiteside in London when he was born. And Sherry went on to write Coward's biography, "A Talent to Amuse" and now sits on the Coward Trust. Tomorrow I'll report on Sherry's program to mark the 100th anniversary of the birth of the man he calls "The Playboy of the West End World" ...

---




Dave Donnelly has been writing on happenings
in Hawaii for the Star-Bulletin since 1968.
His columns run Monday through Friday.

Contact Dave by e-mail: donnelly@kestrok.com.
E-mail to Features Editor
---
---
© 1999 Honolulu Star-Bulletin
https://archives.starbulletin.com