---
Monday, April 26, 1999
NEIGHBORHOODS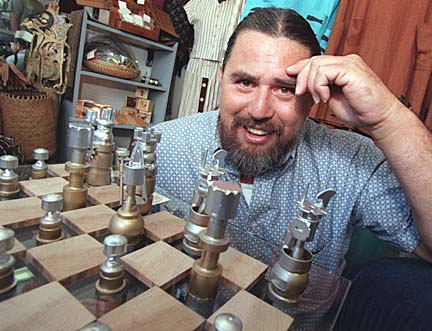 By George F. Lee, Star-Bulletin
Artist Marshall Fergerstrom says a "zap" of inspiration led to
his devising a chess set made entirely of scrap metal.
---
It might be
junk at first, but not
after artist is pau


Kuliouou resident Marshall
Fergerstrom takes throw-away
items and turns them into
fascinating works of art

By Rod Ohira
Star-Bulletin

Scrap-metal artist Marshall Fergerstrom may be on the verge of turning a junk hobby into a profitable side business.

"Once this guy is discovered, he's going to fly," said Raymond Yamachika, co-owner of Four Calling Birds, a gift boutique and gallery in Kapahulu.

"His stuff has wonderful appeal, composition and kinetic energy."

Fergerstrom, 45, calls his one-of-a-kind, free-form art "zap."

"I call it zap art because I'll be looking at a piece of scrap and 'zap,' it just comes to me," said the Kuliouou resident, who has been a welder- mechanic at Pearl Harbor Naval Shipyard since 1979.

"I don't start with an idea and look for pieces. It's the piece that determines the idea. It's like I can feel how it'll look."

Pointing to a unique chess set and stand nearby that's selling for $400 at Four Calling Birds, Fergerstrom recalled that small electrical pieces found in a box inspired the work.

"I thought they would make excellent pawns," said the 6-foot-1, 275-pound artist. "It came real quick but took six months to finish. The king was the hardest piece to put together because it has seven different components."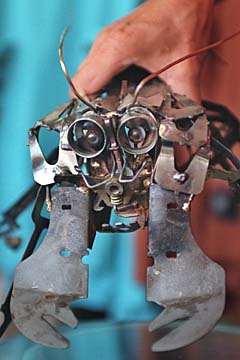 By George F. Lee, Star-Bulletin
Another creation: a lobster born of typewriter
and electrical breaker parts.
---
Another notable piece is a lobster that Fergerstrom created using typewriter parts for the body, legs and claws, and electrical breaker parts for the tail and sides.

Not all his pieces are as easily recognizable as the chess set, lobster, boats and wind chimes.

Fergerstrom showed a sculpture that's untitled because "I don't know what it is."

"My wife thinks it looks like fireworks bursting in the sky," said Fergerstrom, who spent seven years in the Army and later studied art at the University of Hawaii.

"I prefer doing untitled arts. The main thing I look at is, does it negatively or positively affect you?"

Fergerstrom, a Kaneohe native and Castle High graduate, has been "tinkering around" with scrap-metal art for 10 to 15 years but said, "I've always enjoyed putting things together and looking at the finish product."

His father is a collector, and garage shelves stocked with odds and ends attracted his son's curiosity at a young age.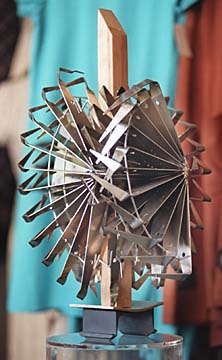 By George F. Lee, Star-Bulletin
"Untitled" sculpture by Marshall Fergerstrom.
---
"I loved taking nuts and bolts from the shelves and making something," Fergerstrom said. "It was like playing with Legos. If I didn't like it, I'd take it apart.

"Now, I go to scrap yards, storage auctions, garage sales looking for stuff. But mostly, I use discarded things, items people just throw away."

Art is still a hobby, he said.

"I was giving stuff away as wedding, anniversary and Christmas gifts," he said. "For me, doing this is fun. It's like therapy. But I was running out of storage space at home. My wife began looking into selling some of the pieces."

Helene Fergerstrom contacted Yamachika and his partners -- Laura Chong and Wendy Kim Meisser -- shortly after they opened Four Calling Birds in February.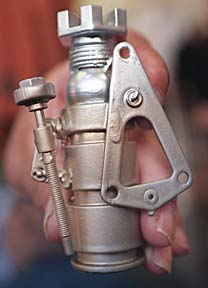 By George F. Lee, Star-Bulletin
Fergerstrom's king chess piece was the
most difficult to produce.
---
"When we saw Marshall's portfolio, it knocked us over," Yamachika said. "Here's a guy who is a native Hawaiian practicing recycling with a lot of potential in art. I would have imagined somebody would have discovered him by now."

Meisser added, "What you see in Marshall's work is everyday items used in different ways. He has a clear view of the world.

"You can see thinking in his works. When I see the chess piece, it makes me wonder what the original parts were."

Fergerstrom still has mixed feelings about selling his art work. "I feel embarrassed asking people to pay," he said. "I'm not used to making a buck off something I enjoy doing."

Four Calling Birds, at 619 Kapahulu Ave. next to the former Keo's restaurant, will present the first public exhibit of Fergerstrom's work on three consecutive Fridays and Saturdays beginning this week.

The exhibit can be viewed 10 a.m. to 7 p.m. Fridays and 10 a.m. to 5 p.m. Saturdays.
E-mail to City Desk
---
---
© 1999 Honolulu Star-Bulletin
https://archives.starbulletin.com