---
Friday, April 23, 1999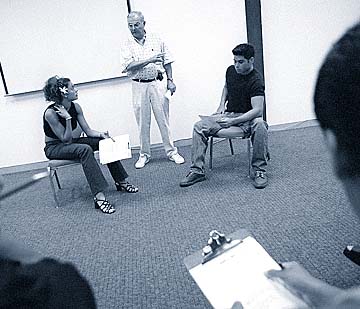 By George F. Lee, Star-Bulletin
Above, dialogue coach Garrison True, center, gives a few
pointers to "Baywatch Hawaii" hopefuls Wana'ao Watson,
left, and Robbie Baltch. Below, the two first-time actors
practice some lines together.
---
16 Baywatch finalists


The final two could be chosen
late next week for parts in the
television series

By Tim Ryan
Star-Bulletin

And then there were 16 "Baywatch Hawaii" hopefuls.

Of the more than 1,100 people who auditioned last week for two recurring characters on the hour-long lifeguard adventure drama, 16 -- about 1 percent -- have been selected as finalists.

The women range in age from 18 to 28 years, and are from 5-foot-4 to 5-foot-9; the men go from 19 to 31 and 5-foot-9 to 6-foot-6.

At 31 years old, Greg Chisteckoff is the oldest finalist and three years older than the 28-year-old limit. Greg Bandmann at 6-foot-6 is two inches taller than "Baywatch" star David Hasselhoff.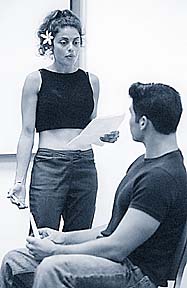 The finalists last night at Ward Warehouse were divided by gender and attended dialogue coaching sessions conducted by Garrison True. Few finalists have any significant acting experience.

The final two could be chosen late next week after "Baywatch" head casting person Fern Orenstein, producer/creator Greg Bonann, and star David Hasselhoff arrive here from Los Angeles for a look. Each of the 16 will read lines for Orenstein on Thursday, 3 to 6 p.m. at the Hilton Hawaiian Village's Nautilus Room.

Casting thus far has been done primarily by Al and April Masini of Al Masini Productions.

The announcement of Hawaii's newest TV stars will be held at the Hilton Hawaiian Village, and next Friday is expected to be the big day.

"I think we have found great candidates in both men and the woman," said Bonann. "And really, we're not limiting ourselves to just one guy and one girl. If more turn out to be good actors, I suspect we'll use them all."

Photos of the 16 finalists and the current ensemble cast will be put on a large board for "Baywatch Hawaii" executives to see "how well they might look and work together," Bonann said.

Bonann and Hasselhoff will arrive Monday to look for stories, locations, and tour the Hawaii Film Studio at Diamond Head with writer Maurice Hurley, who arrived last night. With filming slated to start by mid-July, that means the production company will film 22 episodes in less than five months.
E-mail to City Desk
---
---
© 1999 Honolulu Star-Bulletin
https://archives.starbulletin.com