---
Friday, April 23, 1999

Is trouble brewing?


Students of all races and ethnic groups
are being subjected to stereotyping or other
forms of harassment, and it's hurting

By Susan Kreifels
Star-Bulletin

Sean Moulson is a slightly built youth, bespectacled, very fair skin. He prefers theater and Broadway music over peer fads like hip-hop, so he stood out when he arrived from the mainland last year and entered sixth grade at Kamiloiki Elementary School in Hawaii Kai -- a "white kid who didn't play soccer," in the words of his mother.

Indeed, the first half-year was rough. A group of fellow students started calling him "stupid haole" and "haole bastard," and he complained to his teacher, but felt he wasn't believed.

Then one day the boys, including a Caucasian, forced him on all fours and stood on his back like he was a surfboard.

"I always loved school before," said Moulson, who now attends Punahou School, a private institution. "But I would weasel out of going. I still drive by that school every morning, and I still get scared."

Moulson is among the students victimized by what some see as racial harassment in Hawaii's public schools. Kamiloiki Elementary officials declined to respond.

But to Moulson's mother, Kelly, skin color "was the biggest catalyst" behind the torment her son suffered.

"Racism is not a black-and-white issue here," she acknowledged. "I've asked myself, 'Am I making a big deal of something?' But I had a horrible thing happen to my child. This shouldn't be accepted anywhere."

For a state that prides itself on multicultural harmony, such reports are troubling. Is the melting pot melting down?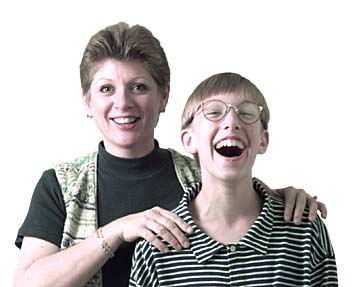 By George F. Lee, Star-Bulletin
Beverlee Heart's son, Dominic, was called "burnt french fry"
at Manoa Elementary. The school responded swiftly, apologizing,
suspending a student for a day and laying down the
law at an assembly.
---
Many stereotypes

Most parents, teachers and students interviewed believed racial harassment is not a major problem in school corridors. But enough anecdotal experiences show students of various races and ethnic groups have felt it.

"People think if you're Samoan, you're stupid and you steal," said Ulu Faumuina, a 17-year-old Kaimuki High student. "Sometimes football is the only time they say you're good."

Schoolmate Kawehi Moefu, a Hawaiian Samoan, said he wishes people wouldn't "look at labels so much."

"I might have a good record, but people will think I'm going to come late, Hawaiian time," he said. He tries to ignore such attitudes. "But it's like a volcano. It builds up and explodes."

A scattering of racial incidents against African-Americans in the past two years has prompted the state Board of Education to toughen its stand on the issue, and raised calls for a crackdown across all ethnic lines. Many say racism is a topic that can no longer be ignored.

"It's time to talk about it," declared June Motokawa, past president of the teachers union and head of a Hawaii Civil Rights Commission committee on public schools.

Terrible incidents

The most recently publicized incident arose in January, when the mother of a black special education student at Maui's Iao School filed a complaint with the commission alleging that students and staff verbally and physically harassed her son, calling him "nigger." The complaint is pending.

That came after criticism over photos published in two public school yearbooks: at Castle High, where a student was shown apparently wearing a Ku Klux Klan outfit, and at Kalaheo High, where a caption under a picture of African-Americans read, "I like pigs feet. I like hog mollz. Where da collard greens?" Two students filed a $14 million federal lawsuit against the state and Kalaheo, and settled for $80,000.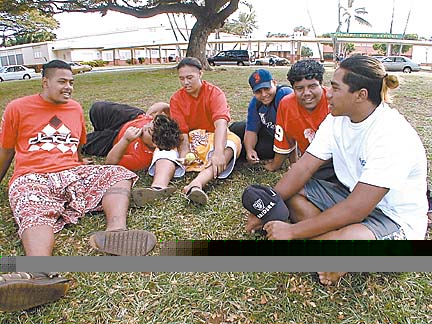 By Craig T. Kojima, Star-Bulletin
"People think if you're Samoan, you're
stupid and you steal," said Ulu Faumuina,
left, a Kaimuki High student. He's shown
with classmates James Wells, Kawehi Moefu,
John Wells, Keli Sane and Toa Kaili.
---
Parents tell of other struggles. Beverlee Heart, an African-American, was shocked two years ago after her son was called a racial epithet at a private religious school, and she went to see the principal.

"The principal said, 'It's just a name. Didn't he hear it in the O.J. Simpson trial?'" she recalled.

Heart enrolled her son in public Manoa Elementary School, where he was called "burnt french fry." The school responded swiftly, though, apologizing, suspending a student for a day and laying down the law at an assembly.

"We are one big ohana, but within your family things happen, and what matters is that you talk it out," said Principal Victoria Bannan.

For children, the talk can come after tears and anger. Bennita Robinson, a black eighth-grader at Saint Francis School and a former Manoa Elementary student, said she has cried after being called derogatory racial names.

Christa Irby, a 15-year-old African-American student at Radford High, flatly says, "I don't like the 'n' word. It's telling me I'm beneath you and that you are superior. I think of slavery and lynching and segregation."

Some say the definition of racism in Hawaii can be complicated by economic and social factors going back to the loss of native Hawaiian land. Others point to the plantation days, when white owners brought in immigrant laborers and divided them into camps according to race, and even further, through historical prejudices brought by the immigrants from their homelands and passed through the generations.

"We are one large dysfunctional family because we still hold on to a lot of our plantation kinds of attitudes," said author Lois-Ann Yamanaka, who herself set off a storm when she depicted a Filipino male as a sexual predator. "The stories just keep being told, the fears of our grandmothers."

Matter of coexisting

The miracle of the Aloha State may not be a blending of the races into a "golden" people, as hyped by the visitor industry of yore, but the ability of the races to retain separate cultural identities and coexist, a structure that may be reflected in the schools.

"It's not racism as much as segregation," said Christopher Peterson, a Japanese-Caucasian senior at Mililani High who arrived here six years ago. "You're designated to one group. You have to play with certain kids or you don't have a full game."

Nathan Mayo, from a Caucasian military family, said students at Leilehua High in Wahiawa pretty much grouped themselves as "white guys, black guys and local kids." The division rarely led to fights, but there was tension and a lot of name-calling.

"Nobody really wanted to come out and talk about it," said Mayo, who graduated in 1997. "I did feel unsafe. I just wanted to go to my classes and go home."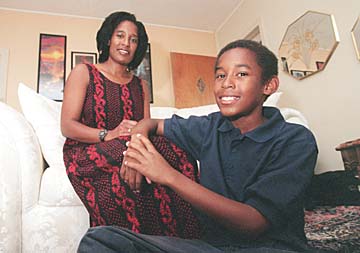 By Dennis Oda, Star-Bulletin
"I didn't think there was any racial tension here," said Joe Collins,
who withdrew his children, Alyssa and Kyle, out of Waialua
Elementary School. "I thought it was ohana and aloha."
---
Humor is a defuser, and Hawaii's racial mix has spawned comedians like Frank Delima (see sidebar), who tours elementary schools as a Department of Education role model and whose jokes, often self-deprecating, rely on ethnic stereotypes.

But when does razzing rise to racism? Iao eighth-grader Jaime Ferreira said she thought the name-calling at her school was a wrong committed by a few "ignorant" students -- but amounted to no more than teasing, no worse than talking about "a big nose" or calling someone haole.

Bernie King understands some of the subtleties. King, a Leilehua teacher for 10 years and president of the Hawaii chapter of the National Association for the Advancement of Colored People, said military students at his school stand out, with the islands feeling like a foreign country to some. Mostly he sees local vs. non-local tension, which can be interpreted as racism when racial references are made.

"Kids aren't prepared to deal with the problem," King said. Teachers can lack experience as well, he cautioned. "They need proper training, or it could become terrible later on."

Painful impact

Whatever it is termed, the name-calling and stereotypes can hurt.

Alyssa Collins, her face freckled and her hair pulled back in a ponytail, chews on a carrot as she hesitates to repeat what children at Waialua Elementary School called her.

"Haole bitch," the 8-year-old girl says finally, knowing she has spoken a bad word. She doesn't know why she was called that, and is saddened.

But her brother Kyle, 10, has no doubts about the source of his troubles. "I don't think they like me because I'm white," he says.

Medical reports in December 1997 said both children were suffering from hyperactivity and attention deficits, aggravated by their fears at the plantation-community school.

Their single parent Joe Collins took his children out in January, feeling the system failed to stop racial harassment.

"I didn't think there was any racial tension here, I thought it was ohana and aloha," Collins said, admitting he can get hotheaded. "I'm not saying my kids are perfect. But when you mess with my kids, I see red."

Sharon Nakagawa, Waialua Elementary's principal for 12 years, said she could not discuss the case because of confidentiality policies. But she said whenever parents and children bring concerns, "we are very fair." She does not believe racism is a problem at her school.

"Is it a racial issue, or people just angry at each other and saying something hurtful?" she asked.

Collins said an official offered to set up an appointment with schools Superintendent Paul LeMahieu, but it would take several weeks. He turned down the offer.

Sense of urgency

According to several Kaimuki students, the ultimate insult now is calling someone Micronesian or Vietnamese -- new immigrants who are FOBs, or "fresh off the boat."

The Department of Education doesn't keep numbers on racial harassment, but the constant flow of immigrants adds urgency to an improved curriculum on ethnic sensitivity.

Motokawa, a teacher for 30 years, believes schools are failing to adequately teach students about racial discrimination, and are not drawing a solid enough line between humor and harassment. She plans to meet with community members to develop such a curriculum, along with other strategies.

"It can't happen overnight because it's so complex," she said.

Teachers and administrators will have to change attitudes as well.

Said Board of Education member Karen Knudsen: "This is about a societal attitude change because we have always prided ourselves about being able to laugh at differences. Unfortunately, it often crosses the line."

The board this year strengthened its definition of racial, sexual and other types of harassment, and legislators have given initial approval to a bill that would allow students to take grievances to the Hawaii Civil Rights Commission themselves.

Meanwhile, superintendent LeMahieu is looking at education programs around the country that promote racial sensitivity, and is taking a straightforward approach.

He said his goal is to allow all students in Hawaii to feel "free from the fears of harassment," which he measures by a "fairly simple test."

"If it offends and hurts," he said, "it's harassment."




DIVERSE BUNCH

Race and ethnicity of all Department of Education students and teachers:

STUDENTS

189,282 total in September 1997

ETHNICITY	NO.	PCT.
American Indian	710	.004%
Black	4,877	3%
Chinese	5,991	3%
Filipino	36,367	19%
Hawaiian	7,494	4%
Part Hawaiian	39,788	21%
Japanese	22,609	12%
Korean	3,047	2%
Portuguese	4,432	2%
Spanish	4,480	2%
Samoan	6,221	3%
White	30,761	16%
Indochinese	1,494	1%
Other	21,011	11%

TEACHERS

12,086 total, includes part time, in February 1999

ETHNICITY	NO.	PCT.
Black	65	.5%
Chinese	684	6%
Filipino	652	5%
Hawaiian	104	0.9%
Japanese	5,295	44%
Korean	116	1%
Part Hawaiian	1,078	9%
Puerto Rican	23	.2%
Samoan	37	.3%
White	3,062	25%
Mixed	648	5%
Other	322	3%

Source: State Department of Education

E-mail to City Desk
---
---
© 1999 Honolulu Star-Bulletin
https://archives.starbulletin.com