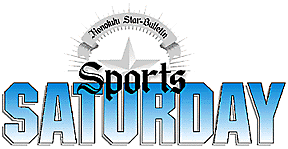 ---

Hawaii Beat
By Star-Bulletin Staff
Saturday, April 17, 1999

Hayashi Mid-Pacific
halfway leader

Kevin Hayashi took a three-stroke lead into today's third round of the Mid-Pacific Open golf tournament on the Mid-Pac links after shooting a 6-under-par 66 yesterday for a 36-hole total of 138.

Jerry Mullen was at 141 after a second-round 71. First-round leader Damien Jamila (74) and Scott Head (72) were tied at 142.

Charles Kozak shot a hole-in-one on the 145-yard fourth hole.

Beachley wins surf title

Layne Beachley defeated Trudy Todd in an all-Australian final to win the Australian Diet Coke Surfing Classic today at Manly Beach in New South Wales.

Hawaii's Rochelle Ballard was beaten by Beachley in the semifinals. Megan Abubo of Hawaii fell to Todd in the quarterfinals.

The quarterfinals of the men's Coca Cola Classic are next up, with Kalani Robb the lone Hawaii surfer still in the title hunt.

Sea Warriors sweep

The Hawaii Pacific softball team, ranked 16th in NCAA Division II, extended its winning streak to 16 games yesterday with a 5-0 victory over Cal State-Dominquez Hills and a 2-1 nod over Cal State-Chico in the Mountain Dew Classic at Bakersfield, Calif.

In the opener, Jennifer Monzon (17-1) pitched a three-hitter for her ninth straight victory and 11th shutout of the season.

Against Cal State-Chico, Susie Schoales (16-1) allowed five hits through six innings and Monzon pitched a hitless seventh as HPU ran its season record to 33-2-1.

Setback for UH

Utah beat Hawaii, 6-5, weathering a three-run seventh-inning homer by UH's Regina Ka'aihili, in yesterday's opener of a three-game WAC softball series at Salt Lake City.

Losing pitcher Kelly Gentle (12-8) also homered for the Wahine, 23-17 overall and 9-7 in the WAC. Utah is 20-17 and 4-3.

BYUH tennis teams on top

The host BYU-Hawaii men's and women's tennis teams went to 2-0 yesterday in the Pacific West Conference-Hawaii tennis tournament at Laie. The Seasiders defeated Hawaii-Hilo, 6-2, in men's play and the BYUH women whipped Hawaii Pacific, 9-0.
---
See line scores and results in
the [Scoreboard] section.
---
http://uhathletics.hawaii.edu
E-mail to Sports Editor
---
---
© 1999 Honolulu Star-Bulletin
https://archives.starbulletin.com