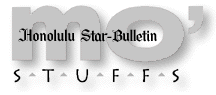 ---
Wednesday, April 14, 1999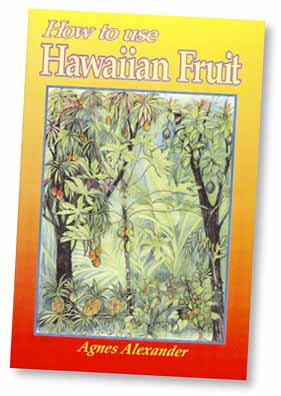 ---
Handy help with local fruit
Say you have a prolific papaya tree, and you're tired of plain papaya with lemon. Your solution comes from 1912, when Agnes Alexander wrote "How to Use Hawaiian Fruit."

The book, written by a Honolulu restaurateur, has been re-released by Petroglyph Press in Hilo. It's a new edition, but the recipes are unchanged.

The book teaches what to do with breadfruit, ohelo, mountain apple, tamarind, poha and pomelo, as well as more ordinary mangoes, guavas and oranges.

At $7.95, the little paperback is a good resource for the local cookbook shelf. Look for it at bookstores and gift shops, or call 1 (808) 935-6006, in Hilo.

Recipes can be a little general, but with a little imagination and basic knowledge, you'll be able to figure it out.

Things, for example, you can do with extra papaya:
Papaya Pickle: Make a syrup of 1 part sugar; 1/2 part vinegar. Add a few cloves and peppercorns and 2 parts half-ripe papaya cut in small pieces. Boil until tender.

Papaya Pie: Cream 1/2 cup butter and 1 cup sugar; add 2 beaten eggs, juice of 1/2 a lemon and 1 cup papaya pulp. Pour into pie crust and bake. Top with egg-white meringue.

Stewed Green Papaya: Skin a green papaya (no signs of yellow), seed and cut in large pieces. Boil until soft. Mash if desired.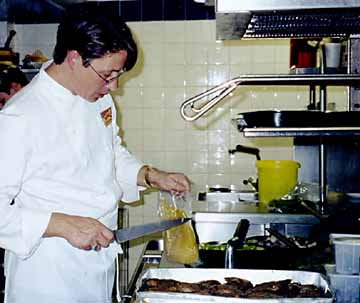 Hawai'i Visitors & Convention Bureau
Chef David Paul Johnson at work in the
kitchen of the Bristol de l'Etoile in Paris.
Back from Paris
Chef David Paul Johnson prepared some of his signature dishes for approximately 75 French journalists last month in Paris as part of the Hawai'i Visitors and Convention Bureau's "Aloha Cities" marketing program.

Now the chef turns to a prix fixe Secretaries Week luncheon menu at his Diamond Head Grill. The menu includes appetizer, dessert and a different entree each day:Monday's entree is Oven Roasted Chicken Breast scented with Hawaiian Vintage Chocolate, there is Miso-Glazed Butterfish for Tuesday, Grilled New York Steak on Wednesday, Truffled Cannelloni with Olive Oil Braised Crimini Mushrooms on Thursday, and a Mixed Seafood Grill with Risotto Crusted Tomato and Lemon Basil Butter on Friday. Beverages, tax and gratuity are not included in the $25 price.

Call 922-3734 for reservations.

Treatment without drugs
Neurologist John W. Stiller and psychiatrist Gary S. Rinzler will give a free talk from 7 to 8 p.m. tomorrow on "Treatment of Pain and Depression Without Drugs."

The talk will take place at the Alana Office Building, 460 Ena Road, Suite 604. The entrance to the building is through the Double Tree Alana Hotel. Parking is $3.

For more information, call 946-7246.

Morsels
Creme de la creme: Any secretary with a sweet tooth will appreciate a Secretaries Week luncheon buffet topped off with specialty cream desserts from three well-known bakeries.

Chocolate, vanilla, cappuccino, chocolate and haupia mauisadas from Simply Sweets on Maui, buttercups from 9th Avenue Bakery and eclairs and cream puffs from Signature Sweets are the finale at the "Best of Asia" and "Best of Hawaiian" luncheon buffets being served April 19-23 at the Parc Cafe, Waikiki Parc Hotel. Cost is $15 for "Best of Asia" and $16.50 for "Best of Hawaiian" cuisines. Call 931-6643 or 921-7272. Free valet or validated parking is offered.

Tropical fruit exotica: Among the array of tropical fruits propagated at Frank Sekiya's Waimanalo nursery are mamey fruit, with ataste like pumpkin pie, and meringue fruit, with a flavor that resembles vanilla ice cream.

Explore these two varieties and more on "Tropical Fruits -- from the Field to the Table," a Hawaii Public television program airing at 7:30 p.m. Tuesday, KHET/PBS.

Medley of fashion, cuisine : On April 21, the Plumeria Beach Cafe at the Kahala Mandarin Oriental presents a fashion show of upscale career wear by Mondi, Mamo Howell and Liberty House.

A lunch buffet is served 11:30 a.m.-2:30 p.m., andthe show runs 12:15-1 p.m. Cost: $26.50. Call 739-8760.

Healthy eating: Chef Patricia Salvador, co-author of "Eating Well in Hawaii: Fish & Poi Chefs' Low-Fat Recipes," will share her thoughts and recipes 3 p.m. tomorrow at Ewa Beach Public & School Library, 689-1204.

Cheese, please: A Pacific Cafe at Ward Centre observes an American Cheese Festival tomorrow through April 25.

Chef Jean Marie Josselin has created several dishes showcasing cheese for the event: a five-onion soup with Oregon white cheddar crust; Texas pecan smoked scamorza organic tomato salad with roasted garlic dressing; Vermont Camembert with sweet shrimp nacho and papaya salsa; Texas mascarpone torta with basil pesto; Hot Iowa Maytag souffle with toasted walnut pesto; warm Big Island goat cheese pistachio endive salad; smoked duck breast with Wisconsin gorgonzola, fresh pear and toasted pecan; and lobster and Ohio marble cheese Croque Monsieur roquette salad. Prices for these cheese dishes range from $6.50 to $12.50. For reservations, call 593-0035.


Click for online
calendars and events.
---
Send WatDat? questions, stories
or any other story ideas or comments to:
Features, Honolulu Star-Bulletin, P.O. Box 3080,
Honolulu, HI 96802 or send a fax to 523-8509
or E-mail to features@starbulletin.com.
Please include your phone number.
E-mail to Features Editor
---
---
© 1999 Honolulu Star-Bulletin
https://archives.starbulletin.com