---
Wednesday, April 14, 1999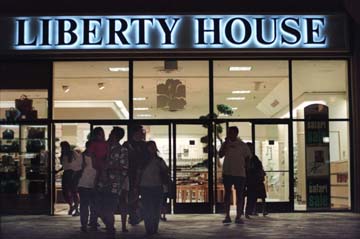 By George F. Lee, Star-Bulletin
Customers are silhouetted by the marquee as they enter and
leave Liberty House at Ala Moana Center last month.
---
Liberty House
reorganization
plan under fire


Lenders offer to swap
their claims for majority
ownership of the retailer

By Peter Wagner
Star-Bulletin

In what could trigger another skirmish over the future of Liberty House, a lending group led by Bank of America proposed a reorganization plan giving it ownership of the 150-year-old Hawaii retailer.

Under the proposal, filed yesterday in U.S. Bankruptcy Court, the group would trade its $149.2 million in claims against Liberty House for a majority share of new stock to be issued by the company. Liberty House would continue under its current management with no layoffs or significant changes in operations.

The plan, likely the first of several to be considered by the court, drew immediate fire from Liberty House owner JMB Realty Corp.

"That plan is simply another step in the vulture funds' ongoing effort to steal control of Liberty House at a bargain-basement price," said Steve Plonsker, JMB vice president.

Liberty House President John Monahan, who would remain at the head of the company and be appointed to a new seven-member board of directors, said he was encouraged that the plan sees a future for Liberty House.

"Liberty House and its management team are pleased that the secured creditors support the company, its employees and management team and that they approve of Liberty House's strategic direction," he said.

But the company, which filed for Chapter 11 bankruptcy protection from the lending group in March 1998, was otherwise guarded in its response yesterday, reserving judgment pending review of the plan.

The 1998 filing showed Liberty House with assets of $284.2 million and debts of $248.4 million. Yesterday's filing showed the company's current debt at about $198 million.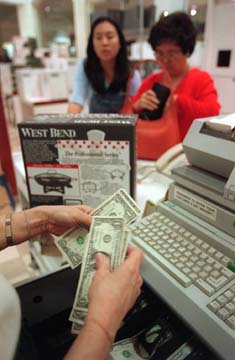 By George F. Lee, Star-Bulletin
Liberty House continues to attract some sales.
---
The lenders say their plan, to be sent to all creditors with claims against the company for a ballot vote, would allow Liberty House to regain financial health by eliminating most of the debt.

According to a February appraisal by the lenders, Liberty House was then worth about $173.9 million. Under the reorganization plan, $28.2 million would be paid out against claims in cash, leaving an equity value of about $145.7 million.

Based on that figure, some 15 million shares of common stocks would be issued, valued at $9.71 a share, of which $133.4 million would go to the lenders. A cash payment of $1.6 million would bring the group's recovery to about 98 percent of its claims.

Claims would be paid to other creditors under a priority system ranging from vendors and other small creditors owed more than $5,000 getting back about 50 percent to JMB shareholders who would get nothing for their currently held common stock.

Attorney Chuck Choi, representing a committee of unsecured creditors -- the vast majority of vendors and service providers owed money in the case -- was unhappy with the 50 percent payment offer.

"The plan does not provide for an appropriate distribution for unsecured creditors," he said today. "However, negotiations for a consensual plan are continuing."

Choi said the committee is considering filing a plan of its own, or joining in a plan opposing the lender's offer.

Plonsker said the lenders have put a low value on Liberty House to gain control and turn a quick profit in an eventual sale of its interest in the company.

"Their plan cannot be confirmed by the court and should fool no one," he said.

There were indications yesterday that JMB is planning to file an opposing reorganization plan in the case.

Honolulu attorney Tom Roesser, representing the lenders, indicated the controlling shares could indeed change hands.

"Like any owner of stock, they might be interested in selling it if the price were right," he said. "They are lenders and lenders are generally not in the business of being shareholders."

But Roesser said the proposed reorganization plan offers Liberty House the only practical way out of an untenable debt.

"There's no easy way this company can reorganize without my client's offer to convert its debt to equity," he said.

The lending group had opposed earlier requests by Liberty House to extend its deadline to file a reorganization plan, saying the costly process was dragging on.

Roesser yesterday said the plan was filed because weeks of negotiations between Liberty House and its creditors proved fruitless. "The lenders felt this filing would help move things along."




Lender's repayment
plan at a glance

Highlights of the Liberty House repayment plan as proposed by the Bank of America-led group of lenders:

The Bank of America lending group would get about a 98 percent return on the value of its claims, partly in cash but mostly in shares of newly issued stock.

Secured creditors, other than the lending group, would get a 100 percent return on their claims.

Unsecured creditors, with no interest in Liberty House property, would get 50 percent of the value of their claims, in cash or stock. The payout would be reduced to 45 percent if they vote against the plan.

Small creditors, owed $5,000 or less, would get 80 percent of the value of their claims, in cash.

Current shareholders in the company -- JMB Realty Corp. -- would recover about 5 percent of the value of preferred stock and zero for common stocks held in Liberty House.



E-mail to Business Editor
---
---
© 1999 Honolulu Star-Bulletin
https://archives.starbulletin.com